The road trip to beat all road trips – three thirty-somethings packed in a small SUV, three snowboards, two sets of skis, and a hunger for sliding down mountains. Rob and I and our friend Matt set off on the ultimate ski trip through the western US and Canada.
We based our road trip itinerary loosely on the idea of Canada's Powder Highway. We wanted to ride at as many ski resorts as possible, but also have some downtime to explore some cities.
For a little background, the Powder Highway is a loop through the Canadian Rockies with the highest concentration of ski resorts in North America. It's a haven for skiers and snowboarders looking for amazing powder and challenging terrain. At many resorts, you can go full outdoor adventurer with heli-skiing and cat-skiing! It makes me think of every extreme ski or snowboard movie I've ever seen. The official Powder Highway route includes Red Mountain, Whitewater, Fernie, Kimberley, Panorama, Kicking Horse, and Revelstoke.
While our route was not exactly on the Powder Highway we did get to hit up a few of those resorts, along with resorts in British Columbia, Alberta, Oregon, Washington, and Montana. The whole trip took us a little over four weeks.
Here I'll outline our route and give you a little info about each of our stops and the ski resorts we rode at.
The Route:
Here I've listed the city or towns in which we stayed and underneath are the ski resorts that we rode out while staying in those towns. Below that, are each of the destinations with a little more information about the town, the ski resorts, and other things to do when you're not snowboarding.
Bend OR USA
Leavenworth WA USA
Whistler BC Canada
Vancouver BC Canada
Revelstoke BC Canada
Golden BC Canada
Banff AB Canada
Banff Sunshine
Lake Louise
Calgary AB Canada
Whitefish MT USA
Bozeman MT USA
Bend, Oregon USA
Ski Resort: Mount Bachelor
About: Mount Bachelor is one of the largest ski resorts in North America with over 4,000 acres of ski-able terrain and 101 runs. The majority of the runs are intermediate level (about 60%), but there is also beginner and expert terrain.
Stay: Bunk + Brew Hostel
Other things to do: It's Oregon, so drink craft beers. There are breweries everywhere! Make sure to check out Deschutes and Silver Moon Brewing. Do some shopping or just take a wander around the Old Mill, there are tons of shops, restaurants, and a movie theater.
Leavenworth, Washington USA
Ski Resort: Stevens Pass
About: Stevens Pass gets an average of 460 inches of snow a year! It's safe to say they've got a lot of coverage. The elevation is relatively low, but cool air coming off the Cascades keeps things nice and cold for all that snow. They have 52 runs, of which about 50% of them are intermediate level, and 35% are expert level. It's probably not the best resort for beginners.
Stay: The Obertal Inn
Other things to do: Leavenworth is the cutest little Bavarian-style town, just wandering around and appreciating the architecture is fun. But I know that won't take too long, so heading out to some hot springs is always fun. They are a little bit out of town and you do have to hike a bit but that steamy water is well worth it. You can also do some wine tasting, there a quite a few local wineries, check out Eagle Creek and Icicle Creek Winery.
Whistler, British Columbia Canada
Ski Resort: Whistler Blackcomb
About: Whistler and Blackcomb are two different mountains, which used to be two different resorts but have since combined and are connected by the world's longest and highest gondola. Whistler Blackcomb is world-class skiing and riding, which makes sense since they had the Olympics there in 2010.
Stay: Air BNB
Other things to do: Whistler has quite a few local breweries so you should definitely give some Canadian beer a try, I really like Whistler Brewing Co. Make a day trip to Squamish and take the Sea to Sky Gondola up for panoramic views of the Howe Sound.
Vancouver, British Columbia Canada
About: Vancouver is one of the largest cities in Canada. It's got the big city vibes but is surrounded by mountains on one side and water of the other so nature never seems too far away. There is a thriving nightlife as well as tons of arts and culture to enjoy.
Stay: Hampton Inn & Suites
Things to do: Go out, have fun, do city things! We had a really great dinner at Sushi Jin, awesome brunch at the Flying Pig and delicious cocktails at Uva. Make sure to try a Caesar, it like the Canadian version of a bloody mary and it's delicious, also have some poutine!
Revelstoke, British Columbia Canada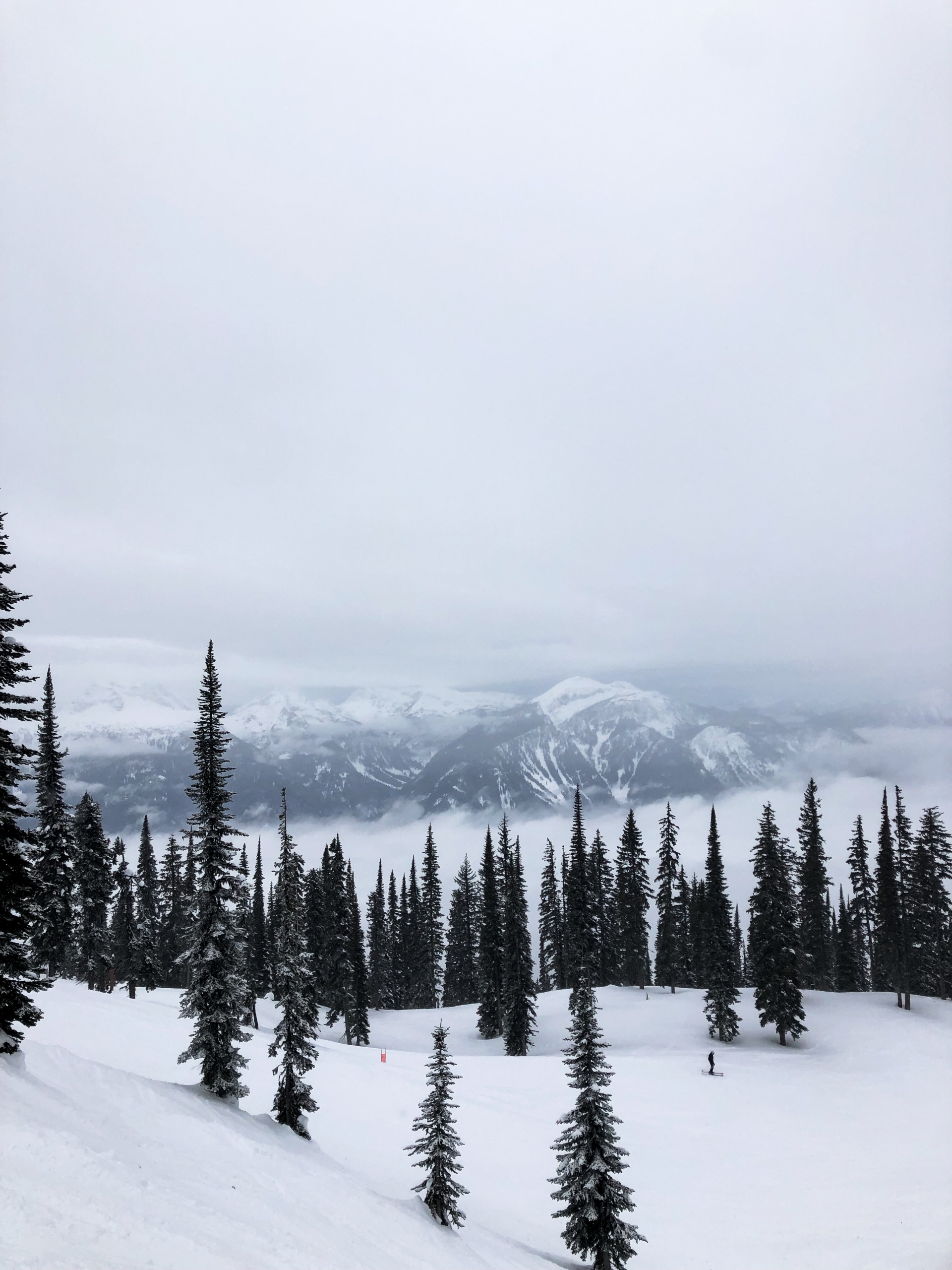 Ski Resort: Revelstoke
About: Revelstoke might seem like a small resort because there are only six lifts (and two of those are magic carpets, so do they really count?), but from those few lifts you get access to 5,620 vertical feet of terrain. This mountain has a lot of elevation! Over 80% of the terrain is intermediate to expert level, and I will admit some of those intermediate runs are very steep.
Stay: The Cube Hotel
Other things to do: The little town of Revelstoke might be small but there is still a lot to do when your not up on the mountain. Take a tour of the Mount Begbie Brewery to learn about the brewing process of one of Canada's best beers (they've won quite a few awards). Cruise around downtown Revelstoke, it's super cutesy and has a bunch of great little shops, also don't miss the bear statues! And if you have some extra time head out to Halcyon Hot Springs, it's about an hour away and you have to cross the river on the ferry but it's totally worth it!
Golden, British Columbia Canada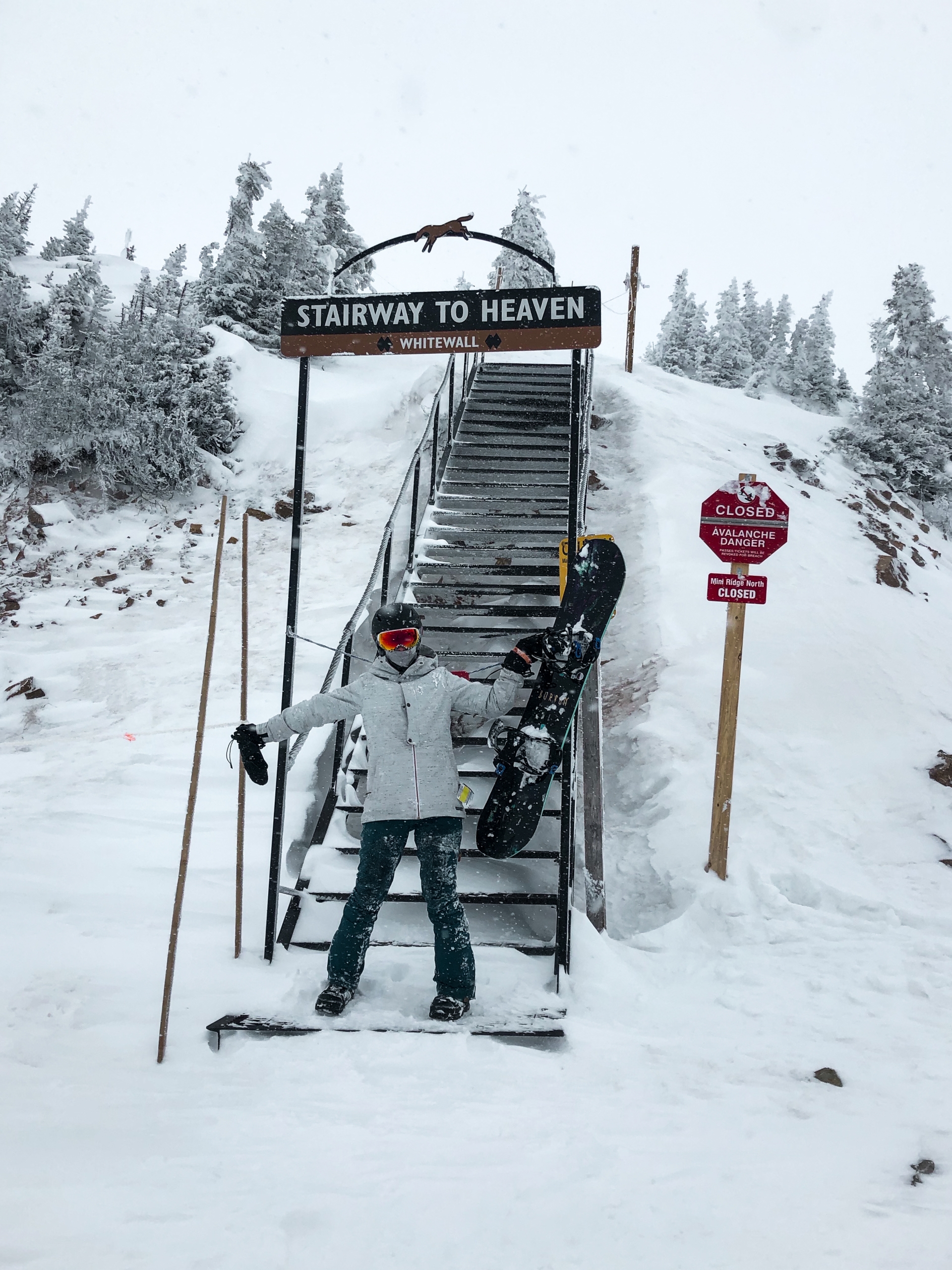 Ski Resort: Kicking Horse
About: Kicking Horse has some of the longest runs I've ever done, you can ride from the very top of the mountain to the bottom, 1,315 vertical feet. The snow there is great and it's the perfect playground for intermediate to expert riders.
Stay: Auberge Kicking Horse B&B
Other things to do: Go see some wildlife at the Northern Lights Wolf Center, learn about the wolves and wildlife conservation. Then grab some good bar food and beers at the Golden Taps Pub.
Banff, Alberta Canada
Ski Resorts: Banff Sunshine and Lake Louise
About: Banff Sunshine sits on the continental divide in Banff National Park, because of its location it gets more snow than any of the other ski resorts around it. Sunshine offers a wide variety of terrain from beginner slopes to expert as well as backcountry areas. There is a little something for everyone here.
About: Lake Louise is also in Banff National Park in the Canadian Rockies. They have a pretty even spread of terrain for all levels from beginner to expert. One thing to note is that there are only two lifts going up the mountain from the main lodge and parking lot which can get really crowded on busy days, causing long lift lines. However, once you've gotten to the upper mountain and backside there are a lot more lifts.
Stay: Rundlestone Lodge
Other things to do: The town of Banff is super cute and the surrounding mountains make it very picturesque. They have great restaurants and bars, a couple of my favorites were Park Distillery for dinner and drinks, and Tooloulou's for brunch. You've also got to check out Banff Ave Brewing for some local beers. Banff Upper Hot Springs is a public hot spring resort that is awesome for a relaxing soak.
Calgary, Alberta Canada
About: Calgary is the largest city in Alberta and the third-largest in Canada. It is the financial and economic center of the province with film & television, technology, aerospace, and manufacturing industries all based there.
Stay: Air BNB
Things to do: Calgary is a big city so you'll have all the big city amenities, like awesome bars, restaurants, and breweries. A few of my favorites breweries were Cold Garden Beverage Co, Banded Peak Brewing, Highline Brewing, and Eighty-Eight Brewing. For brunch and the best Caesar check out the Beltliner. You should also check out a few things that are uniquely Calgary. The Calgary Tower has awesome panoramic views of the city and you'll get a bit of history too. You should also check out a Flames game because it Canada and hockey, and it's just fun.
Whitefish, Montana USA
Ski Resort: Whitefish
About: Whitefish is just west of Glacier National Park in Montana. It is a solid intermediate to expert level mountain with 3,000 acres of rideable terrain. They are known for having awesome tree runs and bowls.
Stay: Air BNB
Other things to do: Whitefish is a cute western town that totally makes me think of old cowboy movies. You definitely need to get dinner at Tupelo Grill, get the chicken and dumplings! And grab a drink at the Firebrand Hotel Bar if you're feeling fancy.
Bozeman, Montana USA
Ski Resort: Big Sky
About: Big Sky is the second largest ski resort in the US with 5,800 acres of rideable terrain. It is an intermediate to expert level mountain, and they have introduced the triple black diamond for some of their expert level bowls and chutes.
Stay: Air BNB
Other things to do: Bozeman is an awesome college town with an eclectic vibe. The downtown area is super walkable and has some awesome restaurants. I really liked Black Bird for a nice dinner, the pasta is amazing. Or Montana Ale Works for something a bit more casual as well as some local beers. If you are feeling up for an adventure head out to the Chico Hot Springs for a nice soak. We went at night and were able to order drinks from the bar and have them in the hot spring, it was pretty amazing.
A Few Winter Road Trip Essentials
Like this post? Pin it!