Disclosure: I visited Nova Scotia with Destination Eastern And Northumberland Shores. I was not paid for this trip but my lodging, activities, and food were compensated. All opinions and experiences are my own.
I love a good road trip. There's something about driving through small towns, down winding back roads, and past beautiful landscapes that you'd never see otherwise that just gets my adventurous side excited.
Nova Scotia might be one of the most beautiful places in North America, and road-tripping around the province is nothing short of breath-taking.
Nova Scotia is one of the "Maritime Provinces" which basically means it is on the coast, but it is almost entirely surrounded by water. All that water includes the Atlantic Ocean, Northumberland Strait, and the Bay of Fundy so the maritime influence is pretty prevalent there. Road tripping around the northeastern end of the province you get rolling hills covered in tons of trees, and in the fall you'll get those beautiful changing colors! You'll also see amazing rugged coastlines, colorful little fishing towns, and plenty of unique and welcoming communities.
I took five days to explore the Northumberland and Eastern Shores but you could definitely spend more time up there exploring. Below I've outlined all the awesome things to do, places to eat and drink, and where to stay for an epic Nova Scotia road trip.
The Route
Pictou > New Glasgow > Antigonish > Guysborough > Charlos Cove
Things To Do
Adopt a Lobster: You can adopt a lobster at the Northumberland Fisheries Museum in Pictou! Northumberland Fisheries Museum raises lobster larvae to release into the wild to prevent the lobster populations from declining. You can help that program by "adopting" a lobster for $5. Be sure to check out the tanks in the museum to see rare colored lobsters like white, blue, and spotted!
Seafoam Lavender Farm: You don't need to go to France or Croatia to prance through lavender fields. The Seafoam Lavender Farm is just outside of Pictou on the Northumberland Strait and is a family-owned operation growing lavender and creating all natural lavender based products. Take a tour of the farm, pick some lavender, and treat yo self to some excellent products, from soap to herb blends.
Go to a festival in New Glasgow: New Glasgow may be a small town but they've got a lot going on, from music festivals to riverboat races to art walks. Make sure to check the city calendar for dates to see what cool things will be going on.
Hiking/Biking: Canada has turned many of their decommissioned railroad tracks into walking/hiking and biking trails, the largest being the Trans Canada Trail which goes from the Atlantic coast to the Pacific coast. Sections of the trail run all over northeastern Nova Scotia making it easy to get outside and get a little exercise while taking in the views.
There are plenty of other hiking and biking trails around as well.
Jitney Trail: This short (just under 2 miles) partially paved trail goes along the waterfront in Pictou to the landing site of the Ship Hector. You can walk or bike along this path and there are panels with some history about the area.
Blue Route Trail: The Blue Route is 1,864 miles of connected bike paths, trails, and infrastructure going all over the province.
Antigonish Landing Trail: An easy 2.5 mile walk along the estuary and Antigonish Harbor.
Keppoch Mountain: Keppoch Mountain is a year round outdoor recreation destination. In the summertime, the mountain is graded for downhill mountain biking as well as hiking. The mountain bike trails are for all levels of riders from a beginner's course near the lodge to technical single-track routes. If you are not so into the ups and downs of the mountain they also have a disc golf course and a small bouldering area. In the winter you can snowshoe all over the mountain and there are also groomed trails for cross country skiing and fat biking.
Kayaking: You are pretty much surrounded by water in Nova Scotia so getting out on the water is kind of a must. Take a kayaking tour with Coastal Spirit Expeditions around the Northumberland Strait. Or see New Glasgow from another perspective and take a leisurely paddle down the river through town, you can rent kayaks and canoes from Moxie's Riverside Rentals.
Boat tour/Lobster Fishing: The Seawind Landing Inn offers a few specialty packages like boat tours and lobster fishing. Get that authentic fisherman's experience with the Lobster Fishing package, you'll be up before the sun and hauling in lobster traps with the best of them. The best part is you get to eat that delicious lobster for dinner!
Eat & Drink
Eat
East Avenue: New American style food made with local fresh ingredients. They've got local beers on tap as well as excellent cocktails, the interior has a very hip vibe, but maybe it's just all that exposed brick.
Sam's Pizza: This local favorite specializes in "Pictou style pizza". It's a little spicy with some Greek influence. Pizza is always good, but this is definitely unique. They have several locations, but the original location is in Stellarton.
Mamatsu: Asian fusion in downtown New Glasgow. Their combination of Thai and Chinese food made with fresh ingredients is delicious and they have several vegetarian and vegan options.
Baked: Homestyle made-from-scratch baked goods specializing in artisan-crafted breads and pastries. Breakfast is the best, but the lunch selection of sandwiches is solid too.
Knoydart Cheese: If you get to a farmers market in the New Glasgow or Antigonish areas make sure you grab some of this excellent organic cheese. If you can't make it to the farmers market you can always stop by the farm on your way out to Cape George and grab some cheese from the Cheese House.
Gabrieau's: Good food made with local and seasonal ingredients. The interior has a sort of kitschy Italian vibe, but the food is what makes this place awesome make sure to try the crab cakes (yum!) and get dessert!
Peace by Chocolate: Who doesn't like chocolate for a good cause? Peace by Chocolate donates 3-5% of company profits to the Peace on Earth Society for building peace projects around the world. Oh, and their chocolate is amazing so make sure to grab a couple of bars at their Antigonish store.
Days Gone By: This is a super cutesy place to stop for lunch and even pick up a few local souvenirs or antiques, it's a combination cafe and antique and gift shop. Enjoy a homestyle meal and do a little shopping.
Drink
Uncle Leo's Brewery: A husband and wife team started Uncle Leo's in 2013 and have been brewing up craft beer ever since. You can find Uncle Leo's in bars and restaurants all around Nova Scotia, but it's always more fun to drink at the brewery.
Backstage Brewing: A local favorite, Backstage brewing has an excellent selection of their own craft beers on tap as well as other local brews. They've got food trucks and live music on the weekends making it an awesome spot to hang out and have a beer.
Steinhart Distillery: Take a tour and do a little tasting at the Steinhart Distillery, they specialize in gin, vodka, and rum. Their flavored booze is pretty amazing and you should definitely try the maple vodka!
Townhouse Brew Pub: A local pub with a down to earth local vibe. They've got a great selection of local beers and ciders and if you can't decide you can always do a tasting. And if you need a snack they have a great menu of fancy bar food.
Authentic Seacoast Distillery: Tour the facilities and get a taste of the artisanal whiskey, vodka, and rum, as well as their craft beer. They take their beverages very seriously, each one is handcrafted and made in small batches.
Stay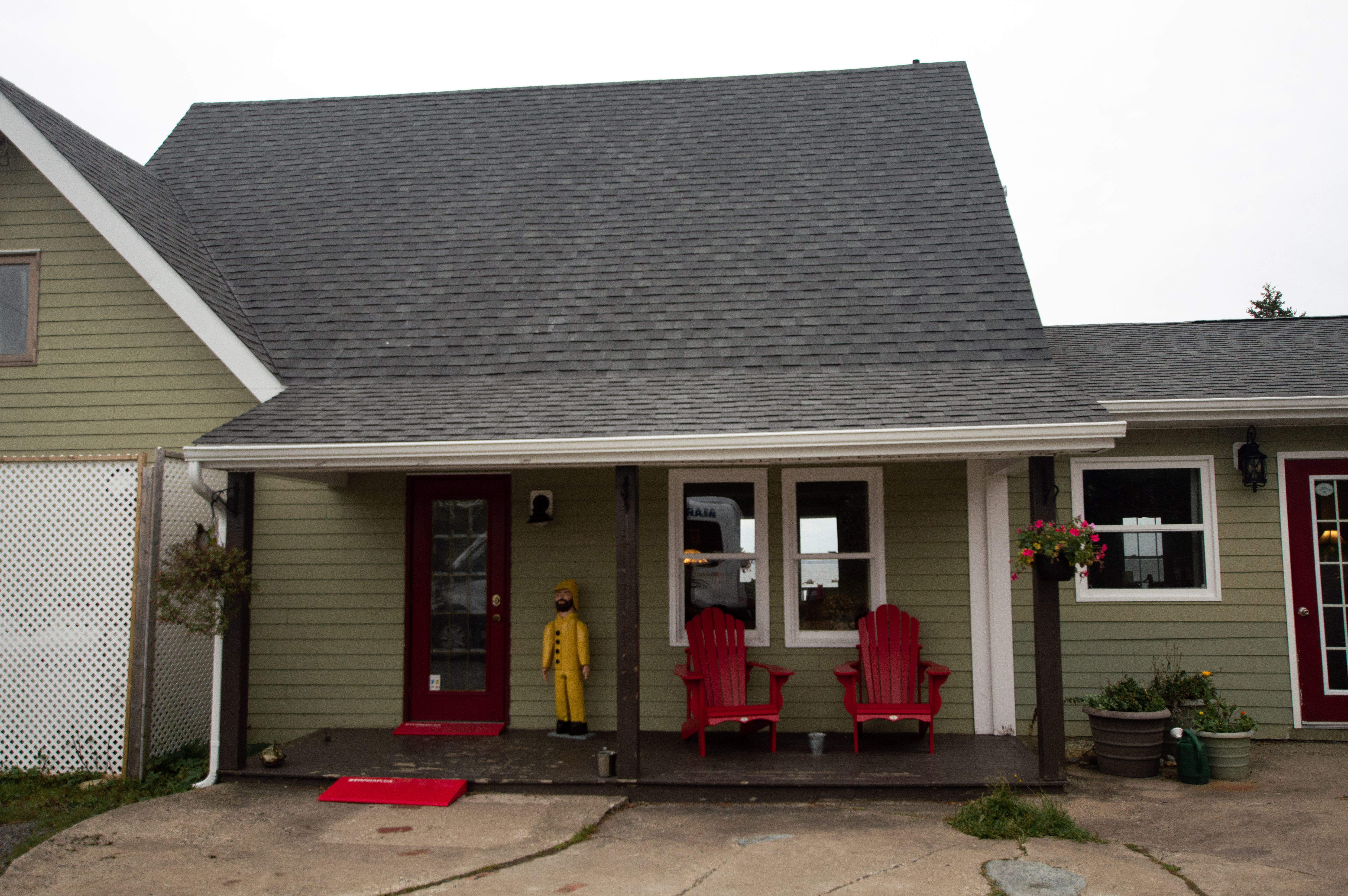 Pictou Lodge: This unique getaway could be a trip in itself, the grounds are huge, they have an array of cabins and cottages, and there are plenty of activities to do from paddleboarding to tennis. The food at the restaurant is amazing plus the dining room has an excellent view of the Northumberland Strait and the main hall boasts a huge fireplace with a moose head above it (how Canadian), as well as a full bar.
Antigonish Victorian Inn: Old victorian houses are always cool and the Victorian Inn does not disappoint on the charm. It is also in the center of town making it easy to walk around to get to food and shops.
Seawind Landing: Seawind Landing may be a bit out there, like way out, but it's worth it. The main house offers ocean views, comfy common spaces, and excellent food in the dining room. They also offer special activities packages including the boat tours and lobster fishing mentioned in the "things to do" section. It's sort of like an all inclusive resort but way more personal.
Best Spots For Photos
Trenton Park: A beautiful park with lakes and little white bridges that make it look like something out of a fairy tale. In the fall the leaves are a beautiful range of green to red, don't be ashamed to go get your basic bitch fall photos on, it's awesome and we all know it.
Cape George Lighthouse: Nova Scotia is known for its lighthouses and the Cape George Lighthouse has the perfect backdrop of sea and greenery around it to contrast with the bright red and white of the building. It really is picture perfect.
Guysborough Waterfront: Waterfront? Check. Bright colored buildings? Check. Boats and fishing gear? Check. This little seaside town has a ton of charm and those brightly colored buildings are so cute!
Tor Bay Park of the Atlantic: To get those classic outdoorsy kinds of shots with the dunes and rocks and the sea this is the place. The park has funky wooden walkways through the trees, sandy beaches, and rocky points.
Road Trip Essentials
Like this post? Pin it!