South Lake Tahoe may have great skiing and snow activities in the winter, but summer is where it really shines. The weather is just about perfect, with temperatures hanging around the mid to high 70's, sunny days, and the occasional afternoon thunderstorm just to keep things exciting.
There is arguably even more to do in Tahoe in the summer than in the winter, from hiking and biking to boating, swimming, and paddleboarding. From the mountains to the water there is no shortage of fun things to do. Plus the warmer weather makes alfresco dining even more enjoyable in the sunshine.
Things To Do
Rent a Speedboat: The coolest way to explore the lake is by water. Rent a speedboat and cruise around to any beach you'd like, enjoy the beautiful scenery, and have some fun wakeboarding or being towed in a tube behind the boat. Tahoe Sports Ski Run and Action Sports Lakeside Marina are both great options for renting.
Do a Brewery Tour: South Lake Tahoe has eight craft beer establishments. Six are breweries, meaning they brew all their own beer on-site. The other two are beer bars with a great selection of craft beers from all around California and the US. You should (responsibly) work your way down highway 50 hitting each brewery for a tasting and some snacks. Check out my beer tour post!
Drive Around the Lake: Take a day to leisurely drive around the lake. With 72 miles of shoreline there are plenty of opportunities to stop and take in the epic views and of course take some pictures.
Hiking: There are so many trails to hike around South Lake Tahoe. Whether you are looking for an easy leisurely walk or wanting to really get a workout in and get some amazing views from a mountain peak there is a trail for you. Check out my Best Hikes in Tahoe post for all the best hikes for every experience level.
Go to the Beach: Sometimes you just want to hang out at the beach, it is summer after all. While the sand may be warm the water stays pretty cold even through the summer so consider yourself warned. But on a hot day it does feel refreshing to take a quick jump in or hang out in a foat-y just barely in the water. One thing to note, many of the beaches have a fee for parking as they are State Beaches or in State Parks. A few of my favorites are Kiva Beach, Baldwin Beach (fee), Nevada Beach (fee), and Whale Beach.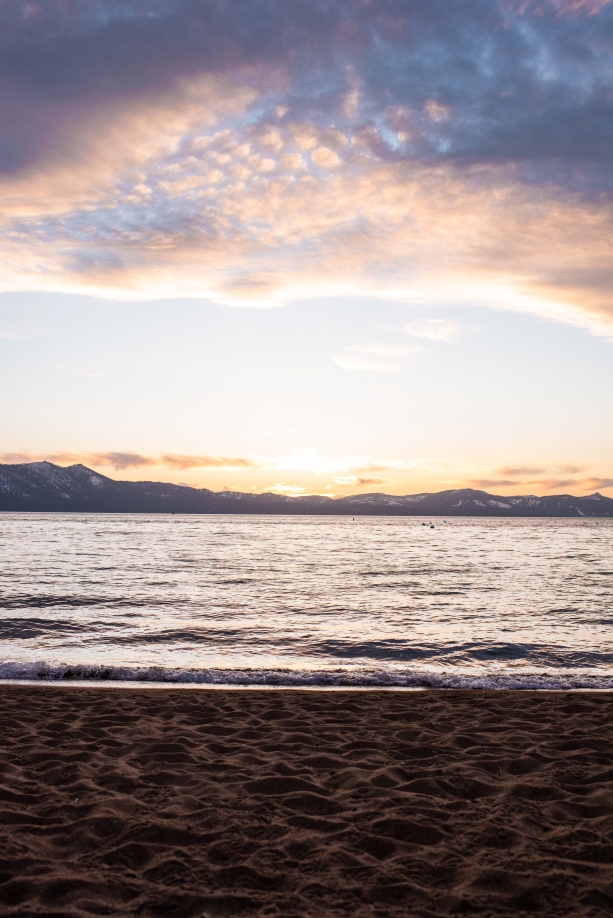 Eat & Drink
Eat
Azul: Who wants a margarita and some chips and guac? Azul is serving up delicious Mexican food and even better margaritas. Located right in Heavenly Village, it's an easy spot for an afternoon snack and cocktail or for a full dinner after a day spent hiking. They also have tons of outdoor seating so you can enjoy the sunshine and that fresh mountain air.
Artemis: Artemis for reals, has the best french fries around. Along with those french fries they also are cooking up excellent Mediterranean food. They've got two locations in town making it easy to grab a pita wrap and fries whenever you are feeling hungry.
Pretty Odd Wieners: What's more hipster than a fancy hotdog made from unique meats? Pretty Odd Wieners is serving up gourmet hotdogs from a food truck that's always parked by the 76 Station in Meyers. Making it the perfect stop for lunch on your way out to adventuring.
Freshies: As the name implies, Freshies specializes in fresh, Hawaiian-inspired cuisine. Everything I've ever had here is delicious, but a few of my favorites are the Crunch Salad, the Kalua Pork Tacos, and the Noodle Bowl. Plus they have a rooftop deck with a lake view that is amazing in the summer.
Evans: Sometimes you want a fancy meal, and Evans is where you go. It bills itself as a blend of cuisine from around the world with such dishes as Orange Glazed Prawns, Savory Chile Cheesecake, and Roasted Duck. The Chile Cheesecake might give you pause, but it is one of the best things I've ever eaten. Along with their regular menu, they always have daily specials that are both fresh and local so there is always amazing food to try.
Drink
The Hangar: The Hangar is a taproom and bottle shop, meaning they have tons of beers from all around California and the country. They are also the best beer garden in town. With a huge outdoor space, tons of beers on tap, and the occasional food truck, it's the perfect place to spend a summer afternoon.
Pick 6: Some locals may disagree with me on this (we locals are very passionate about our watering holes), but I like Pick 6. Honestly, it's because they have a great upstairs patio, a full bar for both beer and cocktails, and occasionally have live music. The environment is chill and the drinks are good and that's all I really want in my summertime drinking spot.
Idle Hour: Idle Hour is the newest wine bar in town and it's right on the lake. Who wouldn't want to drink wine with a lake view? Their patio is literally right over the water. It's one of my favorite spots to go to have a glass of wine, some charcuterie, and watch the sunset.
South of North Brewing: What kind of hipster would I be if I didn't include a local brewery? A terrible one I suppose. South of North Brewing is located on the bottom floor of Basecamp Hotel right near the Stateline. In the last couple of years they've gone through some name changes and really upped their brewing game. They've got unique flavors like the Horchata Stout and Pink Boots IPA as well as the staples like Pale Ales and Blondes. The outdoor seating area comes complete with fire pits, Adirondack chairs, and an airstream just for fun!
Stay
Basecamp Hotel: Basecamp Hotel is like summer camp but all grown up. It's modern and rustic and full of adventurous charm. South of North Brewing is located on the bottom floor serving up local beer and bar food. The yard has fire pits, corn hole, and live music on the weekends!
Air BNB: I always like staying in Air BNB's to have a sort of home base. South Lake has some pretty cute cabins to rent! However, the laws have changed in the last year regarding vacation rentals so here's the scoop. Short-term rentals, meaning less than a month, are only allowed in the "tourist core". This is the area around the Stateline and casinos. They are also allowed outside the city limits in the county. This has also resulted in a huge reduction in rentals available so prices have also gone up. Booking well in advance is a must. All that said, these spots are pretty cute!
Where to Take Photos
Angora Ridge: This spot is awesome because you have beautiful mountain views all around as well as views of Fallen Leaf Lake and Lake Tahoe beyond that. There is also an old fire lookout station that is pretty cool to walk around. To get up to the ridge you can hike from the trailhead on Mule Deer Cir, or you can drive up via Angora Ridge Rd.
Fallen Leaf Lake: Lake Tahoe isn't the only lake around, Fallen Leaf Lake is small but still gorgeous. You'll get views of Mt. Tallac and the crystal clear water will blow you away.
Kiva Beach: Kiva Beach is really an all around great spot. You really get the best of all worlds from the beach, to the lake, to the surrounding mountains, its all there.
Cave Rock: Cave Rock is a classic Tahoe photo spot. The rock goes right over the highway and is right next to the lake. If you've seen the photos of the highway with the lake on the right side and Heavenly in the background, that's no drone shot, that was taken from atop Cave Rock. It's a short hike, with a bit of a scramble but totally worth it for the view.
Like this post? Pin it!