South Lake Tahoe is the perfect mountain escape for the Bay Area hipster. It's just four hours away from San Francisco and has great small-town charm as well as big-city amenities. With new breweries opening up, a good combination of contemporary and comfort food style restaurants, and amazing outdoor activities it's a great weekend getaway for Northern Californians.
When I lived in San Francisco I would come up to Tahoe with friends every year to snowboard, hang out in a cabin, and enjoy the beautiful outdoor space. It became such a favorite spot of ours that Rob and I end up moving here in 2017. So now I get to call this beautiful place home as well as share all my hipster favorites with you guys! Because let's be real, you can take the hipster out of the city but… the hipster will still always love craft beers… yeah, something like that right?
Here are some of my favorite things to do, places to eat and drink, and photos spots!
Things To Do
Ski at Heavenly: Heavenly Mountain Resort is located right in town, has four bases (two in California and two in Nevada), and has a ton of terrain. It is a solid intermediate mountain, but there are beginner and expert areas as well. The coolest thing about Heavenly is that from many of the runs you get an amazing view of the lake and Tahoe Basin. Rides with a view are pretty rad.
Snowshoeing & Cross Country Skiing: If you are not into skiing or snowboarding you can still get outside and enjoy the mountains. Snowshoeing is basically like hiking and cross country skiing is like going for a walk but way better! A few good spots for these activities are Van Sickle Bi-State Park, Hope Valley, Spooner Lake, and Tahoe Mountain. Make sure to stay on trails and it's a good idea to have your GPS going just in case.
Hot Springs: Want to warm up and relax after all that exercise? The Sierras have quite a bit of geothermal activity and that means hot springs! Unfortunately, there are none in South Lake Tahoe itself, but there are a few close by if you are willing to go on a little adventure. David Wally's Hot Springs is down the hill on the Nevada side in Genoa and Grover Hot Springs is just outside Markleeville in Grover Hotsprings State Park. Both are less than an hour away.
Sledding: Let your inner child out and go sledding, it's so fun, seriously! You can pick up a sled or saucer from most of the sports stores around town and even some of the grocery stores. Just remember if your sled breaks don't leave it's remains on the hill, take any pieces and throw them in the garbage. Some of the best places to go sledding are at Kahle Park and Sawmill Pond.
Rent Gear: If you need to rent some gear like snowboards, skis, snowshoes, or cross country skis hit up Rip N Willies. They've got good equipment and good pricing, as well as knowledgeable local staff who will let you know the best places to go.
Eat & Drink
Eat
MacDuff's: MacDuff's is all about comfort food. If you want a good warm solid meal after a day on the mountain then head to MacDuff's. I'd say just about everything on the menu is amazing, but my favorites are the mac'n'cheese with bacon and the french onion soup.
Cali Burger: You'll find a great burger right in Heavenly Village, California Burger has all the fancy burgers you could think of, live music, and 100 different whiskeys. It's a fun place to go when you come down the Heavenly Gondola at the end of the day.
Red Hut: So South Lake doesn't really have what I would call "city brunch", you know the bottomless mimosas and bougie breakfast foods. But we do have Red Hut, it's a little more diner-style but the food is amazing, plus they have three locations around town. Get the Rosti, it is by far the best breakfast, especially if you went out or got a little tipsy the night before.
Heavenly Donuts: If you need a little carb and sugar kick before heading up the Gondola for a day on the mountain grab some Heavenly Donuts. They are mini donuts and they are delicious, and their window is right next to the gondola entrance so you can't miss them!
Gastromaniac: Handmade pasta and pizza are the best, and Gastromaniac is serving up simple but flavorful fair. You pick your type of pasta and pick a sauce and voila, deliciousness!
Drink
South Lake Brewing Company: SLBC is making some of the best beers around, they've got 15 beers on tap and are making it all on-site. The tasting room is kid and dog-friendly and they've got events like trivia, Sunday football, and movie nights for some entertainment.
Sidellis: This mellow brewery has a local vibe and a good array of beers. Sample their standard and seasonal beers and play board games or watch sports. Sidellis is the kind of place that feels comfortable to just hang out.
Brooks Bar & Deck at Edgewood: If you are feeling fancy, the Brooks Bar at Edgewood Resort is the place to be. You'll get excellent cocktails with a spectacular view of the lake, they also have some pretty delicious bar food as well.
Stay
The Coachman: This modern motel has some hipster flair but is still uniquely Tahoe. It's kind of got that upscale summer camp kind of vibe. The Coachman has a super cute cafe/bar at reception that is awesome for hanging out and having a drink or reading a book. They also have outdoor fire pits to cozy up next to and roast marshmallows.
Air BNB: It seems like a given to rent a cabin when you come up to the mountains. There are places right in town as well as a bit further out if you are looking for an "out in the woods" kind of vibe. One thing to note, in 2021 all vacation home rentals outside the "tourist core" will no longer be allowed. This may make it difficult to find a place to stay so planning and booking ahead will be key.
Where To Take Photos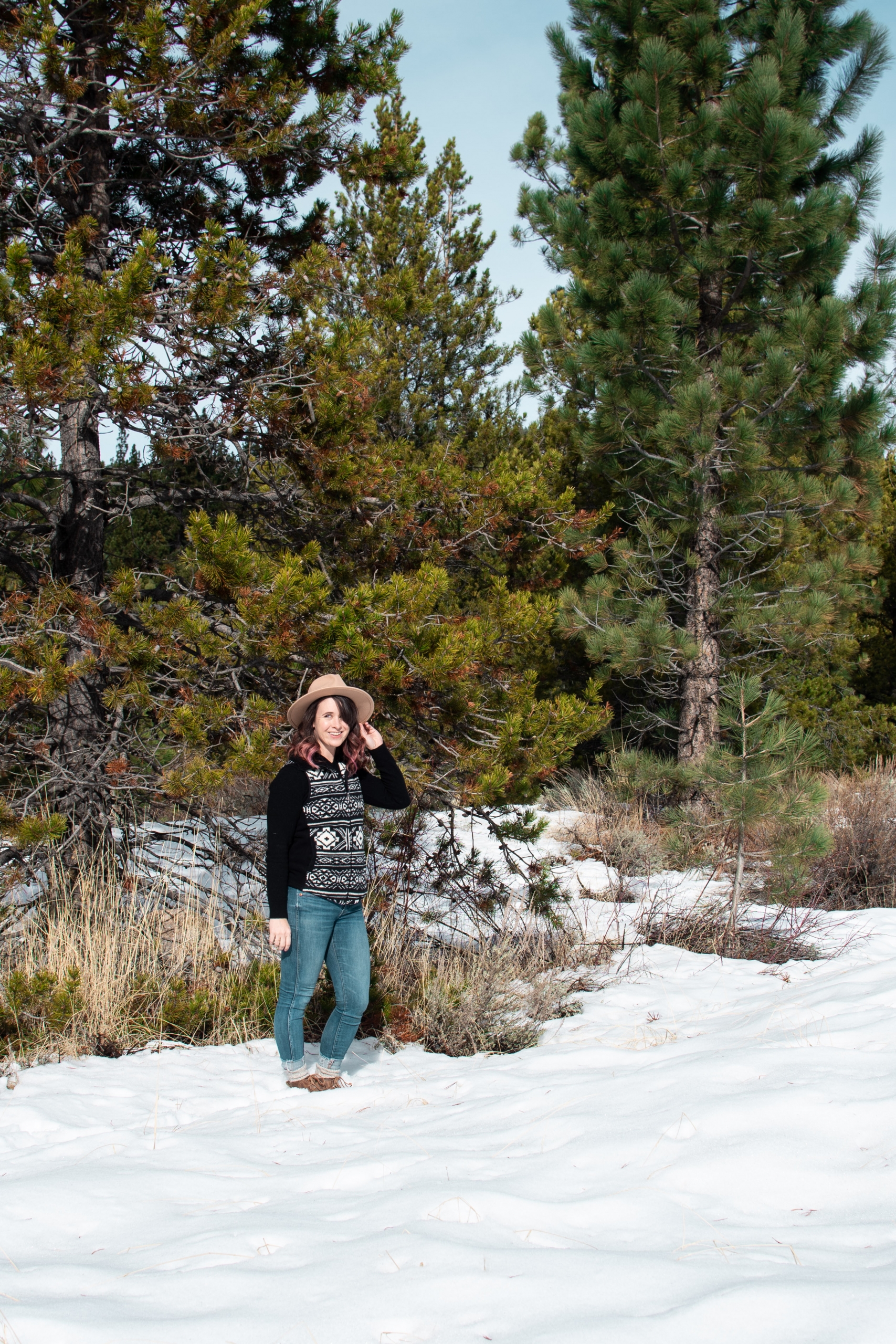 Heavenly Middeck: When you take the gondola up Heavenly make sure to get out at the Middeck and get a couple of photos. You'll get beautiful panoramic views of the lake and mountains, as well as the town below. The deck sits at 9,123 feet so you are up pretty high, but it makes the views spectacular.
Regan Beach: Get some lake level views of the mountains and lake. Take a walk along the lakefront path and enjoy the views.
Sawmill Pond: For a more forest-y vibe Sawmill Pond has a pine forest that will make an excellent backdrop.
Emerald Bay: This might be a little cliche, but Emerald Bay is still one of the most beautiful places around the lake. The iconic views of the bay and it's little island shouldn't be missed. It's a great place to catch the sunrise too if you can rouse yourself in the dark.
Tahoe Essentials
Like this post? Pin it!