As soon as September rolls around you start hearing how everyone just loves fall so much. Leaves and cozy sweaters and pumpkin everything, its fall bitches! I also embrace the basic bitch and love fall, but not for the pumpkin spice lattes.
I love fall because it means it's shoulder season in many of my favorite destinations and it also means many of my favorite desert destinations are now cool enough to go to without melting. So while I do love the changing leaves I also love the desert's cooler weather. This list of fall destinations has some leaf peeper spots but also a lot of desert places too. I think it's a good mix.
Moab UT
The beginning of fall can still be pretty busy in Moab but generally, the season starts to taper off at the end of October/beginning of November. I love the combination of desert and mountains in Moab, you get that beautiful desert landscape with the red rocks but the leaves still are turning colors, and you are surrounded by mountains.
Joshua Tree CA
It's no secret that I love Joshua Tree and by fall the temperatures have dropped back down into the double digits making it more bearable to camp and hang out. Joshua Tree's unique landscape is amazing with its giant boulders and unique plants.
Lake Tahoe CA/NV
The aspen trees around Tahoe start turning yellow around the end of September and early October. The air has that perfect fall crisp to it, but it's still sunny and nice enough to sit outside, especially if you're near a fire pit.
Sedona AZ
Sedona also has that perfect mountain/desert combo that I love so much. The temperatures start to drop in October making it perfect weather for hiking and other outdoor activities.
Napa CA
Changing leaves and wine? What could be better? California's wine country is awesome in the fall. The wineries usually aren't as busy as they are in the summer months and I think the weather is usually just about perfect. Warm and sunny enough to sit outside and be comfortable, but cool enough to wear a cute sweater.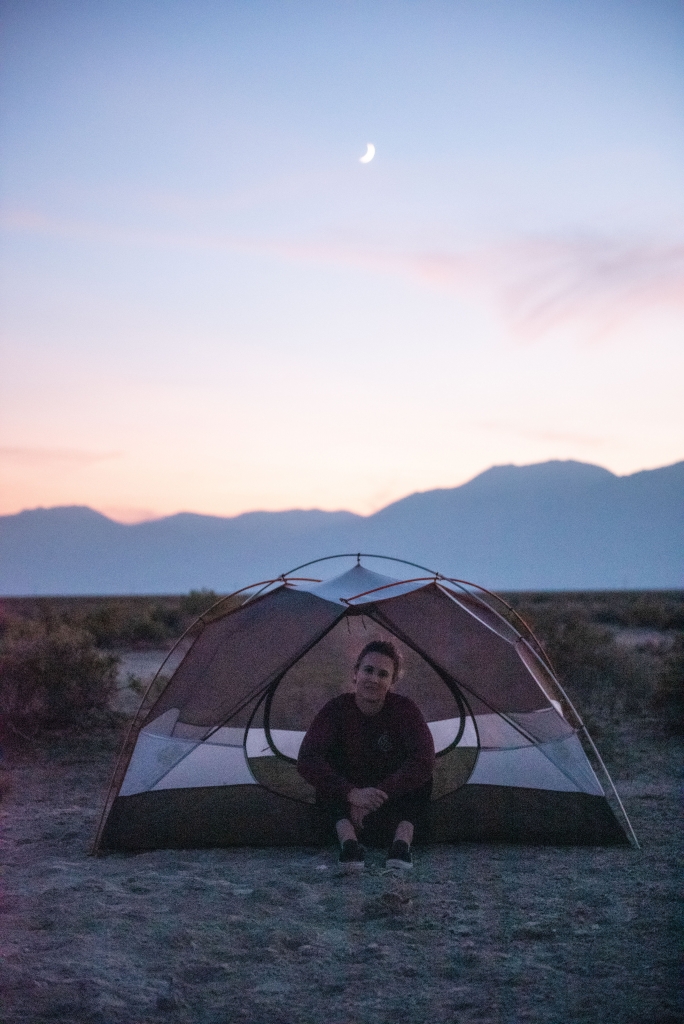 Austin NV
So I say Austin NV because it's the closest town or point of reference, but I really mean just the Nevada desert off Highway 50. I love the desert out here and in the fall the temperature is comfortable to camp in. You can also find hot springs out here to hang out in when the temperature drops in the evening.
Alabama Hills CA
Alabama Hills is one of my favorite camping areas, and in the fall it is less crowded and much cooler than its peak months in summer. From the cool rock formations to spectacular views of the Eastern Sierras it's all rad. And if you're lucky you might even catch a dusting of snow upon the mountains.
Valley of Fire NV
The red rock formations in Valley of Fire state park are so cool! Valley of Fire is located out in the Nevada desert so going in the fall is perfect temperature-wise. You can make it a day trip from Las Vegas or stay a little while in one of the first come first serve campgrounds.
Yosemite CA
Yosemite is amazing in every season, but in the fall the peak tourist season is starting to wind down and you won't face as many crazy crowds. You'll also get some fall vibes with changing colors and a good chill in the air. If you are going to be camping be aware that you can get some rain and even snow sometimes though! So remember to bring all your cozy layers.
Sun Valley ID
So apparently America's best-kept secret is out, and everyone now knows that Idaho is rad. There is a ton of camping, hiking, and biking to do and fall is shoulder season so you won't have those summer crowds. Admire all the changing leaves with the backdrop of the mountains with a hot beverage in hand and you'll be set.
Some Fall Travel Essentials
Like this post? Pin it!