Sedona is known for its amazing hikes. There is a ton of epic scenery to see and the best way to get those amazing views is by hiking. There are hundreds of trails around Sedona so there are plenty to choose from.
There are a good array of hikes for every skill level, these ones here are good beginners and intermediate hikers.
These are my top favorite hikes in Sedona.
West Fork Trail Oak Creek
Distance: About 7 miles
Difficulty: Easy
Type of Trail: Out and back
This hike takes you along Oak Creek through beautiful red rock canyons and shaded groves of trees. There are several river crossings but they are all pretty easy and there's no need to get your shoes wet, they all have rocks and logs to get across. At the end of the hike, the river will fill up the whole canyon making it in-passable unless you want to walk in the water. On a calm day you'll see beautiful reflections of the canyon walls and foliage in the water.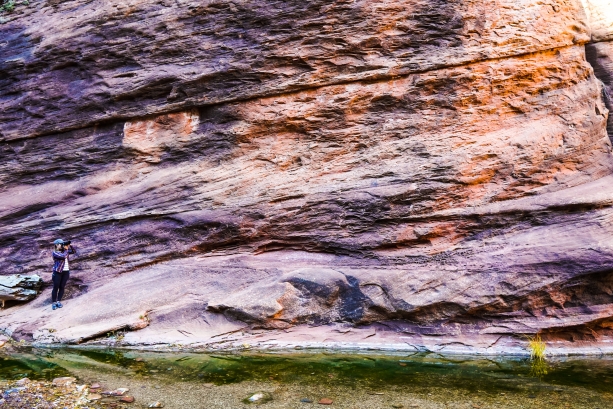 The Devil's Bridge
Distance: Either 4 miles or 2 miles depending on if you take the 4×4 road
Difficulty: Moderate
Type of Trail: Out and back
This famous natural sandstone bridge is a very popular hike. I'd recommend going first thing in the morning for sunrise so you can see the sun coming up through the canyon and avoid the crowds. There is a paved parking lot at the beginning but if you have an off-road vehicle you can take it up the 4×4 trail for the first mile of the hike. There is a parking area once the trail becomes pedestrian-only too. There is a bit of a steep scramble near the top but there are plenty of handholds so it's not too hard.
Cathedral Rock
Distance: About 1.5 miles
Difficulty: Moderate
Type of Trail: Out and back
This hike may be short but the views from the top are spectacular. It is a popular hike for sunset because of the awesome views but be prepared for crowds if you go at that time. There is a lot of scrambling too so make sure to wear good grippy shoes. Cathedral Rock is also a vortex which means it is a center of healing energy, so a lot of people go up there for spiritual reasons.
Soldier Pass
Distance: About 5 miles
Difficulty: Moderate
Type of Trail: Out and back or loop
This hike takes you past the Seven Sacred Pools which are really pretty in the spring when they are full of water (I went in the fall when they were empty). You'll get beautiful views of red cliffs and green trees, the classic Sedona look. Parking can be a bit of an issue, there is a small parking lot in a residential neighborhood but no street parking so if there's no room in the lot you're out of luck. Your best bet is to go early in the morning or late in the afternoon.
Bell Rock
Distance: About 1 mile
Difficulty: Moderate
Type of Trail: Loop
This short hike has beautiful views of the Sedona landscape. There is a little bit of a scramble at the end but nothing too bad. Parking can be difficult as there is only a small lot, and you cannot park on the highway.
Things to Know About Hiking in Sedona
It is the desert so it can get hot and dry so make sure to bring plenty of water.
Always remember to bring snacks! Snacks are delicious, and if you end up out hiking for longer than you thought you may get hungry so stay fueled up with some granola bars or something.
Bring a windbreaker or a light jacket. The weather can change pretty quickly in the high desert and the wind can come up out of nowhere so having an extra layer is always a good thing.
Wear good shoes, running shoes, trail shoes, or hiking boots will do. This may seem like a given but I saw so many people in inappropriate footwear. Some of the hikes are short, but flip-flops get uncomfortable real fast, especially when you have to scramble up a rock.
If you are doing a sunset or sunrise hike bring a headlamp or flashlight. So you know, you can see where you are going in the dark.
Gear
Like this post? Pin it!