When you first think of Canada you might think freezing temps and snow, but fall in Nova Scotia is pretty perfect weather-wise. There's no need for heavy coats or snow gear, but you definitely want some layers. Temperatures in the fall average around 50 degrees but can get as high as 70 and as low at 30.
When packing for Nova Scotia clothes that can be layered are going to be key. I like to start with a base layer for the cooler days and layer up from there. But there are definitely days that are warm enough for just a tee shirt.
Nova Scotia's maritime culture means you'll probably get out on the water at some point so having a waterproof shell is essential to keeping you dry and warm. I've been wearing the same Marmot Minimalist jacket for years now and it has never let me down. It's honestly the best travel jacket, totally waterproof and packs super small so I can throw it in my day pack without any trouble.
Packing List
1.Backpack // 2. Beanie // 3. Scarf // 4. Baselayer Tank // 5. Baselayer // 6. Flannel // 7. White Tee // 8. Black Tee // 9. Long Sleeve Shirt // 10. Sweatshirt // 11. Sweater (similar) // 12. Blue Jeans // 13. Mustard Jeans // 14. Leggings // 15. Puffy Jacket // 16. Waterproof Jacket // 17. Hiking Boots // 18. Booties // 19. Warm Socks
Packing for your activities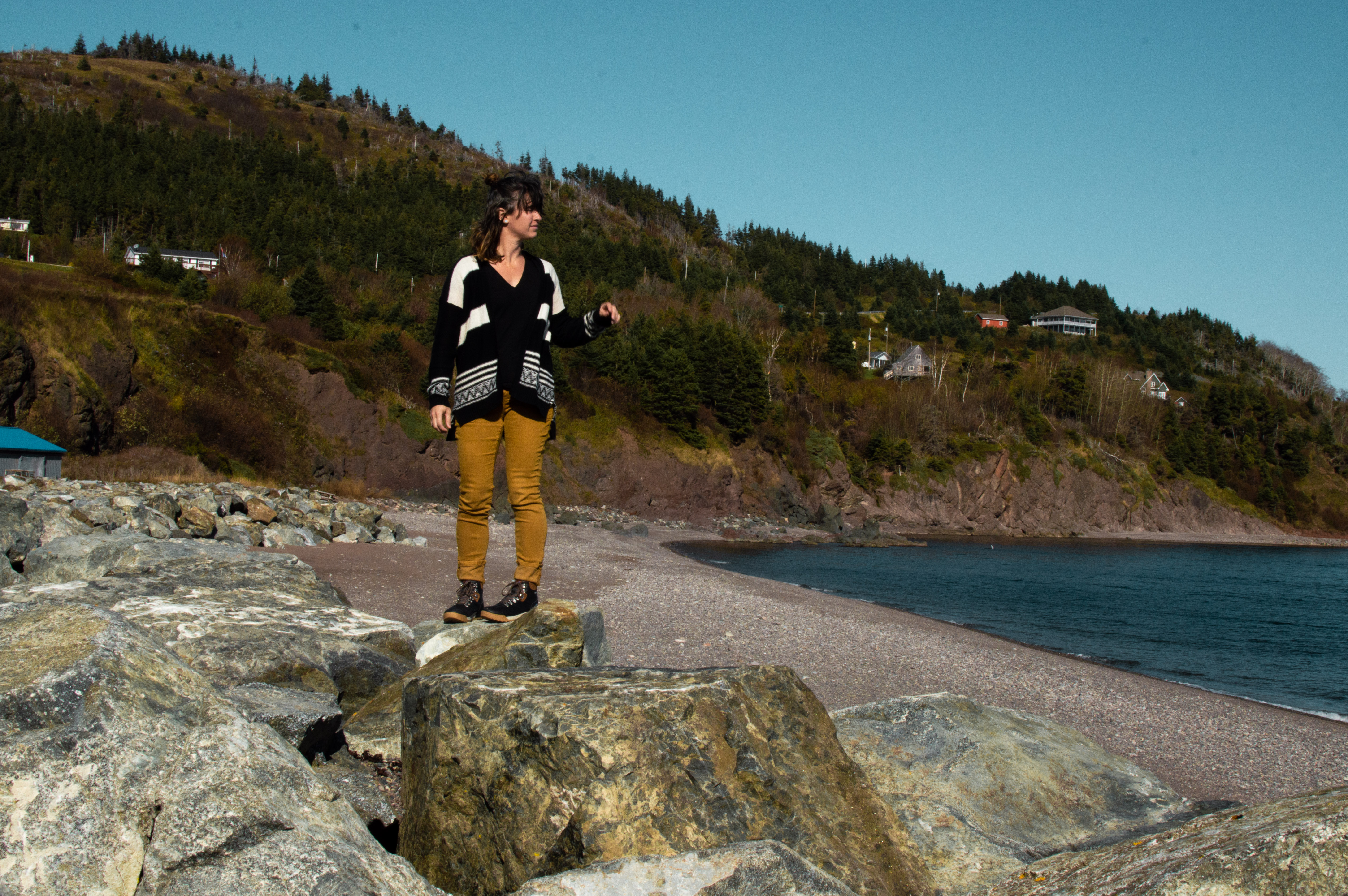 I was on the move the whole time I was in Nova Scotia and outdoors quite a bit so my general uniform was jeans, tee or base layer, and sweatshirt. Then packing either my puffy or rain jacket, beanie, and scarf in my backpack for if the weather changed while I was out and about.
I would also make sure to check the weather and itinerary every morning. If we were going to be out on the water I definitely wanted my rain jacket, but if it was going to be sunny and going for a hike I'd pack my puffy jacket. And for the evening we went for a sunset boat ride I layered my puffy jacket under my rain jacket. I tell ya, layers are awesome!
Like this post? Pin it!