I turned thirty this past weekend in Yosemite.
Thirty is kind of a big birthday, and while some people may mourn the end of their twenties I am welcoming thirty with open arms. I feel like I spent the entire decade of my twenties in a cycle of trial and error. Not that I regret any of those trials or errors, but I am finally starting to feel like I've got at least some things figured out.
So wanting to spend my "dirty thirty" actually being a dirty hippy out in nature, we headed out to Yosemite National Park for Labor Day Weekend with some friends. It was the best way to spend a birthday, for me anyways. I hiked two mountains, including Yosemite's second tallest peak, Mount Dana. I ate s'mores and drank wine and laughed a lot.
Looking for more outdoor adventure? Go to Tahoe!
Planning your Yosemite camping trip
Getting a campsite
I've found that trying to reserve a campsite in Yosemite is almost near impossible. You have to be online at 7AM when they open up reservations and furiously refresh and hope you get through, it's like trying to buy Coachella tickets, but harder.
So we generally like to go to the first come first served campgrounds. You should get there early in the morning, most people leaving their spots will bail out between 8 and 11, and you want to be there to snag it. If it's a holiday weekend your best chances are to get there a day early (think Thursday morning) to make sure you get a good spot.
My favorite first come first served campgrounds are White Wolf, where we stay this past weekend, and Bridalveil Creek. Note, neither of these campgrounds are in Yosemite Valley, making them a bit less crowded.
Get your gear together
I've acquired a good bit of camping stuff over the years, as has Rob, and combined we probably have way too much gear. We seriously have four tents!
Some essentials you should have for a good car camping trips are:
Plates, cups, and silverware
And if you don't like going to REI and spending a million dollars like I do every time I go there, there are places you can rent gear from for your weekend adventure. Last Minute Gear in San Francisco is pretty awesome.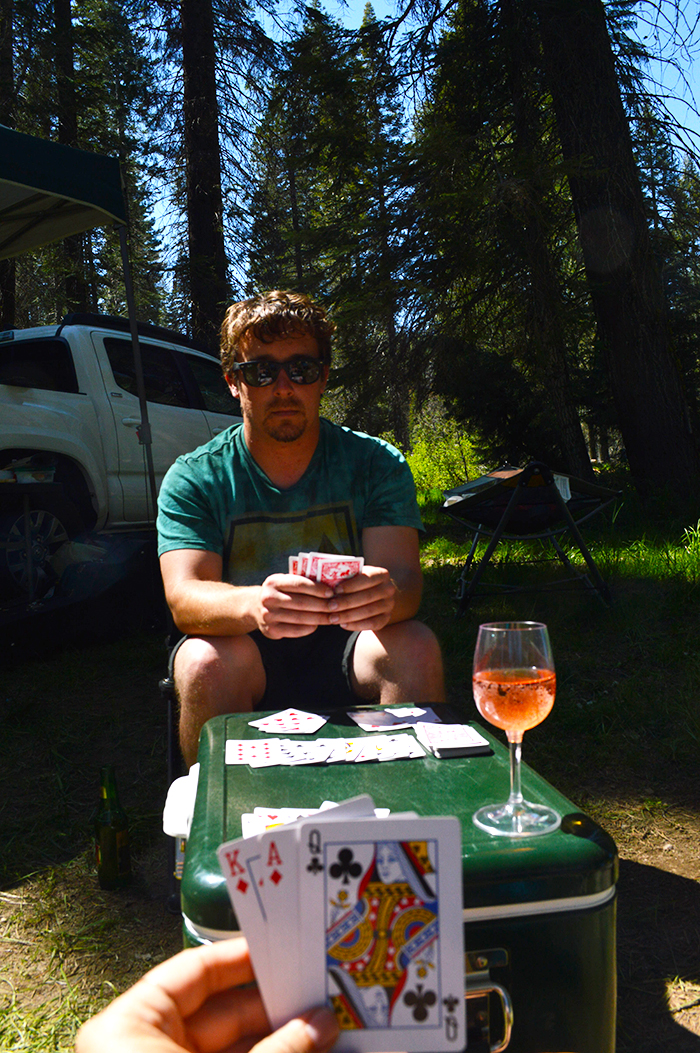 Plan your meals
Any time I go camping with a big group whether it is with friends or family, each group/couple/person plans one meal, usually a dinner or breakfast. This makes meal planning and grocery shopping a bit easier if you are only responsible for one big meal for the group. All you have to do is bring the stuff for that meal, plus snacks and lunch stuff. Don't forget the beer & wine and s'more stuff!
Here are a few of my favorite camp dinners:
Baked potatoes, baked in the camp fire
"Girl scout garbage", basically taco salad
Potato, chorizo, & veggie foil packets
Plan some hikes
I always like to look up a few hikes to do beforehand. There are so many trails in Yosemite for every length and difficulty level that it's nice to have a couple planned out. I usually pick out one hard hike a couple medium, and an easy one. That way once were there we have some choices. There also isn't much reception in the Sierras so you can't really look anything up online once your there.
Half Dome is probably the most famous hike in Yosemite, and if you are planning on doing it make sure you get a permit. So many people want to do the hike now, that you have to enter a lottery for the permit. You never know if you'll get it so it's good to have some back ups in mind.
Yosemite is one of my favorite places on Earth, its beautiful, dramatic, and amazing. It was the perfect place to spend my thirtieth birthday and I would always recommend it to anyone who who wants to spend time in an awesome natural landscape.
SaveSaveSaveSave
SaveSave
SaveSave
SaveSave
SaveSave
SaveSave
My favorite camping gear!
Like the post? Pin it!