If you are looking for adventure and to explore someplace off the beaten track in Southeast Asia, Myanmar is the place to go.
Myanmar's tourism industry is not as developed as places like Thailand, but it is growing. Which is why now would be the time to go see this amazing country. Since the country only opened up to western tourism in 2014 there aren't a lot of tourists or even backpackers. What that means for you the adventurous traveler, is that the beautiful and noteworthy sites are not overrun with people and selfie-sticks. It also means that locals aren't jaded to westerners and are tremendously friendly and helpful, and also eager to show you the best parts of their country, town, or area.
We spent three weeks in Myanmar last November exploring all around the country, from the bustling cities to the mellow coast to the awesome temples and pagodas.
I think one of the best parts about Myanmar was that it didn't feel like you were on a "tourist or backpacker track". When we went there wasn't a ton written about Myanmar (travel blog wise), so a lot of the places we went to we heard about through word of mouth. So we just sort of went without a clear idea of what it would be like. Which always makes for a good adventure.
Are you itching to get off the beaten track in Southeast Asia? These are the 5 adventures to have in Myanmar.
The Coast
After spending a few days roaming around Yangon, we made the somewhat impulsive decision to buy bus tickets to the coast. It didn't matter what coastal town, the destination just had to be on the coast and we wanted to be on a bus the next morning. This may have been one of the best decisions we made the whole trip. Of the few western tourist traveling around the country already, even fewer venture out to the beach.
We spent several days exploring the coastline by motorbike, running around on the beach, and swimming the turquoise water. One of my favorite parts of the whole experience was riding scooter taxis from Ngwe Saung to Chaung Thar. There are no official roads between the two towns so we rode on the beach and on tiny dirt trails through the jungle. We got to see beaches and towns that we never would have seen otherwise.
Check part 1 and part 2 of our beach adventure!
The Temples of Bagan
Old Bagan is possibly the most popular destination in Myanmar, but it is totally understandable why when you see it. The ancient city is home to over 2200 temples and pagodas just waiting to be explored. Some of the bigger pagodas are popular for watching either sunset or sunrise over the valley, but one of the coolest things we did was find a smaller pagoda that was locked. We then managed to find the "key master" he and his family lived close by, and he let us in into the pagoda to have all to ourselves for sunset one night.
Trekking
Trekking has become quite popular in Myanmar, and it is an amazing way to see parts of the country that you would otherwise miss. We did one of the more popular routes from Kalaw to Inle Lake. It is a three day, two night hike with a local guide through the beautiful mountains, valleys, and jungles of eastern central Myanmar.
The Balloon Festival
Myanmar's annual balloon festival is held in November usually the week leading up to the full moon, with the last night being the biggest and most spectacular. The festival, on the surface, is much like any festival or fair we'd have here in the US. Lots of food, vendors, fair rides, and of course fireworks. But, because it's Myanmar, all of those staples are amazing different than what you'd find back home. For one, as much as I love the fried fair food we get here, the mystery meat on a stick was definitely more intriguing and delicious.
The most exciting thing is however, are the fireworks and balloons. What happens is teams create these beautiful hot air balloons, and send them up into the sky with a ton of fireworks attached to them. When it goes right, it creates a beautiful moving fireworks display in the sky. But sometimes the fireworks off too early, before the balloon has left the ground. Making for an exciting dash for cover.
Because of these mishaps, the balloon festival has also been dubbed one of the most dangerous things to go to. But I think some of these journalists and bloggers are just overreacting. It was definitely more fun than scary and I never felt like I was in any danger.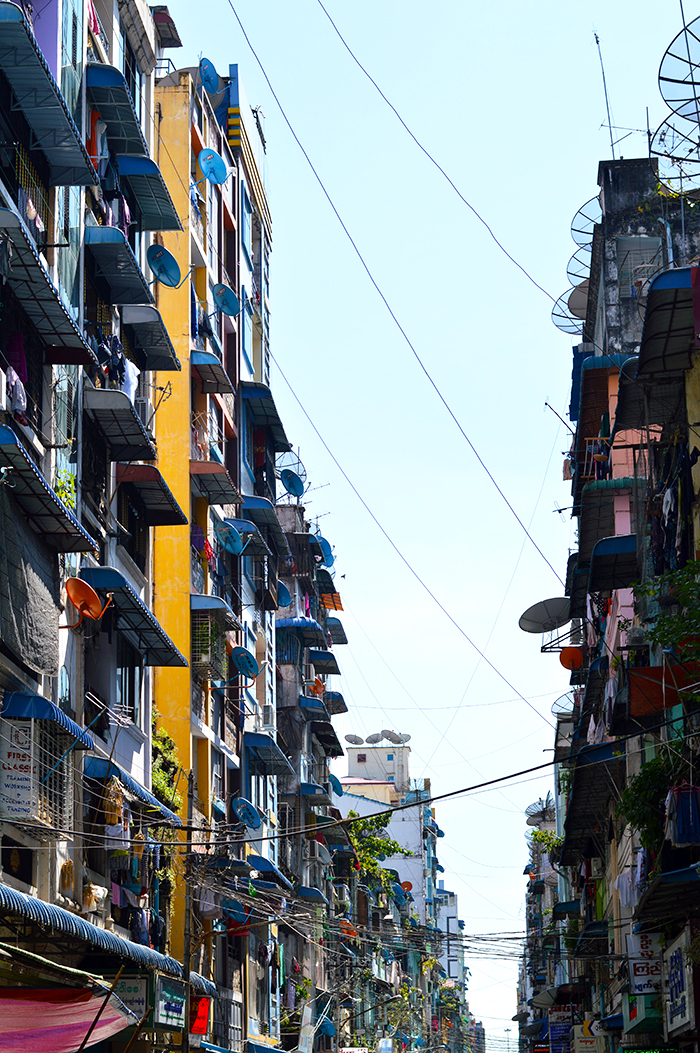 Yangon
If you like Bangkok, New York, or any other big bustling city you will like Yangon. It is the largest city in Myanmar and most likely where you will start any Myanmar adventures since it is home to the main airport. Just roaming the streets of Yangon is an adventure. There are street side markets, and vendors all kinds to explore. I really loved just walking around and admiring the hodge podge of Asian, British Colonial, and modern architecture. The Shwedagon Pagoda is a must see, it is the oldest Buddhist stupa in the world and it is gilded in gold making it a magnificent sight!
Myanmar felt like the ultimate adventure for me, everything there filled me with wonder and excitement.
Have you been to Myanmar? What was your favorite thing you did or saw?
Like this article? Pin it!
SaveSave
SaveSave
SaveSave
SaveSave
SaveSave