The Coachella music festival is just a month away and I always have a few things I do to get ready for the first big event of the summer.
We all have things we do to get ready for a big event, little rituals to make us look and feel our best. These are the steps I take to shed my winter cocoon and be ready to step out into the first big music festival of the year.
Festival Beauty: How I Prep for Coachella
Health
I want to be in the healthiest possible condition going into Coachella weekend. Three days of partying can do a number on you and I want to start out at 100%.
Vitamins
These are things we should probably be doing anyways, but before Coachella I make sure to take all my vitamins and supplements everyday. My go to's are VitaFusion gummy multivitamins, VitaFusion Gorgeous Hair, Skin, & Nails, Calcium, Magnesium, +Vitamin D supplement, and Vitamin C to ward off any oncoming colds.
Eating Right
I also make a big effort to eat healthy. Make sure to get lots of fruits and veggies every day as well as lean proteins. I've been using the Lose It App to help keep me on track and make sure I'm not over eating (my biggest issue being snacking).
Drinking
I've also cut back on the drinking. Every year I say I'll take the whole month before Coachella off from drinking. But that never seems to work out because life and afterwork cocktails happen. But I do make a conscious effort to cut back. Instead of my usual glass of wine with dinner I switch to bubbly water like LaCroix or Pellegrino so I still feel like I'm drinking something fancy. Also, it's kind of a no-brainer, but remember to drink water, and lots of it. Get those eight cups a day in!
Body
The idea that I will be wearing shorty shorts and a bathing suit in a month is a little stressful after a winter indoors. And while I have no intention of being super model skinny (because that will never happen, I like beer and tacos too much) I want to feel good and confidant.
Detox
I've been using Tease Tea's Triple Teatox to reduce bloating, raise my metabolism, and flush out toxins from my body. And I've definitely been feeling lighter and more energized. It comes in both a 30 day detox and 15 day detox so you can still get detoxified before the big weekend (or after because let's be real, we'll probably need it). And as an added bonus you can get $10.00 off the Triple Teatox by using code: NATALIE10 at checkout! So you've got no excuse not to!
Exercise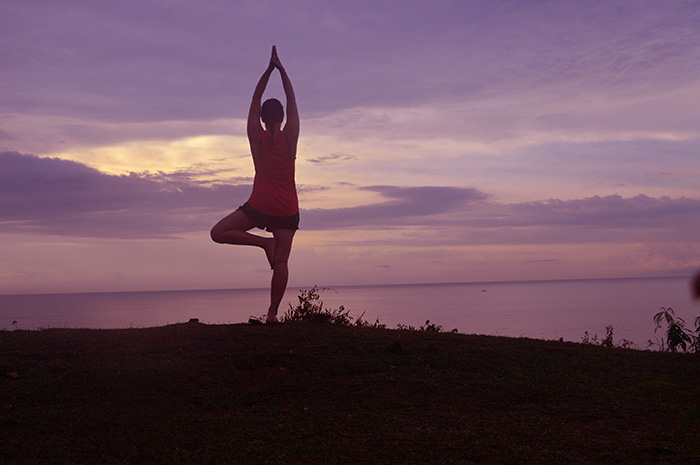 Running and yoga are my go to exercises, mostly because they don't require a gym or any special equipment. I try to get in a work out 3-4 times a week, but make sure I'm doing something active everyday even if it's just taking a walk on my lunch break. And in the words of Ele Woods "exercise gives you endorphins, endorphins make you happy", and when I'm happy I feel confidant and that really all I want.
Skin Care
With all the skin that's going to be showing I want it to look good, and stay protected.
Cleanse, Exfoliate, Moisturize
As a teenager and even into adulthood I've battled acne, so taking care of my skin is a huge priority for me. I make sure to cleanse, exfoliate, and moisturize not just my face but my whole body. This helps to prevent breakouts, clogged pores, and ingrown hairs. I also love moisturizing face masks for a little extra umph. With Coachella being in the desert that means that moisturizing is key, the dry air can wreak havoc on your skin.
Tanning
In past years I've gone to the tanning beds, I know they are just as bad for your skin as tanning in the sun. But I just could never get behind that weird orangey look of the spray tan. I also don't like the idea of being outside in the desert and being translucently pale. This year I'm trying Jergens Natural Glow, and while the results aren't quite that of the tanning bed, at least I've got some healthy color to my skin and that seems like a good compromise.
Protection
Please, please, please remember to bring and wear sunscreen, your skin will thank you for it I promise. The sun is hot and bright out there, and sunburns suck.
Hair
I will be the first to admit, I'm not that great at taking care of my hair. I cut my own bangs, don't get the rest of it trimmed enough, dye it, and probably use heat tools on it too much. But I'm trying to get better…
Dying
I've been dying my hair since middle school, it's been every color from it's natural shade of dark brown to bright pink. These days I stick to more natural tones, but if there's ever a time to try a fun streak of bright color, it's Coachella. I'm currently more concerned with covering up the peppering of gray hair coming in so I'll be sticking with brown this year. But I'm always a fan of the temporary dyes or sprays, and if you hair is light, that hair chalk always looks cool.
Hair Styles
Before you even get to your house or campsite you should practice any new styles you want to do. Just like the fashion at Coachella the hairstyle are always on point, and by practicing beforehand you'll know what you are going to do and how to do it. Plus you don't want to be the one hogging the mirror and holding everyone up because you've decided to try a fishtail braid for the first time.
Condition
If you've dyed or been using a lot of product or heat tools on your hair it's worth it to do a deep conditioning treatment. Just like your skin, your hair will dry out in the desert heat and the extra moisturizing will definitely help keep your hair healthy.
Getting Rid of Hair
I'm just going to say it, get everything waxed, it's way easier than having to shave when you are sharing a bathroom with a bunch of people.
I love Coachella, but I also love feeling like my best self and that really what all this is about. By taking care of yourself you ensure that you'll look and feel awesome for any big event whether it's a music festival or a vacation or anything.
Are you going to Coachella, do you do anything to get ready? What are your favorite festival beauty hacks?