When you think of the typical California road trip you probably get visions of rolling hills along the 101 or dramatic coastline heading up highway 1. But if you are looking for a very different and unique view of California I'd suggest taking highway 395 the length of the state.
Highway 395 runs along the eastern side of the Sierra Nevada mountains, so instead of ocean views, you get sweeping landscapes of valleys and towering mountains. It's pretty epic.
Weekend trip itinerary for a road trip up Highway 395:
The Route: Los Angeles > Lone Pine > Bishop > South Lake Tahoe
Day 1
LA to Lone Pine: About 3 hours
If you leave on a Friday afternoon or evening you can make the short 3-hour drive to my favorite little old western town of Lone Pine.
Stay the night at the Dow Villa Motel or the Mount Whitney Motel a couple of the cutest 50's looking motels in town. Or if you're into camping head up into Alabama Hills for free camping. Alabama Hill is BLM land so you can camp anywhere there is an established spot, just know that there are no amenities like trash cans or bathrooms so make sure you follow Leave No Trace best practices.
Day 2
Lone Pine to Bishop
The drive from Lone Pine to Bishop is about an hour if you go straight through, but who wants to do that? Boring! There is a ton to do and see along the way!
Lone Pine
First things first, get breakfast at Alabama Hills Cafe it's delicious and you won't regret it! Whether you want a greasy diner-style breakfast or something a little healthier they've got it all and it's amazing.
While you're in Lone Pine don't miss the Film History Museum, tons of movies have been filmed in the Alabama Hills just west of Lone Pine from old westerns to modern science fiction. The museum is pretty awesome and has tons of memorabilia from the film industry.
Alabama Hills
Just west of Lone Pine is an area called Alabama Hills, it's known for its cool rock formations and amazing views of Mount Whitney. A few spots not to miss are the "Nightmare Rock", a rock painted to look like a face, it's right off the road as you drive into Alabama Hills and the Arch Rock. Take a hike around, scramble up some rocks, it's all fun!
Manzanar
Once you hit the road north stop at Manzanar National Historic Site just 15 minutes north of Lone Pine for an eye-opening history lesson. Manzanar was a Japanese internment camp during World War 2 and is now a historic site with both original and recreated structures that tell the story of this place, people, and time in our nation's history. Also if you've never read the book Farewell to Manzanar you really should, it's a first-hand account of a Japanese-American girl during World War 2 and life in the internment camp. History can be heavy at times, but we can do our best to learn about it and from it. Visiting places like this makes everything more real and gives you a deeper sense of understanding.
Ancient Bristlecone Forest
If you are feeling up for a hike, or even just a little nature walk head up to the Ancient Bristlecone Forest east of Big Pine. This grove of trees are some of the oldest in the world and among them is the actual oldest living tree in the world! How cool is that?! You can hike the Methuselah Trail through Schulman Grove, it's an easy-moderate 4.5-mile hike with views of the awesome looking trees and surrounding mountains. Make sure you grab a brochure at the trailhead for a self-guided tour with all kinds of fun facts!
End the day in Bishop, there are plenty of moderately priced hotels as well as a plethora of campgrounds to stay at. Bishop is the largest of the Eastern Sierra towns and has a super cute historic downtown area that if you have time you should definitely explore.
Day 3
Bishop to South Lake Tahoe
Bishop
Get up bright and early and grab some pastries from Schat's Bakery and make sure to grab extras for snacking on later, mostly because everything there is delicious!
Hot Springs
As you head north take a little detour to soak in the Wild Willy's Hot Springs near Mammoth. The warm water is relaxing and the scenery is epic so it's totally worth a stop, and if you get there early in the morning you'll avoid any crowds too!
June Lake
Stop into the little town of June Lake, it's got a lake, a ski resort, and an awesome brewery! Try some local beers on the patio and if it's lunchtime, or you're just hungry try Ohana's. It's a food cart in the parking lot of the brewery serving up Hawaiian style food that is amazing!
Lee Vining & Mono Lake
You might not expect it, but there is some good food in Lee Vining. Right before you come into town the Tioga Pass Mobile Mart has an awesome cafe called Whoa Nelly Deli. I know, a restaurant in a gas station sounds unusual, but it's become a hotspot for travelers and locals with its gourmet food and live music. I mean they have lobster taquitos!! It's amazing!
Then for dessert stop by the Mono Cone for some soft-serve ice cream in a totally cute vintage-y setting.
After all that eating it'll be nice to get out and walk around for a bit. Head down to Mono Lake and stroll among the 'tufas'. Mono Lake is a salt lake with some very interesting features, such as it's large limestone columns called tufas.
Bodie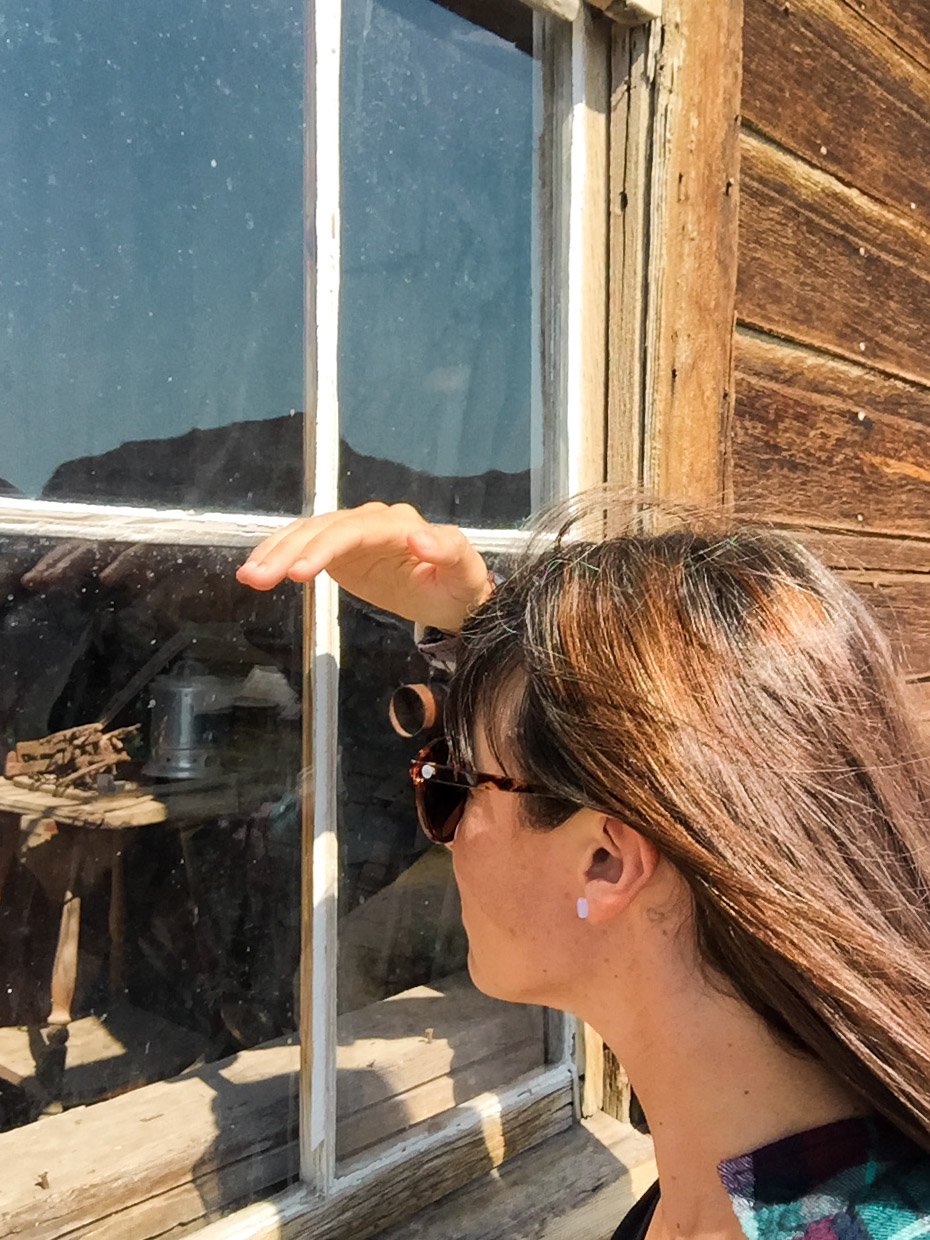 45 minutes north of Mono Lake take a little detour to Bodie, a State Historic Park, and ghost town! This original mining town from the 1800s stands frozen in time and is an awesome site to explore. You can walk around the whole town and even into some of the old houses and buildings for a glimpse of what life was like in the late 1800s. Just a heads up, the road out to Bodie is dirt and while 4 wheel drive isn't necessary, I took my little Volkswagen out there, it is slow going on the dirt and gravel so be careful.
Walker
Just in case you are still hungry or maybe just need a bathroom break, stop at the Walker Burger in the tiny town of Walker. The burgers and fries are excellent and the back porch is super cute and shaded, perfect for a summer day.
South Lake Tahoe
Hey! You've made it to South Lake Tahoe! Once in South Lake, stay at the Coachmen Hotel it's super cutesy and hipster, and the bar/cafe in the lobby has excellent coffee and drinks! Plus the fire pits outside are perfect for getting cozy and roasting some marshmallows in the evening.
Take some time to explore around the lake and mountains, there is a ton to do in South Lake Tahoe no matter the season!
Road tripping is one of the best ways to explore someplace new and if you've never been to the eastern Sierras it's definitely worth the trip. This side of California is so uniquely beautiful and doesn't really get the attention it deserves, maybe that's why it's one of my favorite places.
Like this post? Pin it!