Rob and I have a special affinity for California's Central Coast, I have a lot of family there and spent a good portion of my childhood running around the hills of Santa Barbara, and Rob biked and hiked all over while in college at San Luis Obispo. So we always jump at the chance to head down and spend some time soaking up the central coast's natural beauty.
We took a long weekend road trip, hitting up Santa Barbara, El Capitan, and San Luis Obispo. It was a mellow trip filled with mostly hanging out but we managed to get out a run around a bit too.
Here's what we did.
Santa Barbara
Stay:
We stayed at the Lavender Inn By The Sea, a super cutesy little hotel between downtown and the beach. The hotel itself was super cute with lavender plants growing all around and a garden out front. Their sister hotel is right across the street and you can borrow bikes from them to cruise around which I thought was pretty cool.
Eat and drink:
The Mill might be the coolest and most hipster-y new thing in Santa Barbara. It's a renovated warehouse sort of deal with a large courtyard area. There's a bunch of different business stationed all around the courtyard, including a winery – Potek Wines, a brewery – Third Window Brewing, and a restaurant – Wildwood Kitchen. So once you are there you are kind of set for the night as far as eating and drinking go.
Do:
Santa Barbara is beautiful and there are all kinds of things you can do to enjoy it. Here are some of my favorites:
Hanging out at the beach and walking or biking the boardwalk.

Wandering and shopping downtown at the their giant open air mall Paseo Nuevo. Also if you are downtown make sure to go check out the court house, it is one of the most beautiful buildings.
Go to the Santa Barbara Mission and have a picnic in the park across the street. If you've never been to the Mission before you should definitely go check it out. There are tours most days of the week or you can just wander around it. I love the park across the street with its sprawling lawns and rose gardens it's the perfect place to hang out and have a picnic.
El Capitan State Beach
Stay:
El Capitan State Beach has a huge campground right near the beach which was where we stayed to be able to enjoy some beach time as well do a little walking in the oak groves. The campground has both tent camping spots as well as trailer and motorhome spots so however you like to camp there is a spot for you.
Eat & Drink:
I hit up Trader Joes on our way out of Santa Barbara for snacks and beers, so we brought most of our food with us. However if you forgot anything there is a camp store that carries a lot of basic stuff like beer, ice cream, and smore's stuff, you know all the camping essentials.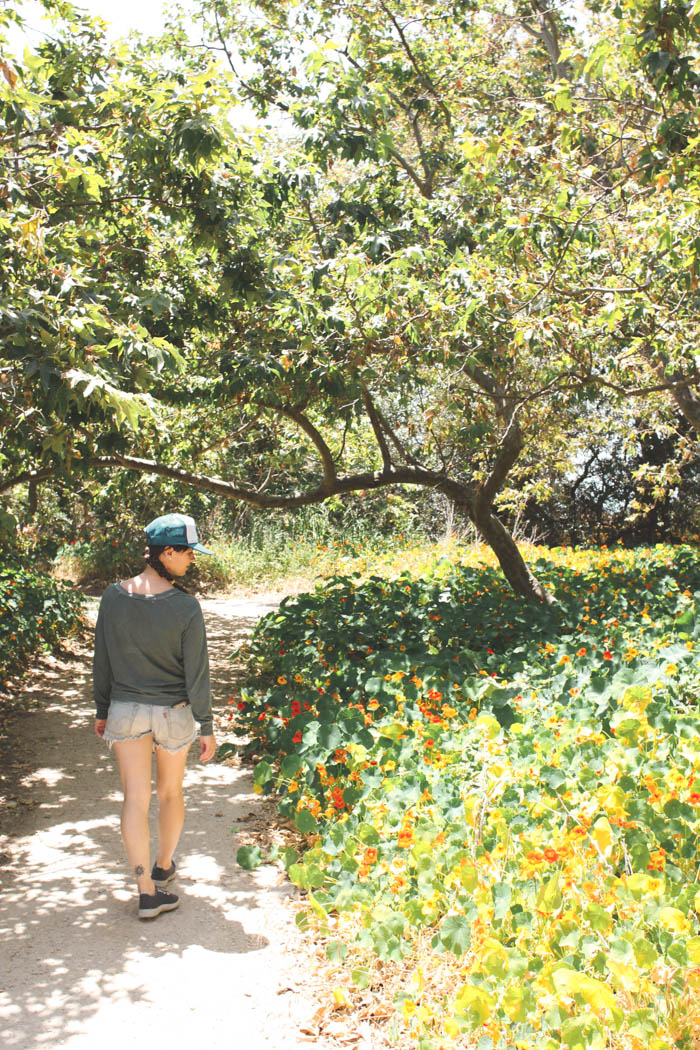 Do:
We spent a lot of time just chilling, we camped with a bunch of my family so we spent a lot of time just hanging out and catching up. But there are plenty of other things to do other than just sitting around shooting the shit.
The beach there is really nice and even though the water is cold, it feels nice to take a dip after baking in the sun. Just be warned, tar seeps up naturally from the sand and in the water, so you might find yourself covered in black spots after a day at the beach. Not to worry it'll come off pretty easily, you can get special little tar towelettes to wipe off. Or, and I know this going to sound gross and weird, but you can use mayonnaise, just spread some on your tar-y bits, wait a few minutes then rub off, it'll come right off. Seriously, I wouldn't be saying it if I hadn't tried it successfully myself.

There are a few trails to hike up into the hills, I've heard mixed reviews about how well these trails are maintained but I'm sure you'd get some awesome views from the top. Alternatively there is also a "nature walk" near the campground that goes back from the beach into a beautiful oak tree grove along a little creek. This walk is super easy, and also beautiful, especially in spring time when all the flowers are in bloom.

There are a bunch of bike paths all around the campground and the surrounding area, including one path that goes from El Capitan up the coast to Refugio State Beach. We saw tons of people biking around, and it looked like a ton of fun.
San Luis Obispo
Stay:
We stayed at the Avenue Inn on the southern end of downtown, but still very much walking distance to all the fun stuff. The hotel is pretty basic, but a good price and close to everything we wanted to do.
Eat & Drink:
We went for a hike and afterwards I was seriously craving a burger so we hit up Sylvester's in Los Osos for some amazing burgers, seriously so good! Then we met up with a couple of Rob's old professors at Libertine Brewery for a a beer. If you are into sour beers this is your spot, that is what they specialize in. The do also have other beers if you're not so much into the sour's, but the vibes there are mellow and casual so it's the perfect place to grab a pre-dinner drink. For dinner we went just down the block from Libertine to Big Sky Cafe, it's delicious California cuisine that seems so healthy with all those fresh veggies.
The next morning on our way out of town we hit up Blackhorse Coffee for some caffeine and a little something to eat. Their coffee is delicious, as are their ham and cheese croissants.
Do:
We went out to the coast at Los Osos to hike out along the bluffs which was beautiful. There are a ton of trails out there so you can take your pick. We did the smaller loop on the Buchon Point Trail, it was about two miles around. You have to go through a gate to get to this hike, and it is only open on the weekends. The land is owned by PG&E so it's private property and you have to sign in at a little ranger station before you can do the hike, but I still think it was pretty cool. The coast line is pretty dramatic out there. The hike itself is more of walk and fairly easy but the views are what makes it.

San Luis Obispo has one of the cutest downtowns ever, so it's worth it to take some time and just wander around the shops, cafes, and restaurants in the downtown area.
A long weekend can be as intense or as relaxing as you would like it to be, we always try to go for something in the middle. Trying some new fun stuff but with lots of chill time is definitely my speed. Even long weekends can feel short and overwhelming if you over-schedule yourself.
Hopefully you can make it out to the central coast of California and you can enjoy all the beauty it has to offer too. These are just a few ways to do that.
Like this post? Pin it!