Greece is one of the oldest wine producing regions in the world, and Santorini itself has been producing wine for thousands of years! So we obviously had to taste some wine while we were there.
The woman we met at the wine bar in Athens recommended Santo Wines, so we took an afternoon to check them out and try some wine!
The Winery
Santo Wines is located south of Fira, just before the road down to the port, right on the cliffside. Their large wrap-around patio has beautiful panoramic views of the caldera and cliffs, and makes for a pretty epic tasting experience. One thing to note, the winery is popular with the wine tours, and tour busses, so there are periodic influxes of people, but the tasting area is big enough that it never felt crowded.
The Tasting
They offer tasting flights of four, six, twelve, or eighteen wines and a mixes of reds and white. Santorini is known for the whites so there are generally a few more of those than the reds. Along with your flight of wines you get a little snack of bread, cheese, olives, and tomato spread, which was the perfect little accompaniment to the wines. However they don't offer any other food than that.
Rob and I split the 12 wine tasting flight, and it was the perfect amount for two people. The tasting pours are a bit heavier than we get in California, so splitting with another person worked out the best. Plus one of us was going to have to drive the ATV home.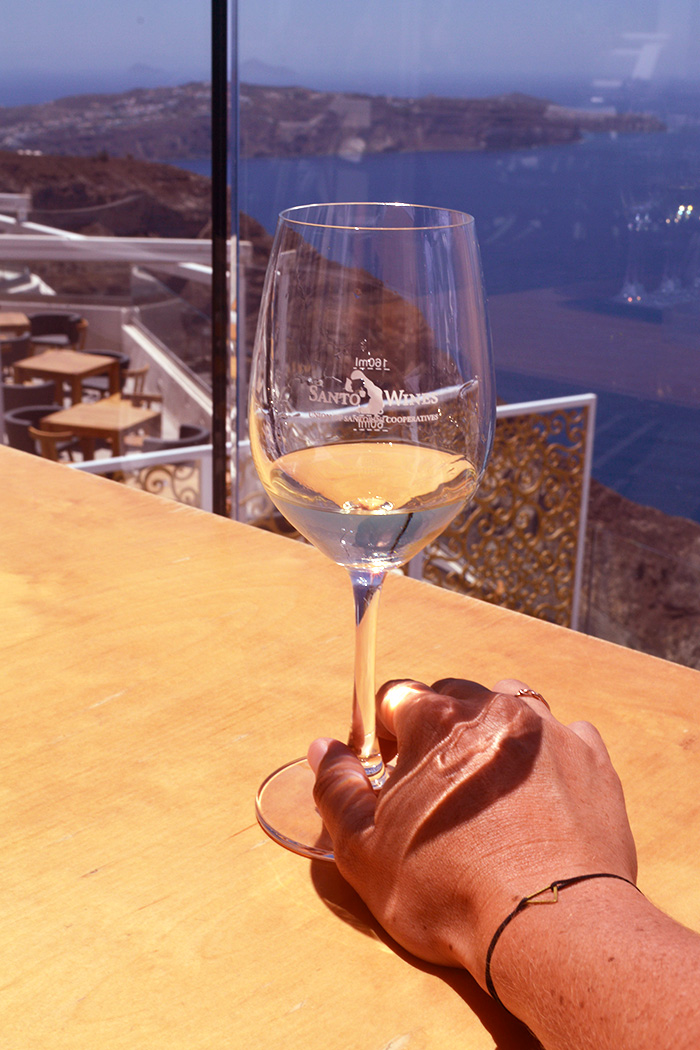 The Wines
My favorite part, the wines. I'm not a wine connoisseur by any stretch of the imagination, but I do like wine, and I've drank enough to know a little.
We started out with a little bubbly, which I loved, it was crisp and refreshing and perfect for a hot summer day. Then it was onto the whites which were mostly dry and had a unique mineral taste that is specific to the minerally volcanic soil there on the island. To balance that out they had a lot of citrus and floral flavors giving them a really refreshing taste.
The reds were very fruity and bold, and would probably fair better once the weather got a little cooler, but they were still enjoyable.
The last two were dessert wines, one white and one red. The white was delicately sweet, which I liked because I'm generally not a fan of super sweet wine. The red was more like a port, or a syrup, it was so sweet, it had a sort of raisin-y taste to it too. Rob loved it, but it was a bit much for me.
Overall it was a fun way to spend an afternoon on the island. You could always do one of those all inclusive wine tours and go to a bunch of different wineries on a bus, but just going to one for an afternoon was a little more relaxed. We sipped our wine on the patio, with the stellar view, and at the end I ended up buying a bottle of the sparking wine.