With spring warming up it felt like it was time for a mellow getaway weekend to San Diego. Sometimes you just need a little sun and beach time.
I'm originally from San Diego so not only was it a good excuse to get out of the city for a weekend but I got to go see some friends and family as well as show Rob around my home town.
We flew into San Diego international airport on Friday morning, we had a few delays – thanks SF rain – so I was starving by the time we landed. Luckily the airport is actually right in the middle of the city so we didn't have far to go to get brunch. Fig Tree Cafe is probably less than a mile from the airport, located in Liberty Station – an old naval training center that was turned into a pretty cool outdoor shopping and dining district. I had one of the scrambles and Rob got the Italian fennel sausage omelet. It has something called "man candy" in it, don't be alarmed, it's not as weird (or scandalous) as you might think. It's brown sugar candied bacon, and it's delicious.
After brunch we kept it mellow and hung out with friends for the rest of the day and did a little barbecuing. I would like to note that if you are looking for a cool grocery store to stop and get snacks or lunch at on your way to the beach Barron's on West Point Loma Blvd has an awesome selection of snacks, prepared food, and semi prepared food(things like pre marinated meats and stuff – the Rosemary steak we got to barbecue was awesome!).
On Saturday Rob and I cruised over to Old Town, it can be a little touristy but it's fun. There's a ton of history, original architecture, plus a ton of Mexican food and shopping. We wandered around around the state historic park and Bazar Del Mundo before heading to Casa Guadalajara for lunch. Since it's Saturday and we're in old town, we had to get a margarita – ya just do. We got there a little early to meet up with friends, we're so used to the long waits for a table in SF we figured we'd have a little time to wait, but nope we got sat down right away, before we could even finish ordering said margaritas at the bar our little hostess buzzer was going off. We ordered the nachos as an appetizer while we wait for my friends, which Rob and devoured before they even got there. Couple of fat kids ha! Lunch there is great, everything on the menu is going to be delicious. We sat on the back patio which was perfect, there's a big tree for some shade but also lets enough sun in that it doesn't get too cool.
As If the lunch time margaritas weren't enough, we met up with my brother Alex after lunch at Ballast Point Brewery (the Linda Vista location). Ballast Point started out as a tiny home brewer supply store, I remember going there with my dad when I was a kid and being fascinated by the large bins of grains and hops and all the chemistry set type equipment. The brew store is still there but they've expanded into a tasting room now. Rob and I each did the 3 beer tasting. I was really excited because I love Ballast Point's beer especially their Sculpin IPA both the original and the grapefruit, but I hadn't had a chance to try the habanero, because who wants to risk buying a whole six pack and only being able to drink half a beer of it? Well that was my fear at least. All the beers were delicious, and I'm glad I only got a taste of the Habanero Sculpin, because man was it intense! But definitely worth a try!
After all the beer we managed to get down to Sunset Cliffs to catch the sunset which never seems to disappoint.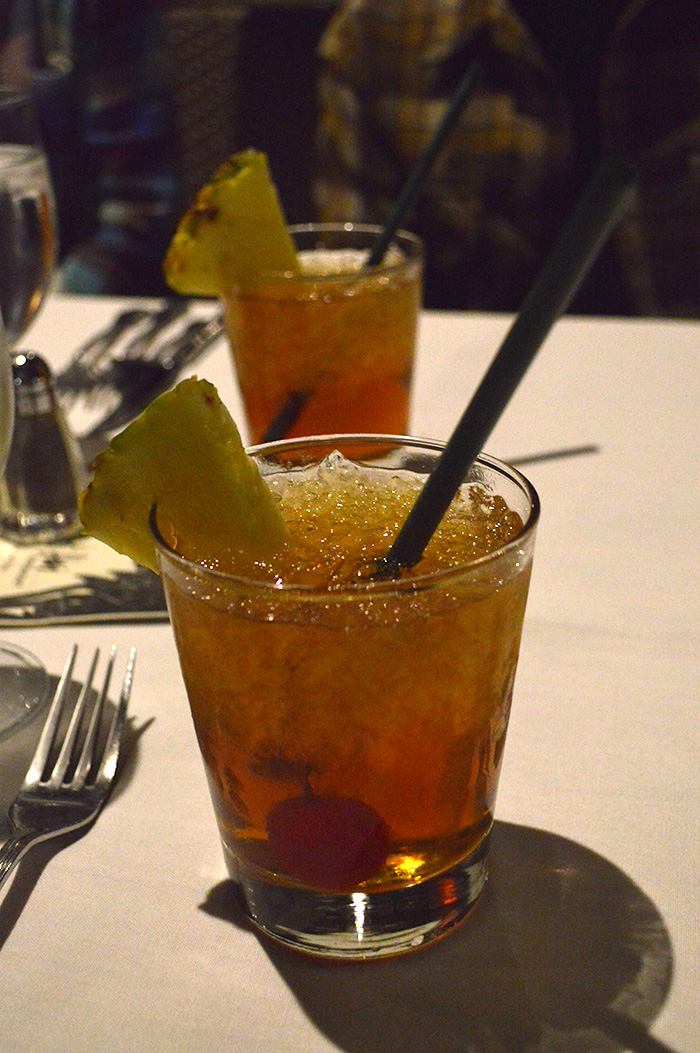 For dinner we headed over to Bali Hai with Alex and his girlfriend Maggie, it's a Polynesian style restaurant specializing in seafood, and it's Mai Tai's are famous, or infamous depending on who you talk to! Since we went to the beach for the sunset we missed the spectacular sunset views from Bali Hai's deck but it was alright, we could still see the lit up skyline across the bay which is alway nice. (side note, if you get the chance, get in there just before sunset so you can watch the sun go down over San Diego Bay and downtown, it's pretty awesome). We ended up sitting on the outside deck which was fine, it wasn't too cold plus they have heaters which is always nice. As soon as we were seated we ordered a round of Mai Tai's for everyone. So the Mai Tai, it comes with a warning if you've never had it before – it's all booze – there's no mixer in it at all. The only thing in it that's not booze is a maraschino cherry and a slice of pineapple. If you are thinking "that'll taste awful!" Believe me it doesn't, it's quite delicious but one is enough for me and the servers will only serve you two max. With the drink taken care of now on to the food! We got the tuna poke as an appetizer from the raw/crudo section, I'm a big fan of raw tuna in general and the wanton chips it comes with add a nice crispy crunch. For dinner I obviously had to go with seafood, in the Kai (meaning ocean) section of the menu I opted for the scallops, they come wrapped in prosciutto and are amazing. Rob got the salmon which never fails to impress, Maggie the cashew shrimp which is my other go to favorite dish there, and Alex went for the meat getting the Moroccan lamb which I definitely took a bite of and immediately wonder why I'd never looked through that part of the menu because that was also fantastic.
After dinner we went back down to Ocean Beach where Alex and Maggie live and decided to grab one more drink at my personal favorite, Pacific Shores or as the locals call it, just Pac Shores. It's a super 50's under the sea style dive bar with black lights, under water murals, and an old school jukebox. The drinks are reasonably priced and the ambiance just makes me smile. It's bummer that I don't have any good pictures of the inside decor but it's just too dark to get anything good. The black lights will however make your gin and tonic glow in the dark!
Cut to Sunday morning and like any good San Franciscan I want brunch. Alex being the kind and wonderful brother he is set us on a course to Wonderland. Its got big open windows and a beach view as well as a killer Bloody Mary (yep it comes with bacon!). Everyone but me got the chilaquiles, which, with either the green or red sauce are solid. I went for the scramble per usual – the SD Local scramble has just about everything I love in it – spinach, jalapeno, cheese, avocado, and chicken. 
The rest of the day we spent just hanging out at the beach – read, watched the surfers, played a little frisbee. We were going to have dinner with my parents in North County so we opted to head up to  Carlsbad State Beach instead of sticking around Ocean Beach. Carlsbad is a mellow beach break that never seems to get too crowded so it was a fine place to hang out for an afternoon.
While sitting in the airport later that night all could think about was how the weekend getaway is the perfect amount of time to recharge, and San Diego is pretty much the best place to do that recharging. No matter if you are visiting family or just taking a weekend to yourself go someplace that makes you happy on your days off.