We may be sheltering in place right now but my love of travel and experiencing new places still lives on. So to stay safe and socially distanced I've been checking out virtual tours of some of the coolest places in the world.
From art museums to national parks you can still have an adventure from the comfort of your home, which I gotta say, is pretty rad.
So after many hours spent internetting, I've found the best virtual tours on the internet that let you escape your home and take you on a journey.
Museums
The Louvre: The Louvre is one of the most famous museums in the world, and while visiting in person is a once in a lifetime sort of experience visiting virtually is still pretty rad. Click through four virtual galleries, The Petite Galerie, Egyptian Antiquities, Medival Louvre/History of the Louvre, and the Apollo Gallery. Just a heads up the tours use Flash so you might need to install or download that. It's also a little confusing to navigate through the galleries, but once you get the hang of it you can see some amazing works of art and history. The tours do allow you to click on things to get a closer look which is really nice, especially for reading descriptions and plaques. However, some of the descriptions are in French.
The Van Gogh Museum: Wander around Amsterdams Van Gogh Museum and see some of the artist's most famous works. They use what looks like Google street view to let you walk around the museum. This makes it fairly easy to navigate around, however, you can't really zoom in on anything to be able to read plaques and descriptions.
Smithsonian Natural History Museum: Explore African planes and ancient dinosaurs at the Smithsonian Natural History Museum. The map is easy to navigate through the exhibits, but you can only go to certain points on the map which consequently give certain views of the exhibit. However, these points are well located for maximum viewing. You can also zoom in at certain points to get a closer look at the exhibits, these points are marked with a camera icon.
The Getty: The Getty has taken its exhibits online in an interactive way, each exhibit is presented a little differently, some take you through the audio tour while others have video or long-form article like descriptions with photos. I really enjoyed the Michelangelo exhibit because it had a little bit of everything.
Zoos
San Diego Zoo: The San Diego Zoo has live streams of some of it's most popular animal exhibits including the penguins, baboons, polar bears, apes, koalas, giraffes, butterflies, elephants, tiger, owls, and condors. They also have archival footage of the panda bears (which are no longer there). Some of my favorites were watching the baboons and apes run around, play, and swing on their jungle gyms, the elephants because there is a baby and that's just cute, and the polar bear.
Smithsonian National Zoo: The Smithsonian National Zoo has several of its animals on live stream too, including the naked mole rats, lion, giant pandas, and elephants. Also coming soon, they'll have a cheetah cub cam! Mama cheetah Echo should be giving birth any day now and we'll get to see some cute baby cheetahs. Currently, my favorite live cam is the pandas, but I think I'll be adding baby cheetahs to the list very soon.
Monterey Bay Aquarium: The famous Monterey Bay Aquarium has live streams of a bunch of their tanks so you can watch everything from jellyfish to sharks. There are live cams for the aviary, coral reef, jellyfish, kelp forest, the (actual) Monterey Bay, moon jellyfish, open sea, penguins, sea otters, and sharks. By far my favorite live cam is the jellyfish, they are so calming to watch float by, plus they play calming music to go with it. I also really like the sharks, but that's just because I think sharks are fascinating.
National Parks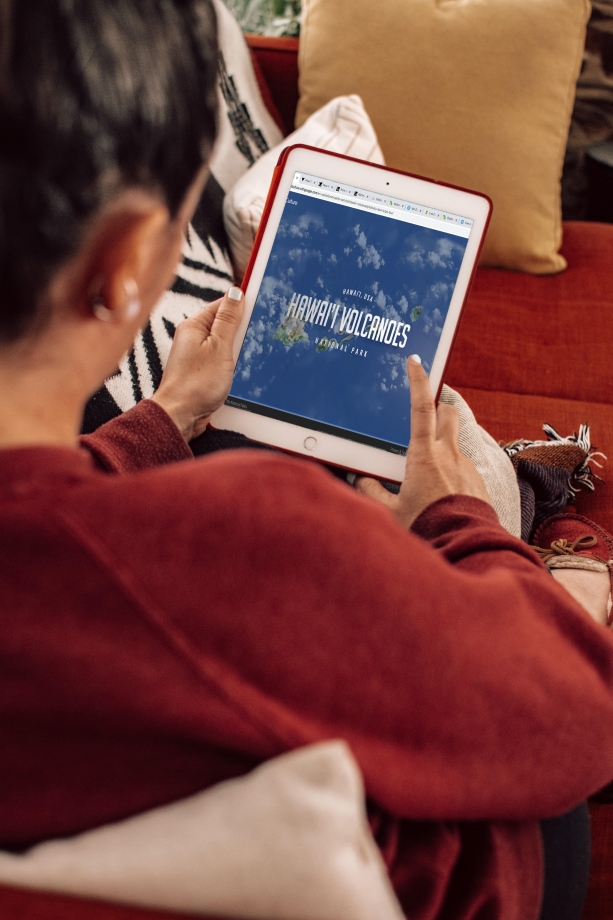 The Hidden Worlds of National Parks: Google's Arts & Culture takes you on a tour of five National Parks, including Kenai Fjords AK, Hawaii Volcanoes HI, Carlsbad Caverns NM, Bryce Canyon UT, Dry Tortugas FL. These interactive tours include videos, audio tours by park rangers, and 360 views of the parks. They are all amazing tours, and really well done. The videos are beautiful and the information the park ranger provides is really interesting.
So if you are feeling that travel bug itch, hopefully these tours can give you a little glimpse of the outside world. And if you are feeling a little anxious maybe just put on the jellyfish for a bit and just watch them float around, it's honestly so calming.
Like this post? Pin it!