Croatia is becoming a more popular European destination every year and it's easy to see why. It's got beautiful coastlines, historic cities, and is relatively inexpensive compared to the rest of western Europe. Split is Croatia's second largest city and is located on a peninsula jutting out into the Adriatic Sea making it both a destination in itself and an easy jumping off point for exploring the rest of the country.

The city centers around Diocletian's Palace, built in 305 AD by the Roman Emperor Diocletian, and is now a Unesco World Heritage Site. The palace itself is more of a fortress or small walled city and it is beautiful.

You could spend days and weeks exploring the city, relaxing on the beaches, and enjoying the amazing weather in Split, but if you are on a tighter schedule here are some of the best thing to do in the span of 48 hours.

Day One: Site Seeing
Wander around Diocletian's Palace, you can take a walking tour of the palace but personally I enjoyed just meandering through it's skinny winding streets on my own. The old worn white stone everything is built out of are beautiful and you feel like you are in another time.
Stop for brunch at Corto Maltese Freestyle Food, it is within the palace walls so you will probably stumble upon it while wandering around. Their food is a delicious blend of modern mediterranean and they have excellent iced coffee which tastes so good on a hot summer day!
Take a tour of the oldest cathedral in the world, the Cathedral of Saint Domnius sits near the center of Diocletian's Palace and is fairly easy to spot because of its bell tower. When you pay the entrance fee to get into the cathedral make sure your ticket includes entrance to the the bell tower, because you are going to want to climb up it. The stairs may be a little sketchy, but the views from the top are totally worth it!
Gregory of Nin was a medieval bishop known for leading religious services in the Croatian rather than Latin. His statue sits just outside the walls of the palace. It is good luck to rub the statues big toe, and you can tell it's a popular practice because the toe is rubbed clean and shiny. A little luck is always good to have to why not give it a rub.
Grab an afternoon gelato snack, there are stands all over both the palace and outside the walls.
Cruise down to the waterfront for beautiful views of the Adriatic Sea. Riva is the boardwalk area right in front of the palace, it's filled with shops, stands, and restaurants and is fun place to cruise around and check everything out.
For local Croatian fare and seafood hit up Fife for dinner. It can get busy so if you have a large party it's good to make a reservation. The big portions of seafood were great for sharing and the servers were kind enough to keep the wine flowing, it was an excellent meal all around.
Day Two: Beach & Nature
Stop by one of the little markets on your way out to adventure and pick up bread, cheese, meat, and fruit for a little picnic later in the day. And don't forget to grab plenty of water, it get hot and you'll want to stay hydrated why walking around.
Marjan Forest Park is on the western end of the peninsula and is a little escape into nature. The park is filled with walking paths, hiking trails, and beautiful viewpoints. Going for a hike or walk through here is a great way to get outside and get a little exercise. The park also includes a ton of beaches all along the outer edges. We walked around the park until we found a good beach to picnic at. Our journey began by walking up Marjan Hill on a paved path, then ended up taking a smaller trail down to coast. We hiked in sandals which wasn't terrible as the trails weren't too difficult but actual shoes would probably better to walk in and just bring your sandals for when you get down to the beach.
Beach Bene is on the north side of Marjan Park, it's bright white rocks leading into the turquoise water are very picturesque. We set up our little picnic under the shade of the trees just up from the shoreline. The main part of the beach and swimming area has little ladder to get into the water which is helpful because the rocks are a bit jagged and hard to walk on. The water is cool and refreshing especially after the hike through the park.
From Beach Bene there is a paved walking path that goes around the point of the peninsula. The path does turn into a road where cars are allowed but we continued to walk along it but just on the side.
Quick City Guides to other awesome cities!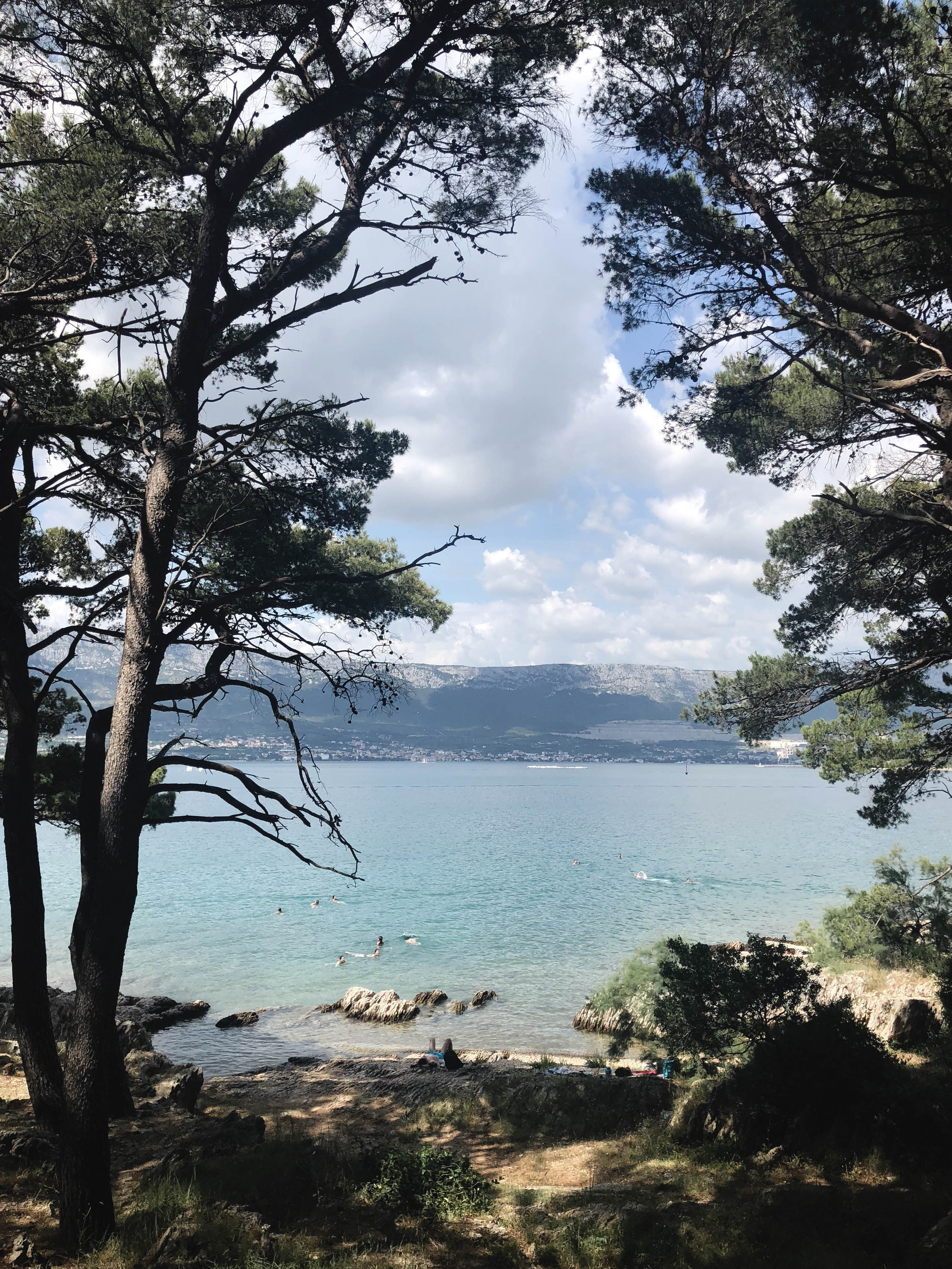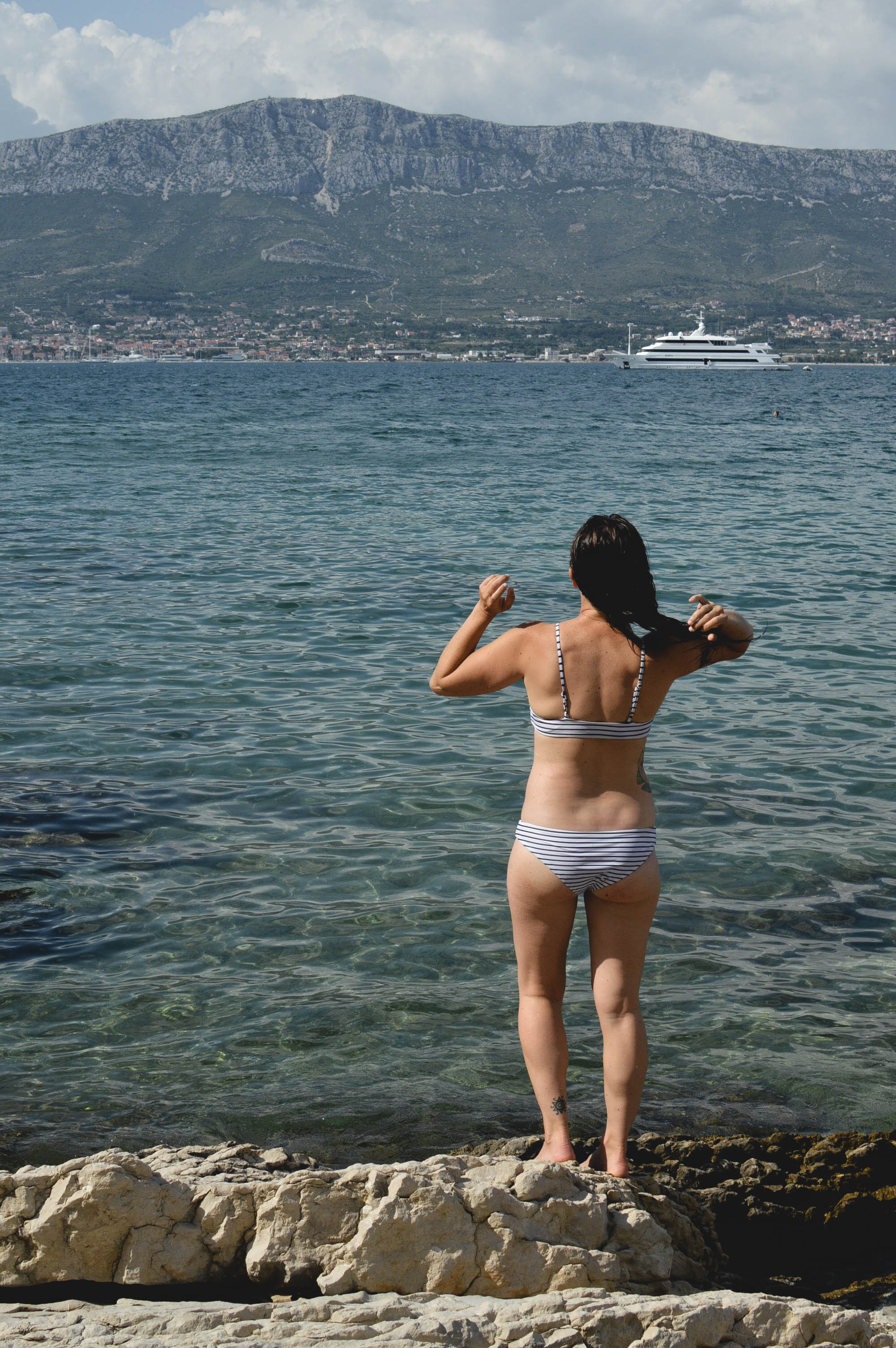 Kasjuni Beach is on the south side of the park, it is quite popular because it is a sandy beach and also in a protected cove. There is a little beach bar where you can get drinks and snacks too. It felt a little like a party after the quiet rocky beach before but was still fun and a beautiful spot.
For dinner we continued our snacking with a wine tasting and cheese and charcuterie at Paradox Wine and Cheese Bar. After chatting a bit with our server we basically gave him carte blanche to give us what every he thought was best. It was a great idea, the wines he choose for our tasting were amazing as were all the suggested cheese and meat pairings. I'd never had Croatian wine before because as we found out the wine makers there do not export to anywhere else in the world. Croatian wine is wonderful and definitely worth a tasting.
So whether you get to stay in Split for just a couple of days or weeks these are some of the best things to do in this wonderful city.
Shop My Look!
Like this post? Pin it!