Cinque Terre is one of my favorite places in Europe. Between the beautiful terraced hillsides, and sparkling blue water it's seriously a paradise. I could spend countless days lounging on the rocky beaches and swimming the warm Mediterranean water, but I get antsy sitting too long, so we went for a hike.
Cinque Terre is made up of five coastal villages on the northwestern side of Italy, and they are all connected by footpaths. The most famous are the coastal walkways, but there are trails that take you up through the mountains as well. From my own experience, I'd say that the trails range from medium to difficult, especially in the summer months when it's quite hot out, so be sure to bring water with you!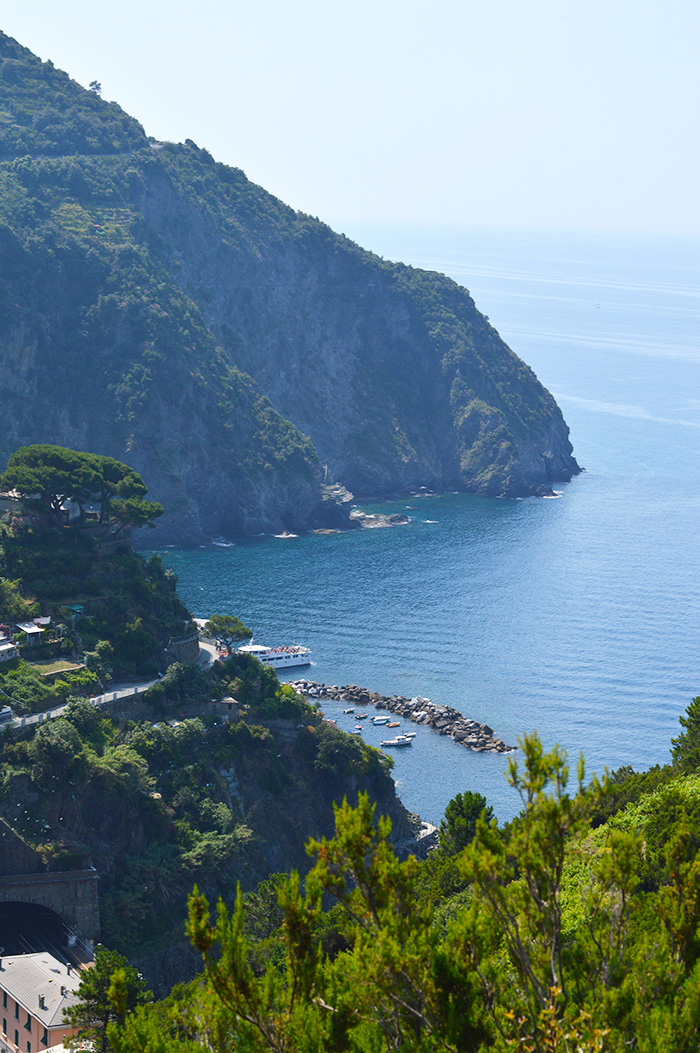 As of right now, summer 2016, the two easiest of the coastal trails are closed, from Riomaggiore to Manarola and from Manarola to Corniglia. So to hike between these towns you must take the more difficult mountain trails. For these hikes you definitely need good walking shoes and should be in decent physical condition. There are a lot of steep sections as well as stairs.
Rob and I did two of the hikes.
We hiked from the furthest south town of Riomaggiore to Manarola via the mountain path, and while it was strenuous and hot, the views were spectacular. The water below was so clear you could see straight to the bottom along the coast. I want to say it took us around an hour and a half to get to Manarola, with quite a few breaks for water and picture taking. Once we got to Manarola we ran straight down to the water to jump in and cool off. There's a perfect little swimming area right at the bottom of town. 
After a little lunch and some much needed gelato we rallied to hike to the next town of Corniglia.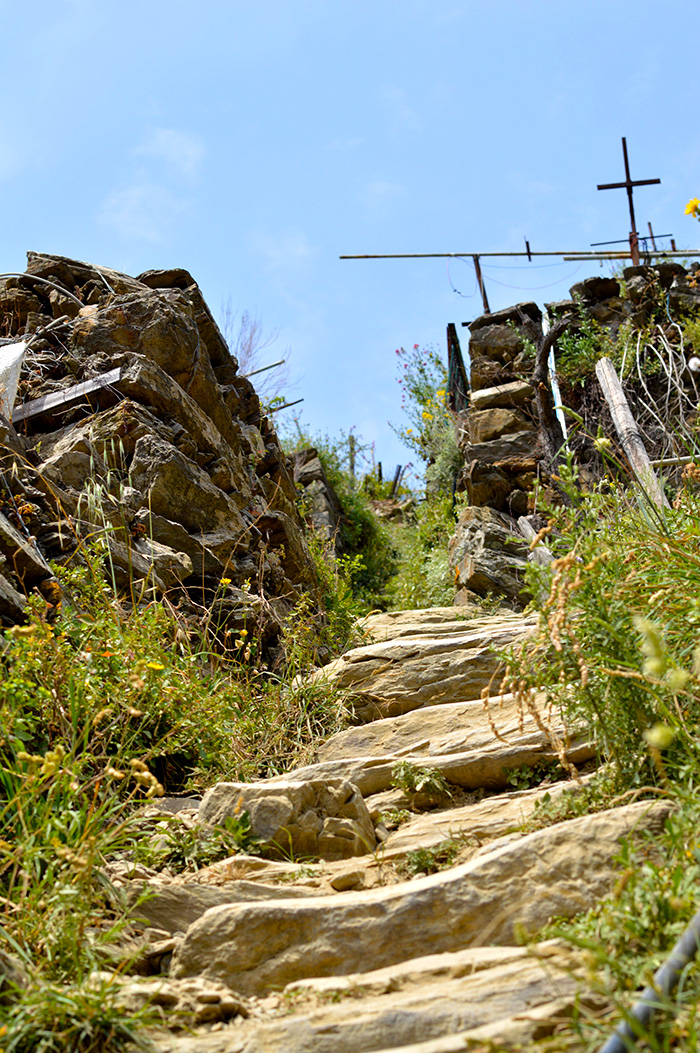 For this hike we also had to take the mountain route as the coastal path was closed. This hike took us around 3 hours and there was a ton of elevation gain. But with high elevations come beautiful views of both Manarola in the beginning and Corniglia near the end. If you need a break and some water you can stop in the little town of Volastra, it's about a third of the way to Corniglia, and a good spot to sit and cool off with a cold beverage. I felt like this hike was more strenuous than the first, but maybe it's just because it was longer. By the time we waddled down into Corniglia my legs felt like jello.
Corniglia is the only one of the towns not directly on the water, it is perched up on a cliff, and the smallest and quietest of the towns. We wandered around its narrow winding streets and found a spot to grab a drink and contemplate whether or not we wanted to hike the next section. The spritz (my new favorite Italian drink – prosecco, aperol or campari, sparkling water, and a bit of orange) and a seat in the shade were much needed by this point in the afternoon.
The coastal trail from Corniglia to the next town of Vernazza is open, however it is rated at medium difficulty because there is a fair amount of elevation change as well as very narrow paths and stairs. You also will need to get a Cinque Terre card, it's the day pass for using the coastal trails as they are part of the National Park and a Unesco World Heritage Site.
We opted to take the train to Vernazza, but if you hadn't hiked two difficult paths already in the day, this would probably be a fun but challenging hike.
In Vernazza we walked down to the main beach in town, it's a little protected cove filled with kids and families. Then decided to get away from the joyful screams of children and check another beach on the other side of town. We did had to walk through a little rock tunnel that said "caution landslides", but I supposed we like to live dangerously. The beach on the other side was perfect, quiet and uncrowded.
We had dinner in Vernazza at a spot up on the cliff, you'll pass it if you hike that trail. They had excellent sea food and awesome views of the town and the sunset. It was a great way to end our day of hiking.
We didn't get to try the hike from Vernazza to Monterosso, this one is supposed to be the most difficult of the coastal trails as well as the longest. So that just wasn't in the cards for us. But I hear the views from this trail are spectacular, you get panoramic view of all five villages and the epic coastline.
If you are going to Cinque Terre definitely do a hike or two, you'll get once in a lifetime views of the Italian coast and a good workout. 
A few things to remember and take into account
Remember to check which trails are open here.
Wear good walking shoes and bring water with you ( you can check out my packing list here for what I brought)
It's not like backpacking so you don't need to bring you stuff with you, you can take the train back to where ever you are staying at the end of the day.
If you are going to hike the coast trails get a Cinque Terre Card.
Bring a bathing suit so you can jump in the water at the end of your hike!