I fell in love with Cinque Terre when we were there in July. We were only there for 2 days but it was amazing and I'd love to go back and spend more time exploring the towns, the coast, and the mountains.
Cinque Terre is made up of 5 coastal towns along Italy's northwestern coast. The mellow beachy vibes are perfect for a relaxing vacation, and if you are looking for a little adventure you can hike between the towns on the historical coastal trails and mountain paths.
A week in Cinque Terre
I'd definitely pack a couple swim suits for lazy beach days and swimming in that bright blue water. For roaming around town shorts and a top or a casual dress are perfect, and you definitely want a good pair of flat sandals for walking on the hilly cobblestone streets. And don't forget some work out clothes for hiking the trails from town to town!
I love that classic European summer look, simple stripes and a pop of color. It's casual, but still sophisticated, and by keeping to a simple color palette everything will go together so you can mix and match any of the pieces together.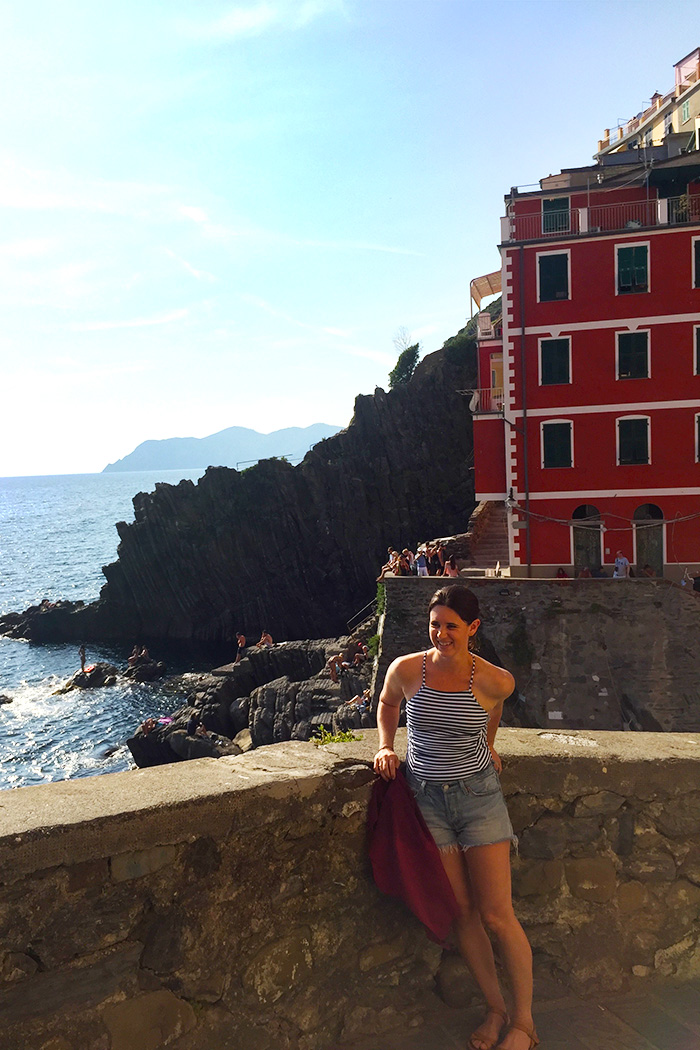 I love this bathing suit from Albion Fit, the stripes are adorbs and the cut on it is super flattering. I was never all that into one piece swimsuits until I got this one and now I'm kind of obsessed.
The Clothes
1.Pink Camisole // 2. White Tank // 3. Striped Tank // 4. Chambray Shirt // 5. Off The Shoulder Shirt  // 6. Black Scalloped Shorts // 7. Jean Shorts // 8. Striped Dress // 9. Pink Cotton Dress // 10. Romper // 11. Floral Two Piece // 12. Striped One Piece // 13. Floppy Hat // 14. Sunnies // 15. Sport Tank // 16. Running Shorts // 17. Brimmed Hat // 18. Leather Sandals // 19. Running Shoes