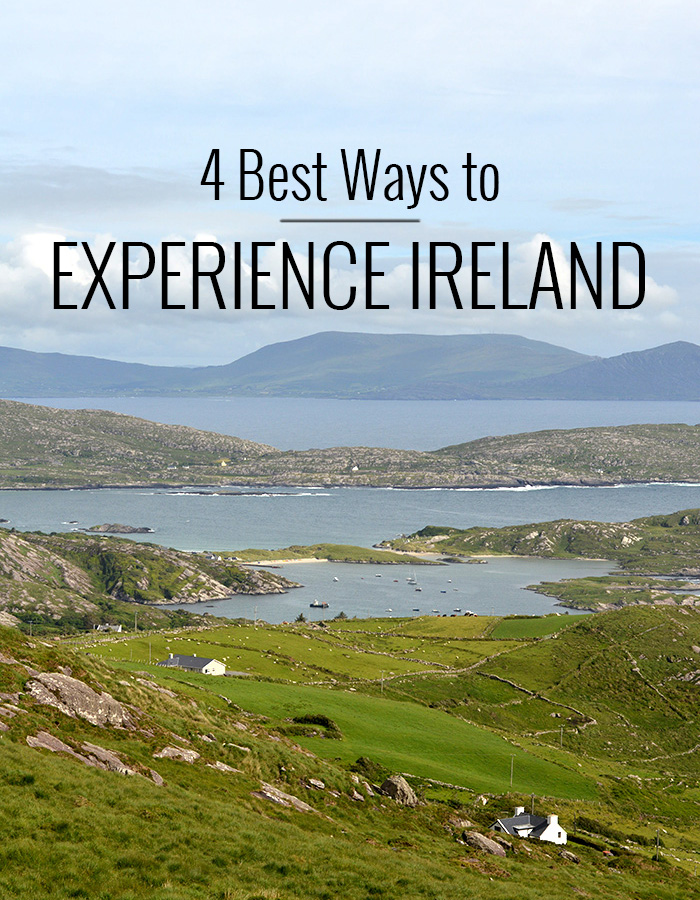 Rob and I began our European adventure in Ireland with my family. A sort of, grown up family vacation. The country is amazingly beautiful, and full of history. As with any trip to a new place there are many different way to go about exploring and seeing the sights. We were able to check out several different regions of the country, from hiking in the Wicklow National Park, to biking through the northernmost county of Donegal, we really went all over. This is how we got to experience the beautiful country in some awesome ways!
Walking Tour
Ireland has established 44 National Waymarked Trails since the 80's. Much like the Pacific Crest Trail and John Muir Trail of the West Coast these paths allow visitors to hike through some of the country's most beautiful landscapes, and national parks.
We hiked the Wicklow Way, the trail starts just south of Dublin and goes south through the Wicklow Mountains and national park. We actually did it backwards, starting from Iron Bridge and hiked towards Ennniskerry. The hike over the Wicklow Mountains was challenging, but worth it in the end because the views we spectacular.
You can hike these trails without any kind of permit or official tour, as the trails are generally very well marked. We did go through a tour company when planning our journey though. Hillwalk Tours put together our 4 day itinerary, set us up with accommodations at bed & breakfasts in each town, and gave us instructions and maps for navigating the trails each day.
If you are into hiking this is a great option for seeing the country, the Wicklow Way was amazing, but the Kerry Way and Burren Way also look awesome. As far as hiking experience goes, they are probably in the moderate range, so it's not a total walk in the park, and you should be in fairly good physical health, but it's nothing too crazy or difficult, we saw people of all ages on the trail.
For more on our walking tour, check out this post!
Bike Tour
Biking through County Donegal, in the Northwest edge of Ireland was probably one of the coolest, and hardest things I've ever done. Biking gives you the advantage of going slow enough to see the scenery around you, and stop whenever you like to check out a view. The route we chose was on smaller back roads so there weren't too many cars to contend with, there were however a lot of sheep!
There are a lot of companies that will put together a bike tour for you with a route, itinerary, and lodging all figured out (these one looked good! Iron Donkey Bicycle Touring & Trek Travel). However we decided to make up our own trip. Rob did a bike tour across the US in college and was stoked to plan another one, so I pretty much let him have at it.
We chose County Donegal for the grand coastal views, and sparse population, mostly because I was worried about sharing the tiny roads with cars and tour busses. We were able to rent bikes and all the gear from a bike shop in Bundoran (just south of where we started) called The Bike Stop, and they were awesome, and super helpful in getting us all set up, they even drove the bikes to our starting point for us and picked them up when we were done!
Much like the hiking tour we rode from small town to small town and would stay the night in a hostel or bed & breakfast, which after a day of riding, a hot shower and a real bed were the best things in the world! Our route ended up being a bit more difficult than we'd anticipated – there were a lot more hills. But even with sore legs and achy joints the whole thing was still a great experience, because we got to see a part of the country that we probably wouldn't have gone to otherwise. You can check out our route map here.
If you are thinking about a bike tour in Ireland definitely do it, but I'd say go with one of the companies that will set you up with the right difficulty level and itinerary. That is unless you are an experienced bike touring master, then I say, have at it, and plan your own adventure!
For more deep thoughts on bike touring, check out this post!
Driving Tour
Driving is one of the only ways to see a lot of the postcard type places in Ireland, short of taking one of those bus tours, where you are cramped on bus with a thousand other people and get 10 minutes at each tour stop before you have to get back on to go to the next. So while the idea of driving on the left side of the road, in a stick shift that's also on the left is mildly terrifying, you figure it out and get used to it, sort of. To be totally honest, I didn't actually drive at all. Rob did all the driving (my hero!).
In our little rental car we were able to drive around the Ring of Kerry, famous for the cliffs of Kerry, which are truly epic, as the signs leading up to it will tell you. We also took a little detour off on the Skellig Ring, from which you can see that island from the end of the new Star Wars movie, and you can even take a ferry out to it! From there we drove through Killarney National park for some more beautiful views, it's on the Ring of Kerry, so that was convenient.
On our way back to Galway we decided to take a little detour to see the Cliffs of Moher as well. We were there on the longest day of the year, and were hoping to catch the sunset at around 10:15PM, but it was a bit too cloudy and drizzly, but the scenery was still awesome.
Going up the entire west coast of Ireland is a road called the Wild Atlantic Way, which we both drove and biked on at different times. It is sort of like California's Highway 1, so windy roads and excellent views. It would be a fun road trip to take it all the way up the coast, and stay in some cool little towns along the way.
Driving is probably the fastest and least labor intensive way to see all the cool spots in Ireland. So if you are pressed for time that's probably the way to go. You can get just about anywhere in a couple hours.
For more on our mini road trip, check out this post!
Boozy Tours
Ireland is known for their beautiful countryside, their long history, and let's face it, for their booze. The Irish are very proud of their beer and whiskey, and they should be, because it's delicious. You can visit many of your favorite drinks home base (as it were) for a tour and tasting. Many of them are located in Dublin so you don't have to combine your driving tour with your boozy tour (because that's just a recipe for disaster).
Upon arrival in Dublin we immediately went to the Guinness Storehouse for their tour and tasting. It's a self guided tour, where they explain the process of making beer and go over all the ingredients and what not. The overall experience felt kind of like Disneyland for grown ups, it was a bit theatrical, but not in a bad way. It was pretty crowded though on a Friday afternoon and I hear the weekends are kind of like madness, so I would suggest going on a weekday if possible. You can buy your tickets online which always makes life easy or at the Storehouse if you aren't worried about it getting too crowded.
Also in Dublin is the Teelings Whiskey Distillery, where you can do a tour and tasting. It's a guided group tour situation and they run tours every 30 minutes. What I found cool about this place was that you actually got to tour the place where they make the whiskey. We saw the actual stills and our guide explained the distillation process along with how they make theirs different from other whiskeys. Plus you do a tasting in the end!
Tullamore Dew  is about halfway between Dublin and Galway, so it's a bit of a drive, but we were passing through on our way to Galway so we figured it deserved a stop. One thing to note, is that the tour and tasting are at the visitors center not the actual distillery. They run tours about every hour or so, that will walk you through the history of the distillery, their special distillation process, as well as a tasting at the end. This one was also a little Disneyland for grown ups like, it was pretty showy and you didn't go through the actual distillery.
Your other boozy options in Dublin are the Old Jameson Distillery, which runs tours and tasting, but I did not get the chance to go to. And if all else fails go to the pub, the Temple Bar neighborhood on the south bank of the river is the place to be. As the city's center for nightlife, there are plenty of pubs to grab a pint at, live music in both the streets and the pubs, and enough fried food to satisfy any drunken hunger craving.
There are many ways to experience a country, some are easy, like drinking all their best booze, and some you have to work for, like biking up a mountain for that view. These were my favorites from Ireland, and if you had an awesome experience in Ireland, let me know about it in the comments, that way if I or anyone else finds themselves there, we can try it out too!