Moab is awesome in the spring and fall. In those shoulder seasons you'll get mild temperatures as well as fewer crowds. Sound likes a win-win to me!
Packing for Moab is a balance of adventure clothes and everyday clothes. While you're there you'll probably be doing some outdoor activities like hiking or mountain biking, but then you'll want something a little nicer for going out and hanging around town.
Today's packing list has my favorite adventuring clothing as well as my regular travel staples.
Packing List for Moab
1.Hat // 2. Beanie // 3. Sunglasses // 4. Tee Shirts // 5. Bandanas // 6. Swimsuit Top & Bottom // 7. Long Sleeve Shirt // 8. Blouse // 9. Flannel // 10. Running Shorts // 11. Jeans // 12. Leggings // 13. Puffy Jacket // 14. Sweatshirt // 15. Slip-Ons // 16. Sandals // 17. Trail Shoes.
Weather
I've been in Moab in both March and November and the weather and temperature sort of ran the gamut. In March we got rain and chilly weather. In November we got snow but also 70 degree days. So having clothes that can be layered for warmth and shed when it's hot are key.
As always, remember to check the weather before your trip and pack appropriately.
Outfits
Here are a few of my outfits from my Moab trips.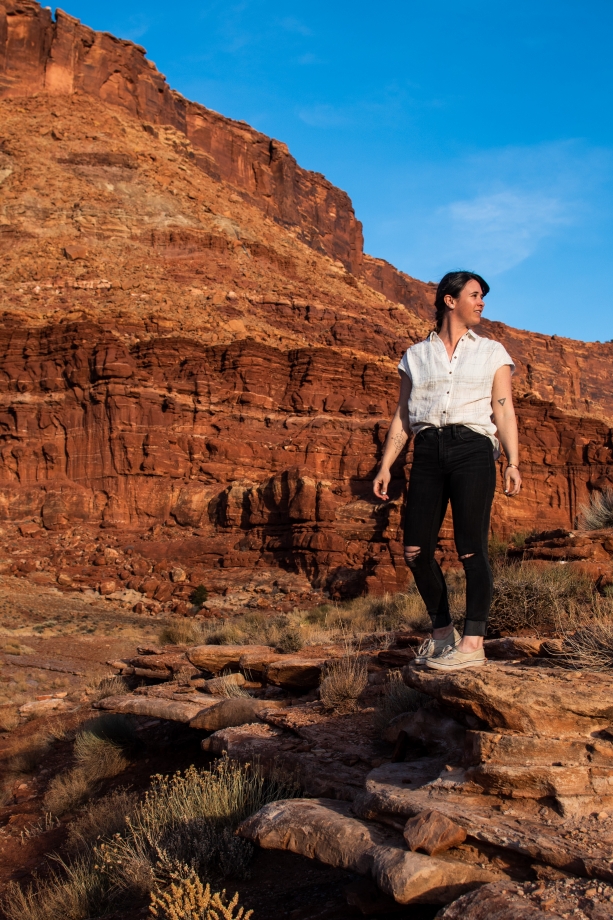 Like this post? Pin it!