Trekking in Myanmar is becoming quite a popular way to see the rural parts of the country. It is definitely a wonderful, interesting, and eye opening experience.
If you like hiking and the outdoors it is an awesome thing to do on your trip. You will hike through the mountains and countryside, from town to town with a guide who will tell you about the area and history.
We did a three day two night trek through a company called A1 Trekking. We took the route from Kalaw to Inle Lake, and it was just beautiful.
Going into the trek I didn't really know what to expect, I knew that we would be hiking each day, but beyond that I wasn't sure. It was going to be an adventure, well a guided adventure at least.
So if you are going to be taking a trek during your time in Myanmar, which I recommend you should, here is a little of what you can expect from the experience.
What to pack:
Good shoes: You'll be spending most of the day hiking on dirt and rock trails, so I would definitely suggest running shoes or hiking boots.
Long pants: I wore leggings even though it was warm out simply because rural areas tend to be more conservative and traditional and I didn't want to be showing too much skin. Any kind of outdoors or hiking pants made of breathable fabric would work great.
Tee shirts: I would highly suggest the sporty kind of shirts that are wicking and breathable fabric. All I had were cotton shirts and they just got sweaty and gross really fast.
Evening/Sleeping clothes: After you are done hiking for the day you'll want something clean (and warm, as it can get quite chilly at night in the mountains) to put on. Keep in mind that showers will usually be outdoor, so something that is easy to get into when you are standing in a wet outdoor shower is always good. Trying to get into my leggings without falling over or getting them soaking wet was kind of a challenge.
Headlamp: Most of the towns and homestays do not have electricity or they only have it during certain hours so a headlamp or flashlight is super helpful.
Day pack: You can store your suitcase with the trekking company and they'll deliver it to you at the end. For you trek you'll only really need to carry a daypack with just the essentials. Some clothes, toiletries, a light, and a book or cards for entertainment in the evenings. I kept it really simple and had one set of clothes for hiking and one set for sleeping, and only the bare necessity toiletries like toothbrush, toothpaste, deodorant, soap, and sunscreen. All these things fit easily into my Herschel backpack.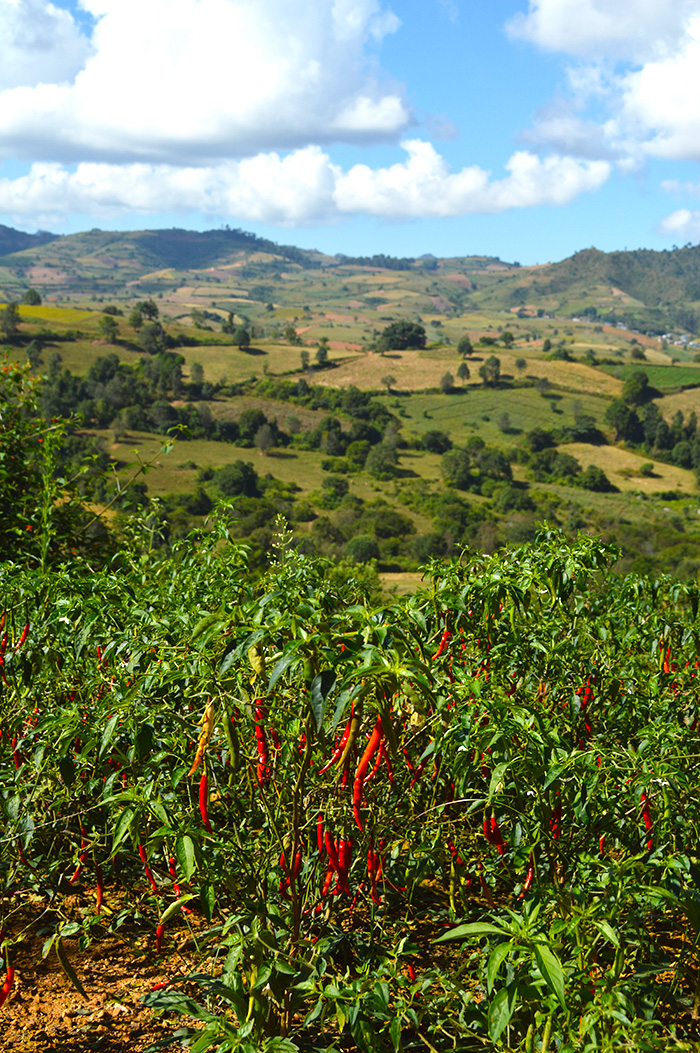 What to expect from the hike
Most of the hiking I would call easy to moderate. There is some elevation changes but nothing ever too steep, and there are plenty of flat areas too. You do spend most of the day walking, so being in decent physical shape is important. Depending on your pace, each day is about six to eight hours, with plenty of breaks for water and snacks, and a fully catered lunch break.
The trek will take you through different regions and villages, all with their own specific characteristics. On our first day we hiked through the mountains where they grow green tea, the next day chili peppers and sesame seeds were the main crop, and the day after textiles were the specialty. Our guide explained what each village did and would take us to see local artisans as we passed through town.
Kids may come out to greet and play with you when you pass through some towns. While it's fun to play and interact, it's important that you don't give them any candy or toys. It's become a bit of a problem where kids will skip school to run out and greet travelers hoping to get presents. If you do want to give, make sure to go through a credible charity, or ask your guide how a gift can be arranged.
What to expect from the home stay
Each night you will stay in someone's home. The Myanmar people are incredibly welcoming and hospitable. Each night we were given the main room in someone's home, which I felt a little bad about since it was only Rob and I and we could have easily take a smaller space. But they always insisted on letting us sleep in the larger room.
The houses are very basic usually a couple of rooms, with an outhouse and outdoor shower. Most of the "living area" is outdoors, like the eating area and kitchen. There usually isn't electricity or if they do have it, it's only during certain hours so having you flash light is important. 
Depending on your host family, they might want to hang out and talk with you or they might leave you totally alone. For the most part our host families were very nice, but really didn't interact with us too much. Although on our last morning one of the daughters of our host did paint my face with the traditional Thanakha paste  which was fun.
Trekking in Myanmar is sure to be something totally different than anything you've done before. It was an interesting experience and a unique way to see the country. All the areas we hiked through were just beautiful and I'm so glad we got to see the more rural areas.
My favorite trekking clothes
Like this Post? Pin it!
SaveSave
SaveSave
SaveSaveSaveSave
SaveSave
SaveSave
SaveSave