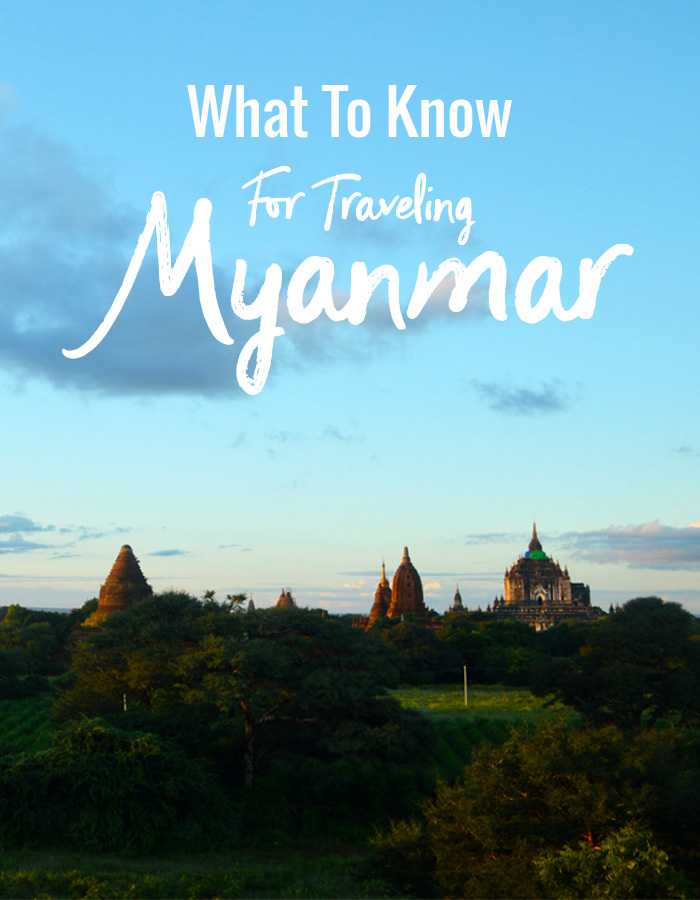 Myanmar hadn't originally been on our long list of countries to visit on our trip around the world, and I honestly didn't know much about the country before we got there. We ended up going with a friend we'd met in Thailand, and I'm so glad we did. Myanmar is a beautiful country with tons of history and the friendliest people.
Myanmar, or you might know it as Burma, is located in Southeast Asia, in between Thailand, India, Bangladesh, and China. It's not really on the Southeast Asia backpackers track yet as it was only opened up to western tourism in 2014. It's recent step into the tourism world makes it a little different than it's more experienced neighbors so there are a few things you should know.
What to know for traveling Myanmar:
Names
The country is called Myanmar, the people are Myanmar, and the language is Myanmar. It might seem a little confusing at first, but when talking to locals that's how they described themselves, their country and their language, so that's what I'm going to stick with.
In 1989 the country changed its name from Burma to Myanmar following the military takeover. The name Burma comes from Bamar which is the dominant ethnic group in the country. So the term Burmese is still used, but it only refers to a specific group of people rather than the country as a whole.
People
The people of Myanmar are some of the nicest, most hospitable and helpful people I've encountered while traveling. This might be because they aren't jaded by tourism like people in other countries, but I like to think it's because they are just good people. We had so many awesome moments with locals who just wanted to help us out when we were lost or needed a place to wait out a rain storm. So be sure to be gracious and respectful and you will get goodness back.
You'll also notice that a lot of the women and children wear what looks like yellow face paint. It is a traditional sign of beauty and is sort of like how we think of make up.

Transportation
The first thing you should know about getting anywhere in Myanmar is that it takes a long time. Since Myanmar is still a developing nation it's road infrastructure is not great, and sometimes almost nonexistent. Buses are the main mode of transportation for getting in between cities and they can take anywhere from six to twelve hours depending on the journey. But don't worry, you do get bathroom and food breaks.
Getting around once in a city will depend on where you are, in Bagan you can rent e-bikes to cruise around on. In bigger cities like Yangon and Mandalay we mostly walked or hired a taxi to take us to further destinations. It's easy to hire a car for the day or afternoon, you can usually do so at your accommodations or even by just hailing a regular cab and asking.
One fun and weird fact about driving in Myanmar is that it was a British colony for a number of years so it had been left side driving for a long time with cars to match. But in the 70's the ruling general switched driving sides almost overnight on the advice of his astrologer, who had said that to prosper as a country they had to drive on the right. The problem is most of the cars are still British style cars coming from India with the steering wheel on the right side. So don't be surprised when you get in a car and everything seems a little off.
Food
For one it's amazing. The food in Myanmar is a combination of Indian, Chinese and Thai and it's a delicious mixture! Along the coast you'll get a lot of fish, and I highly recommend ordering a whole fish prepared in whatever local style they do, it will be amazing. We also ate from a lot of street stalls and stands, which can seem a little sketchy but we never had any problems. Do be careful when eating meat though, traditionally they don't take the bones out of meat dishes, so just be careful.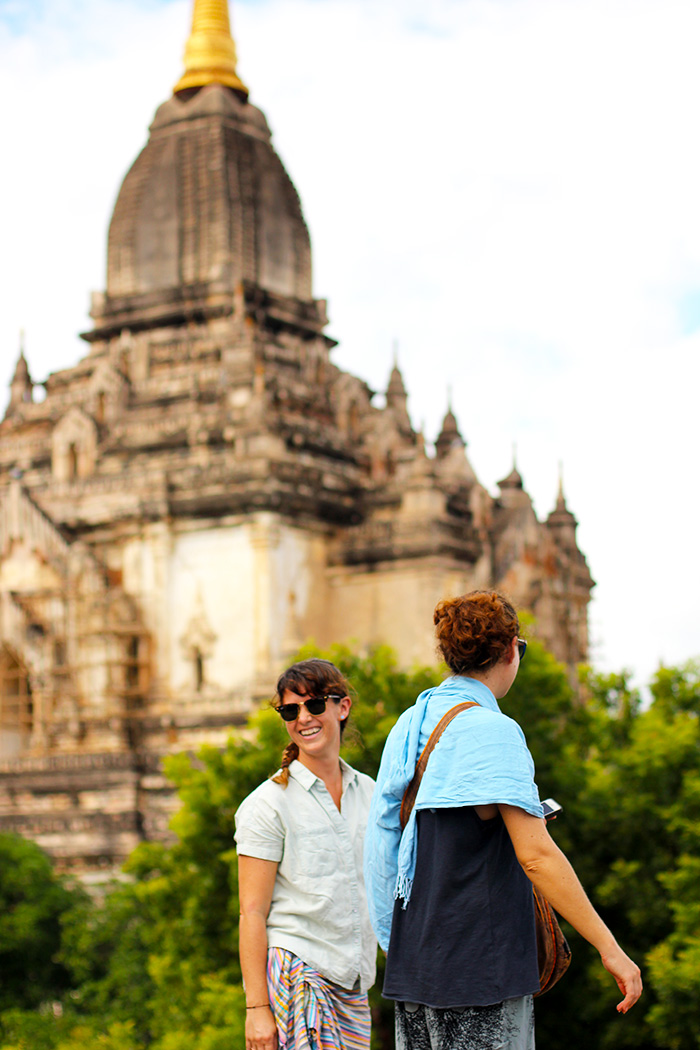 Clothing
Like other Southeast Asian countries, Myanmar is conservative in their dress. However in places like Thailand there are enough tourists around that no one really thinks twice about a tourist in shorts. In Myanmar there aren't as many tourist so you'll stand out if you are showing more skin.
This isn't to say don't bring shorts and tank tops. In coastal towns and on the beach I found it  totally fine to run around in shorts. But while in cities and in more rural areas I always opted for loose pants and a tee shirt or tank top.
Just like in many other countries you do have to cover your legs and shoulders to visit temples and this includes men. Rob actually got a Longyi, the traditional skirt (for lack of a better word) worn by men, to cover his shorts when we would go to temples and pagodas.
Gifts
If you take a trek around Inle Lake or up in the north you'll likely run into groups of kids who will want to hang out and ask for presents. Please don't give them candy or toys. It's becoming a problem where tourist come to these small town and give children presents. The kids start skipping school to run out and beg for things from tourists passing through their town. If you do want to give school supplies or anything go through credible charity.
Animals
Myanmar is a 3rd world country and there are a lot of stray animals roaming around. Most dogs and cats aren't fixed so that leads to lots of kittens and puppies. They are cute, but uses your best judgement, they can be dirty and carry diseases like ringworm.
Wifi/Cell Service
I had friends who went to Myanmar in 2015, they said internet was pretty much nonexistent. When we went in 2016 it seemed like every teenager had a smartphone and was on internet. There is wifi in hostels and hotels, but a lot of the time it's not that great and unreliable. The cell service however was pretty good. Both Rob and I bought sim cards at the airport when we got into Myanmar. There are two brands, Telenor and Ooredoo, we found that Ooredoo had the best service (and of course I got the Telenor card).
Toilets
Oh the joys of the squatty potty. If you are not familiar, the squatty potty is basically a ceramic hole in the ground that you squat over to do your business. Sometimes they flush sometimes not. Sometimes they have little pedestals to stand on so your feet don't get wet. Regardless, always bring your own tissue with you, and be careful not to slip especially if you had anything to drink, it will end so poorly. Not that I know from experience.
Politics/Conflicts/Safety
So here are the basics, Myanmar is a developing country which means it has some problems. It was a British colony for a long time, then it was ruled by a series of military regimes. Now Myanmar is transitioning into a more democratic government, but the transition has not gone smoothly. This is mostly due to conflicts between ethnic groups. The ethnic minorities felt like they were being treated and represented unfairly by the government and they revolted, causing all kinds of fighting and human rights violations on all sides.
There are still restricted parts of the country where conflict is still happening, mainly in the Shan, Chin, and Kachin states. But these areas aren't completely off limits any more, if you really want to go there you can apply for a special permit to visit.
Most of the popular destination are in the peaceful center of the country. The center and south west are completely open to travelers and in our almost four weeks of traveling around we never saw any kind of military presence or check point. Even when we got off the beaten path out on the west coast I always felt safe and nothing ever felt sketchy.
I hope none of these things scares you out of going to this amazing country, because for the most part the people there are just trying to live their lives just like we are. That being said, just because you don't see what going on there doesn't mean you should be naive or ignorant of what situation is.
Myanmar might be one of my favorite places in the world that I've been. The beauty of the country, the history and culture, and the amazing people really struck a chord with me. So have a blast exploring everything it has to offer.
Have you been to Myanmar? What did you think of it? What did you do? Let me know in the comments.
My go to gear for Myanmar
Like this article? Pin it!
SaveSave
SaveSave
SaveSave
SaveSave
SaveSave
SaveSave
SaveSave
SaveSaveSaveSaveSaveSave
SaveSave
SaveSave
SaveSave
SaveSave
SaveSave
SaveSave
SaveSave