Summer music festivals are in full swing around the world, and I was stoked to be able to check the the Montreux Jazz Festival in Switzerland.
The Montreux Jazz Festival is a little different than any other music festival I've ever been to. The two week festival is more of a city wide celebration of music, bands play at different venues around the city, and the waterfront on Lake Geneva is filled with all kinds of vendors, food, and drinks. You don't have to have a ticket to walk around the waterfront and enjoy any of the free live shows there, but for the bigger bands you do need to purchase tickets.
The Festival
It was raining the day we went to the festival, but we didn't let that keep us down, we had tickets for Muse at the Stravinsky Auditorium, and were ready to explore the waterfront.
Muse wasn't going to be playing till the evening but we got to the festival around midday so we'd have time to check everything out. We spent the afternoon wandering around the waterfront, taking in the views and checking out all the vendors. I loved the decks set up with seating along the water, each one was named after an area famous for music. The neon signs are so cool!
Our wandering didn't last too long though, as it started to rain pretty heavily. We took shelter under a bright pink bar tent, and figured it was afternoon so we might as well have a drink while we watched the rain. I got to try the official wine of the Montruex Jazz Festival, it's the kind of wine we like to call a "porch pounder", so perfect for a music festival.
The Concert
After a few more glasses of wine, some snacks, and a bit of merch shopping it was finally time for Muse! The Stravinsky Auditorium is a smallish concert hall, it only holds about 4000 people. I'd seen Muse before in large arenas and huge music festival so this venue felt very intimate. Muse put on an excellent show, playing new songs from their recently release album as well as older hits, which were definitely crowd favorites. They also put on an awesome light show that goes perfectly with the music.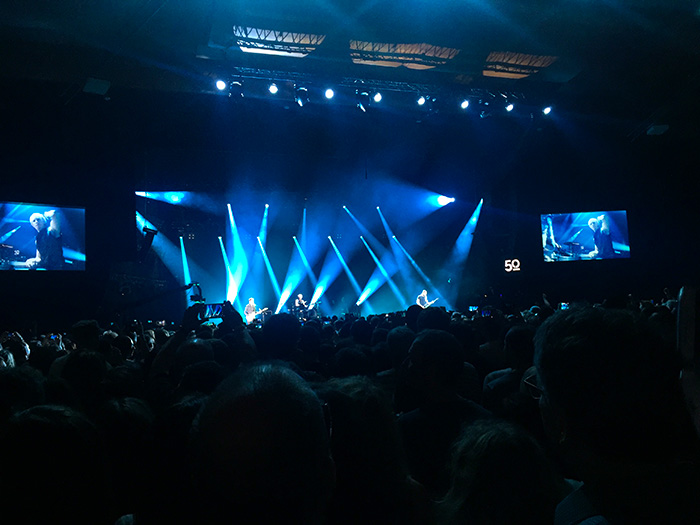 As far as music festivals go, the Montreux Jazz Festival is pretty cool. The vibes are much more mellow than other festivals I've been to, since there are only a few performances a day there's not the rush to get from one to the next. I'd love to go again and stay and hang out for a couple of days, hopefully without the rain though!