The summer music festival season is in full swing now, so I wanted to make a little overview of a few of the festivals we have here in California. With music ranging from country to indie to electronic, you'll have no problem seeing any kind of music you are into this year!
Some of these have already passed but it's always good to be on the lookout for next year, plus some festivals have early bird tickets that go on sale super early before the line ups have been announced.
San Diego // March 5+6
This two day electronic music festival is a great way to kick off spring. With its beautiful waterfront location and dance party worthy line up it's almost like a mini spring break for grown ups. The festival is 21+ which makes for a slightly more mature crowd, and at the very least you won't run into any drunk teenagers. The festival grounds include 3 stages – 1 main stage, and 2 smaller stages, plenty of beer tents and full bars, and if you feel like cooling off, a giant fountain to jump around in like you always wanted to as a kid.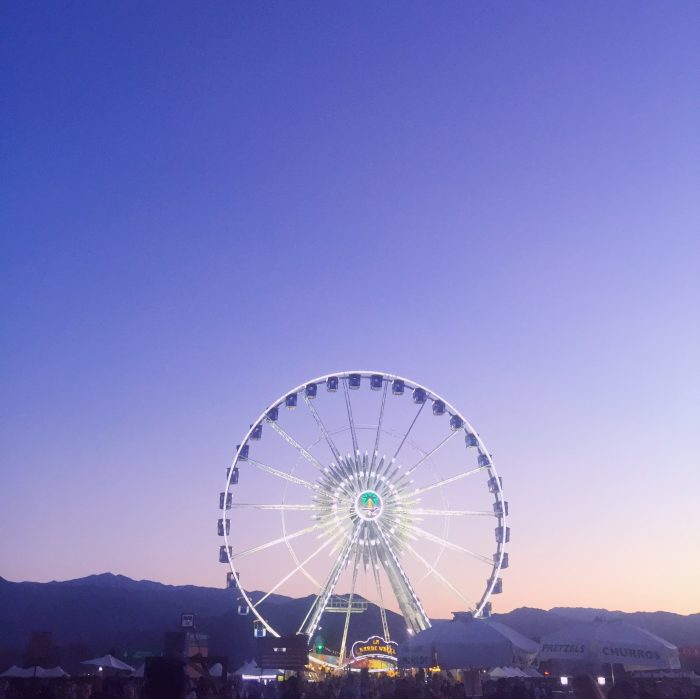 Indio // April 15-17 & April 22-24
Coachella is probably the most well know music festival next to Woodstock by now. It draws big name headliners and over a hundred thousand fans to the Empire Polo Fields in Indio each year over two weekends. With eclectic line ups ranging from classic rock to EDM artists, the festival caters to a wide variety of musical tastes, and you'll always be able to see an act you're into. In 2012 the festival grew so big that the promoters decided to add a second weekend to accommodate the increasing number of people wanting to attend. Both weekends are basically the same with the same lineups, vendors, food, and activities. As far as accommodations go, there is on-site camping for those who want the convenience of being right there ("right there" meaning right next to the festival grounds, as well as party central). Another option is to rent a house or condo in one of the surrounding towns, this is a great option if you have a large group of friends going and you all want to stay together. Plus it's always a bonus to have a pool to lounge in during the day before going over to the festival.
Indio // April 29-May1
Nicknamed "Coachella's country cousin", the country music festival takes place the weekend after Coachella, also at the Empire Polo Fields in Indio. It is the largest country music festival in the world and draws big name headliners from country, bluegrass, and folk music. Much like Coachella there are on-site accommodations in the form of an RV park, this means no tent camping just RV's. If you have a large group, renting a house or condo in the surrounding area is also a good option, it gives you a little more space, and an added bonus if there's a pool!
Napa // May 27-29
Tucked away in the rolling hills of Napa, just north of the San Francisco, is the family friendly indie rock and pop festival BottleRock. While it's a relatively new festival, it still draws big name headliners and large crowds. The major plus (at least for me) is, being in wine country, there are a ton of wineries pouring tastings and glasses at the festival so you'll never go thirsty. One thing to consider is that there is no on site camping or any kind of accommodations which means you'll have to drive, cab, or carpool from wherever you are staying. The thing is, Napa is quite spread out so an Uber could end up being really expensive, and driving after you've been enjoying the wine all day is a big NO.
Quincy // June 30-July 3
If you really like the combination of camping and music festivals you've got to check out High Sierra. Quincy is situated at the northern end of the Sierra Nevada Mountain Range, making it an ideal spot for beautiful outdoor scenery, and good music. The family friendly festival caters to bluegrass and rock music artists, giving the scene a very mellow vibe. The 4 day passes include camping, and spots are on a first come first serve basis. One plus is that there are a few rivers nearby to go swim and raft in, just make sure to check for "no swimming" signs before you jump in.
San Francisco August 5-7.
Outside Lands is one of the highlights of San Francisco's chilly summer (not that it's always cold, but out by the beach summer tends to be pretty foggy). Every year no matter the fog or the cold, big headliners draw around 60,000 people to Golden Gate Park for an eclectic musical experience. From classic rock to indie rock to electronic and pop music there's a little something for everyone. If no one you're into is playing at any point definitely check out the Wine Lands for some wine tasting from wineries all over northern California, and if you need a snack to go with the wine then the Choco and Cheese Lands are where you want to be. Being in eco-conscious (aka hipster) San Francisco, biking to the festival is kind of the hip thing to do (plus there's a free bike valet!).
Los Angeles // August 27+28
If you start to notice that some of the big festivals all seem to have similar lineups, FYF fest will be a welcomed breath of diversity. While still catering to the eclectic array of indie, pop, electronic, and rock music they always seem to have a totally different lineup from the rest of of the summer festivals. This all ages festival is also cheaper than most, possibly because it's only 2 days (but hey, we'll take it!).
Indio // October 7-9 & 14-16
Lovingly nicknamed "old-chella", this festival is really for the classic rockers. This year is it's inaugural run and it's already sold out (3rd party ticket providers like stubhub still have 'em though). Only 2 artist play a day, but they're huge…like Paul McCartney huge…so I'd expect longer sets from each one. It's held in the same spot as Coachella and Stagecoach (The Empire Polo Fields in Indio), so there's on-site tent and RV camping. Being it's first year, I'll be interested in hearing how it goes (since I'll be in Asia I will not be able to make it). If you go tell me all about it!

San Francisco // October
The Treasure Island Music festival is a two-day event on a little man made island in the San Francisco Bay, with electronic artists on Saturday and more indie rock Artists on Sunday. It's fairly small, with only 2 stages, but that means you'll never have to choose between bands who are playing at the same time (no overlap is pretty awesome). With gorgeous city views and "indian summer" warm temperatures, it's really the ideal place to have a festival. Just remember, the wind on the bay picks up at night so bring layers or be prepared to buy a cool band sweatshirt (which I have totally done too). Buses run from downtown San Francisco constantly so you don't even have to worry about driving or parking.
South Lake Tahoe // December 29-January 1
This is not your typical EDM festival —, it's held outdoors in scenic South Lake Tahoe, with the snow covered Sierras as a backdrop for the colorful light shows. Your first thought might be, "COLD!", but if you're dancing (as you should be) you'll be fine. Plus, it doubles as a New Year's Eve Party, so you can ring in the new year dancing with your friends in one of the most beautiful places in California. And if you are really worries about the cold, there are heated tents to thaw out in if you need it.