Spending a weekend at "The Happiest Place on Earth" is as much fun as it is exhausting. That being said, I love Disneyland, and would say everyone should do the 2 day both parks adventure at least once in their life. If you are not familiar with Disney in Anaheim, there are 2 parks: the original Disneyland, built by Walt Disney in 1955, and the newer California Adventure Park which opened in 2001.Rob and I both purchased the 2 day ticket with admission to one park per day. We went to Disneyland on Saturday and California Adventure on Sunday.
We embarked on this adventure with his sister Jessie and her kids. This was also the first time I'd been to Disneyland since I was a kid myself, and my first time at California Adventure at all, so I was probably on the kids level of excitement.
DISNEYLAND
We started the day off with rides. Our first stop was Space Mountain– there's no better way to wake up than with a roller coaster! We cruised around Tomorrowland and Fantasyland for most of the morning, riding all the classic's like Mr. Toad's Wild Ride, and Pinocchio. Did you know that all those story rides where you sit in a little cart or pod are called "dark rides"? This is because you are in the dark and the ride lights up different parts of the story or movie with animation, music, and special effects.
After some healthy snacks like kettle corn (that's healthy, right?), we headed over to New Orleans Square for Pirates of the Caribbean and the Haunted Mansion. On our way over we stopped to grab Fastpasses for Indiana Jones, because no one wants to wait in that crazy line.
We grabbed a late lunch at the Blue Bayou, which I would highly recommend. It's the restaurant that you can see as you start the Pirates ride. You do need to make reservations though, as it books up very quickly.
We hung around Frontierland, Adventureland, and Toon Town for most of the afternoon, the kids got to get their autograph books signed by some characters. When I was a kid, I was obsessed with getting autographs from every single character, so it was fun to see them so excited about it.  Since we had the fastpasses we were able to hop on Indiana Jones right away, which was awesome. We also rode the Thunder Mountain Railroad, which has been recently renovated. It was so much smoother than I remember it being!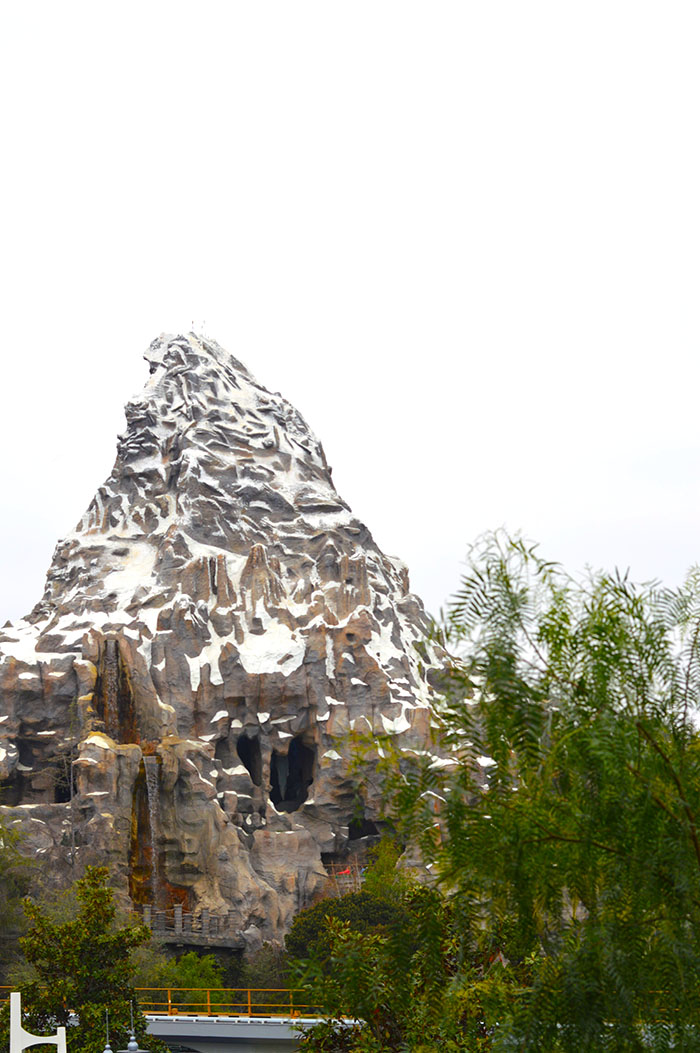 We continued the mountain roller coaster theme and headed straight over to ride the Matterhorn which, honestly, never disappoints. Before heading out for the day we had to get on the Spinning Tea Cups. I don't think there's anything more fun for a kid (or adult) than trying to make your teacup go as fast as humanly possible. It was dark by this point, and all the lanterns we lit up, making everything look magical!
CALIFORNIA ADVENTURE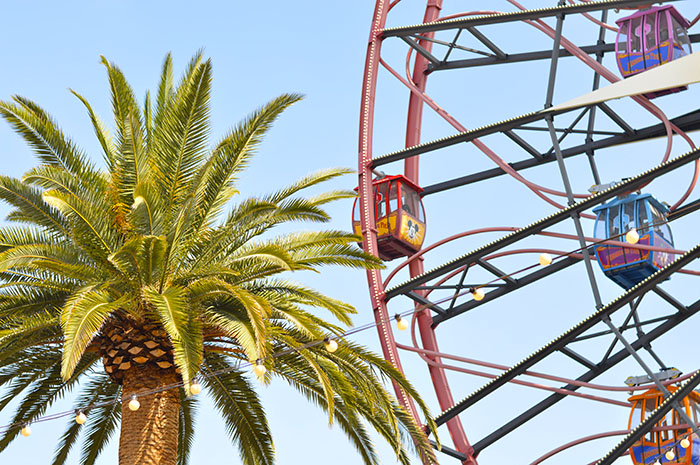 California Adventure is California themed (obviously), so each of the sections of the park are modeled after a different part of the state. I'm not going to lie, as a native Californian, it was a little weird seeing landmarks I know are nowhere near each other all together in one place.
The very first thing we did upon entering the park was get fastpasses for the Cars Ride, they tend to sell out and that line is horrendous, so I would definitely recommend getting those early. From there we started to make our way around the park, making stops to ride the Little Mermaid ride, California Screamin' the "upside down" roller coaster (told you, roller coaster are the best way to wake up), and the ferris wheel.
Toy Story Midway Mania isn't so much a ride as a game. Once you get into your little pod, you and the person next to you are duking it out with virtual nerf guns to see who can hit the most targets. Things can get heated if you are competitive like Rob and I are (and if you were wondering, he won).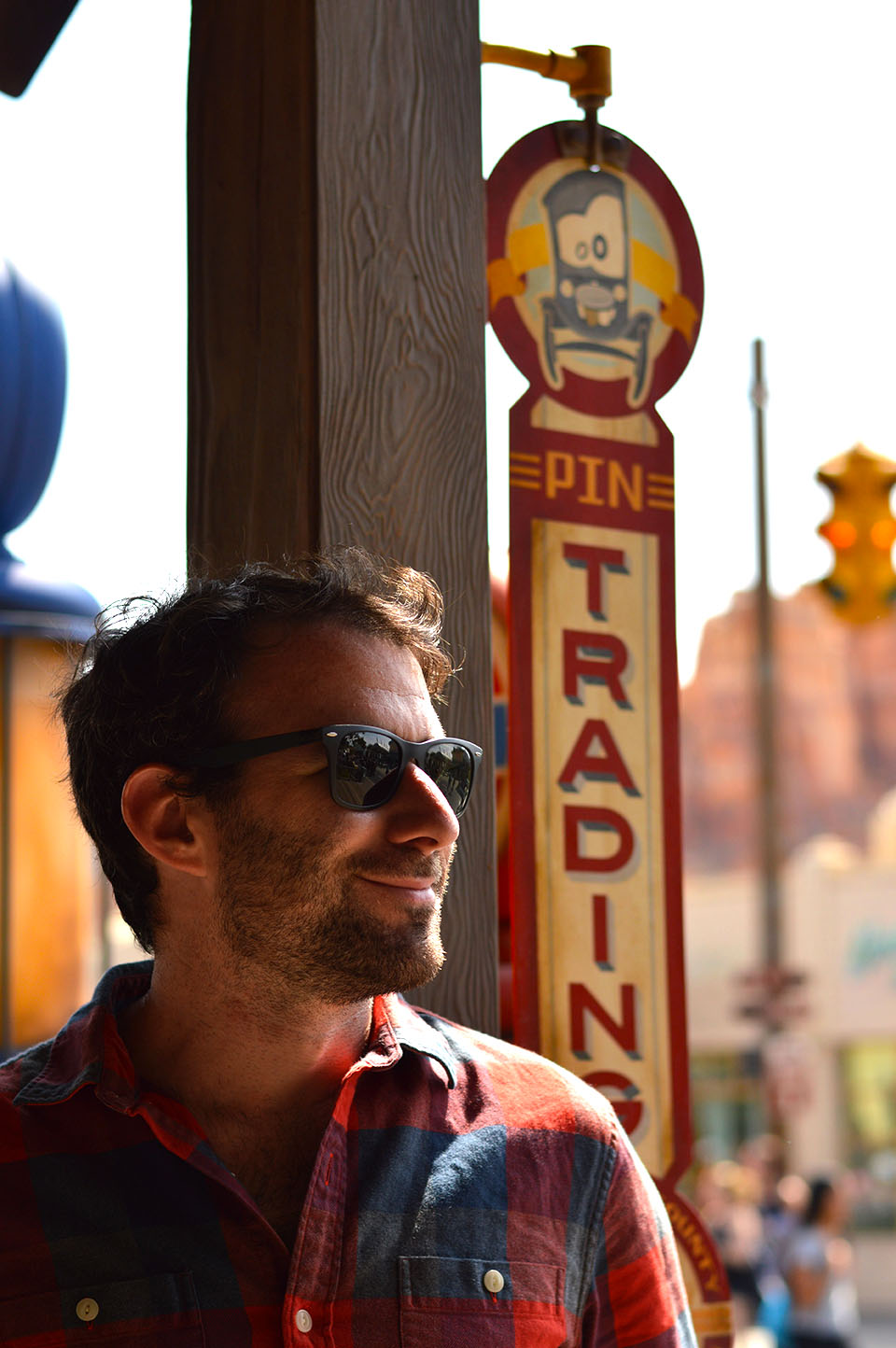 After lunch (and a beer or two, because they serve alcohol in California Adventure) it was time to go to Cars Land. The kids were stoked (so was I!) to wander through the exact replica of Radiator Springs from the movie. Since we had the fastpasses we got right into the Car's ride, which is definitely worth the hype it gets, it's pretty awesome. There were 2 other rides in Cars Land that we didn't end up going on, Mater's Junkyard Jamboree and Luigi's Rollickin' Roadsters, but other than that it seemed like it was a lot of shops all selling Cars themed souvenirs, the attractions to shopping ratio seemed a little off balance to me (which, honestly could be said of the whole park).
We wanted to get on the Grizzly River Run ride while it was still warm out, because nobody wants to be wet from a water ride as it gets dark and cold out. So we headed up to the Grizzly Mountain area next. The River Run was fun, it reminded me of white water rafting, and you do definitely get wet! We let the kids run around the 'Redwood Creek', which is basically a playground on steroids, while we dried off in the afternoon sun. On our way back towards Hollywood Land we stopped at Soarin' Over California, which was kind of disappointing as far as rides go, but it was a nice break to sit down for a little bit.
By the end of the day we were all pretty tired, but I really wanted to ride the Tower of Terror so Jessie and the kids watched the afternoon parade while Rob and I ran over to Hollywood Land for one more ride. It was totally worth it. Tower of Terror is an awesome ride and the Twilight Zone theme is on point!
DOWNTOWN DISNEY
At the end of each day we walked over to Downtown Disney for a little dinner and drinks. There are a bunch of restaurants to choose from, but they can have a bit of wait depending on when you go. We liked the Uva Bar, an outdoor bar/restaurant (which allows kids) with a minimal wait, and good drinks and snacks. We ended up there both nights, once for dinner and once for just a drink while we waited for our table at the pizza place.
The whole trip overall was one for the books, and while it was definitely exhausting, it was a ton of fun. If you've never been to California Adventure it's definitely worth a visit at least once. Maybe it's the nostalgia factor, but I just didn't feel like it has the same magic as Disneyland. That being said, Disneyland is awesome, and I'd totally be game to go back when they open up the new Star Wars Land!