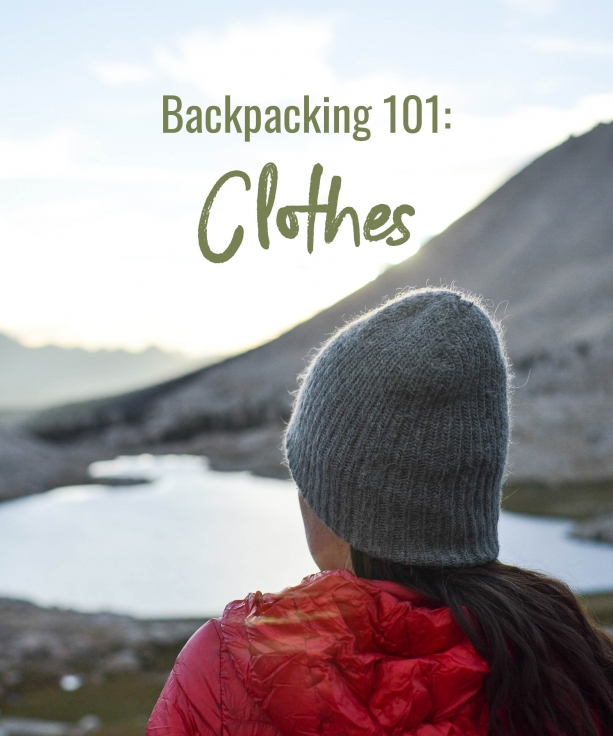 What kind of clothes you bring backpacking will depend on the seasons and geography of your trip. But there are definitely some stapes that you always want to have, and I'll also go over some of the variable clothing you'll want for different locations and climates.
The most important thing about your clothes is that they are comfortable, you don't want anything that is going to rub weird or be uncomfortable. I'd also like to note that while technical fabrics and clothing are awesome, I also know they are expensive and not available to everyone, in which case, work with what you've got. I did my first backpacking trip in a pair of boardshorts and a cotton tank top and was just as comfortable as when I wear the fancy sweat-wicking gear, although I was probably a little sweatier in the cotton.
I generally bring 2 sets of clothes, one for hiking during the day and one for being at camp and sleeping in at night. Even for longer trips, I'll stick to this method just because I don't want to weigh my pack down with extra clothes. And by separating your clothes between day and night you'll keep your sleeping and night clothes clean while your hiking clothes get dirty during the day. Side note, I will give myself a wipe down with either baby wipes or a wet towel at the end of the day before putting on my night clothes to help keep them from getting too dirty.
Backpacking Clothes
Hiking clothes
Pants: Running shorts, leggings, hiking pants, whatever you feel comfortable hiking in honestly.
Shirt: Tee shirt or tank tops are both good, the kinds that are sweat-wicking and quick-drying are the best.
Hiking socks: I usually go for the regular wool hiking socks from REI, but the sweat-wicking ones are great too.
Hiking boots or trail shoes: There is a great debate on whether hiking boots or trail shoes are the best. Honestly, it depends on what you are comfortable in and what kind of terrain you are going to be hiking. Trail shoes are lighter weight and generally more comfortable without much break-in time. Hiking boots are sturdier and provide more foot and ankle support.
Hat: Baseball hat or large-brimmed hat both help keep the sun off your face.
Sunglasses: Keep those peepers protected!
Bandana: They are so good for covering your neck or pulling back your hair, also great to put in the water then around your neck to cool off.
Night clothes
Pants: Leggings or thermals are both comfy options for hanging out at camping and sleeping in.
Shirt: Tee shirt or long sleeve will work fine, make sure to check the night time temperatures when deciding what kind of shirt to bring.
Puffy jacket: The best and most compact warm layer you can bring, puffy jackets are the best.
Beanie: Keep your noggin warm.
Extra pair of clean hiking socks: Having a spare pair of clean socks to put on at the end of the day feels so nice.
Sandals or water shoes: At the end of a long day on trail it feels so good to take off your hiking shoes, I always bring my Tevas because they are versatile to wear in the water if need be and I can wear socks with them at night to keep my toes warm. Flip flops and water shoes also work perfectly well and are just as versatile.
Extras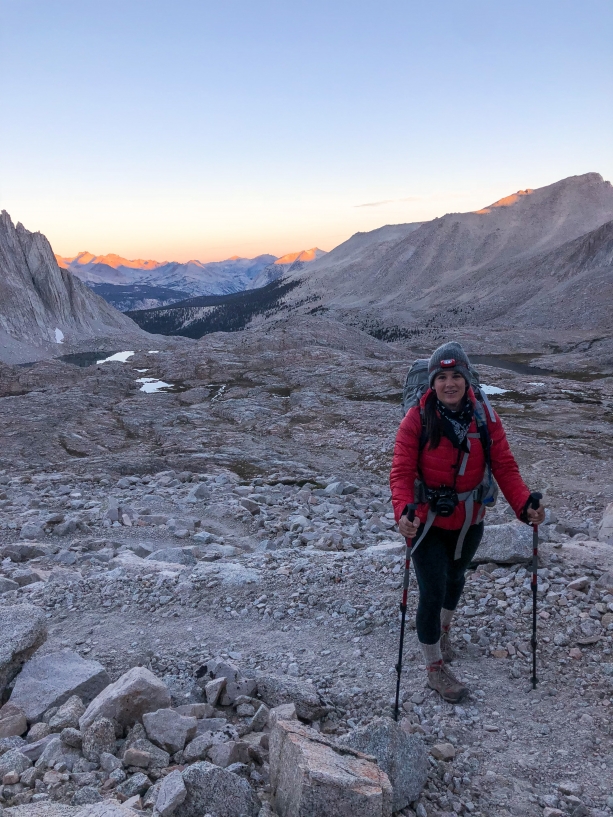 Rain shell: I always bring a rain shell, at best you have it if it rains, at worst you can use it as a seat on the ground.
Swimsuit: It's nice to jump in the water on hot days after hiking if you are near a river or lake.
Fleece sweater: If it's going to be really cold where you're hiking fleece is a great layer to have
Neoprene socks: If you are hiking in rivers or slot canyons neoprene socks will help keep your toesies warm.
Thermals: If you are going to have really cold temperatures thermals are the best to help you stay cozy on chilly nights (or days).
Packing List
1.Bandana // 2. Hat // 3. Beanie // 4. Sunglasses // 5. Hiking Socks // 6. Swimsuit // 7. Hiking Shirts // 8. Long Sleeve Shirt // 9. Running Shorts // 10. Puffy Jacket // 11. Leggings // 12. Technical Leggings // 13. Rain Shell // 14. Trail Shoes // 15. Sandals
Toiletries
Alright, so toiletries aren't really clothes but you generally pack them when you are packing your clothes. So here is my list of toiletries that I bring backpacking.
Always check both the weather and average climate as well as rainfall for the area you are going to be hiking so that you can pack accordingly. There's no reason to bring thermals and rain gear if it's going to be in the 90's with zero chance of rain. On the flip side if you are going to be at high altitudes with the possibility of encountering snow and getting some rain you will absolutely want those thermals and rain gear. Do your research and use your best judgment.
Download a printable checklist with all the clothing and toiletry items here!
Download the google spreadsheet with all the clothing and toiletry items here!
Like this post? Pin it!