Summer is coming! And here's to guessing you'll probably be getting on an airplane sometime in the next few months. I've been taking lots of short little trips around, so I've got my carry on/personal item packing down to a science.
So when I say "carry on" I'm talking about the bag you have with you on the plane that goes under the seat in front of you. The bag that holds all the essentials. It also usually doubles as my day bag when I get to my destination too.
My rule for what goes under the seat in front of me: Things I will want or need on the flight or right after, and things that cannot be easily replaced. I don't like to over stuff my bag with extra clothes or toiletries if I can help it, mostly because I never end up needing or using those things, especially on shorter flights. For longer international flights I'll sometime add a few toiletries but I honestly never pack clothes in my carry on. My thinking on that is that if my bag gets lost I'm going to have buy some clothes anyways so having an extra pair of undies and a tee-shirt aren't going to make much of a difference and they just take up space.
Anyways, back to the carry on, I have two regular carry-ons bags I use depending on the destination and the activities I'll be doing there. For cities and city like activities I bring a large purse. It's big enough to fit my laptop and camera without being too bulky and look enough nice enough to take out on the town. For more outdoorsy and active destinations and activities I bring a backpack. I'm a little obsessed with my Topo Designs backpack, it's set up a lot like a backpacking backpack but day pack sized and has a padded laptop sleeve.

What's in my carry on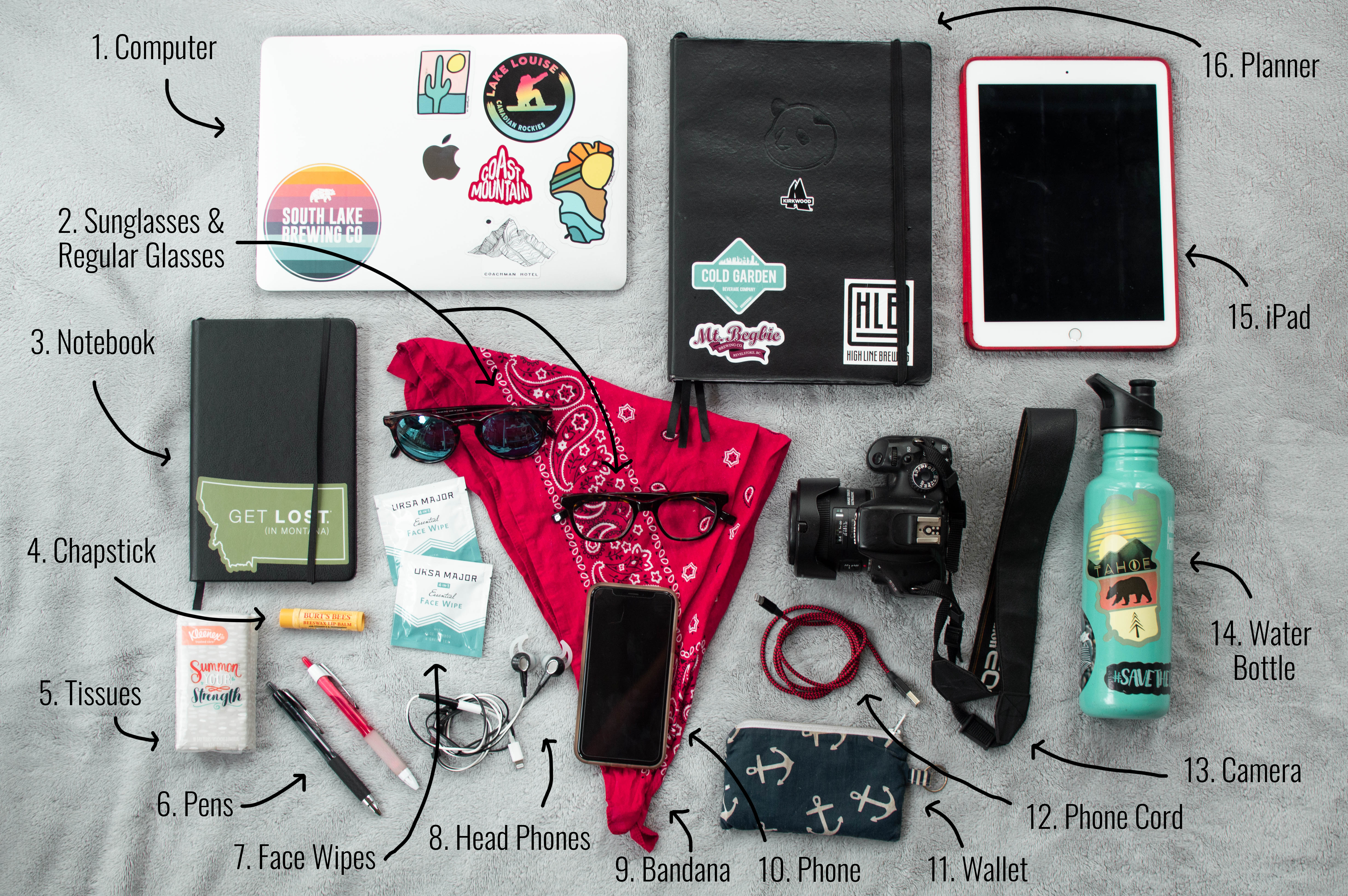 ** Metal straw & bamboo utensils: These get an honorable mention because I'm getting better at bringing them with me everywhere to cut down on my single use plastic. I always keep them in the side pocket of my backpack, so when I'm using that as my carry on I have them. But I'm not the best at remembering to transferring them to other bags when I switch it up.
What are the essentials you pack in your carry on?
Like this post? Pin it!