Indonesia is the world's largest island country, made up of over 17,000 islands. From the bustling island of Java to the tiny uninhabited islands it would take several lifetimes to explore all of it.
You can however, see and do some amazing stuff with just two weeks in Indonesia. From the jungles of Bali to the beaches of the Gili's, to the reefs of Komodo here is the best way to explore Indonesia in two weeks.
BALI – 5 days
Bali is the most popular island in Indonesia as well as one of the most popular vacation destination in the world. It gained major popularity when the movie Eat Pray Love came out, but it has always been a beautiful retreat for travelers. Bali also offers a wide variety of landscape, activities, and culture for visitors, so no matter what you're into, you'll be able to find something in Bali. From the jungles and yoga retreats in Ubud, to the beaches and surf spots in the south, Bali has all the island paradise activities you can think of.
Bali is also unique in that while the majority of Indonesia is Muslim, most people on the island of Bali are Hindu, so there are temples and shrines all around. Hinduism is very much ingrained in the Balinese culture and there are beautiful and colorful signs of it everywhere. The Balinese are a very kind and generous people, but also quite conservative and modest, so remember to cover up especially when visiting temples.
For a two week trip, spend five days in Bali exploring the beaches along the southern coast and the jungles and rice paddies at the center of the island.
TO DO:
Surf
If you are a surfer, you'll already know that Bali has some amazing surf spots like Uluwatu. Famous for it's amazing wave and the beautiful scenery. It's surrounded by dramatic cliffs and a beautiful temple.
If you are interested in learning to surf there are some very good beginner spots in Bali too. Balangan beach is a great place to learn to surf, there are board rental places all along the beach as well as surf schools. The waves there are mellow and long, making the learning process easy and fun. I gave Rob a little surf lesson while we were there and it was a blast.
Something to note, is that Kuta beach is "famous" for surfing, but from talking to surfers, locals, and other travelers it's probably better to avoid it. The water quality/cleanliness isn't great, Surfline gives it a 7 out of 10 (10 being disgusting), and the beach is overcrowded with tourists and trash which is a bummer. Do yourself a favor and check out some other breaks like Suluban and Padang Padang.
Beach
You've come to an island so if you are anything like me you are going to want to get in a little beach time. I personally love Balangan beach, but I might be a little biased because that is where I spent most of my time while in Bali. But the beach is awesome, little restaurants and surf shops line the hillside and the wide sandy beach is perfect for just chilling. You can rent a chair from on of the resorts at one end or just lay out your towel for some prime relaxation. And at low tide you can see the reef which is pretty cool if you are interested in tide pools.
Green Bowl beach is uniquely beautiful with it's cliffs and caves, you do have to walk down a couple hundred steps down the cliff to get to it. But I think that's all part of the adventure. Suluban beach is great for surfing but it's also an awesome place to just hang out. It's dramatic limestone formations are awesome and while the beach is small, the view you get there is amazing. The Blue Lagoon on the east coast of Bali is beautiful both above and below water. This beach is known for it's amazing snorkeling and diving, so if you are into seeing some sea life this is the beach to check out.
Again, avoid Kuta, unless you are looking for a spring break beach party situation (not that there's anything wrong with that, there's definitely a time and place for everything). It's crowded and tends to have a lot of tourist traps and scams going on.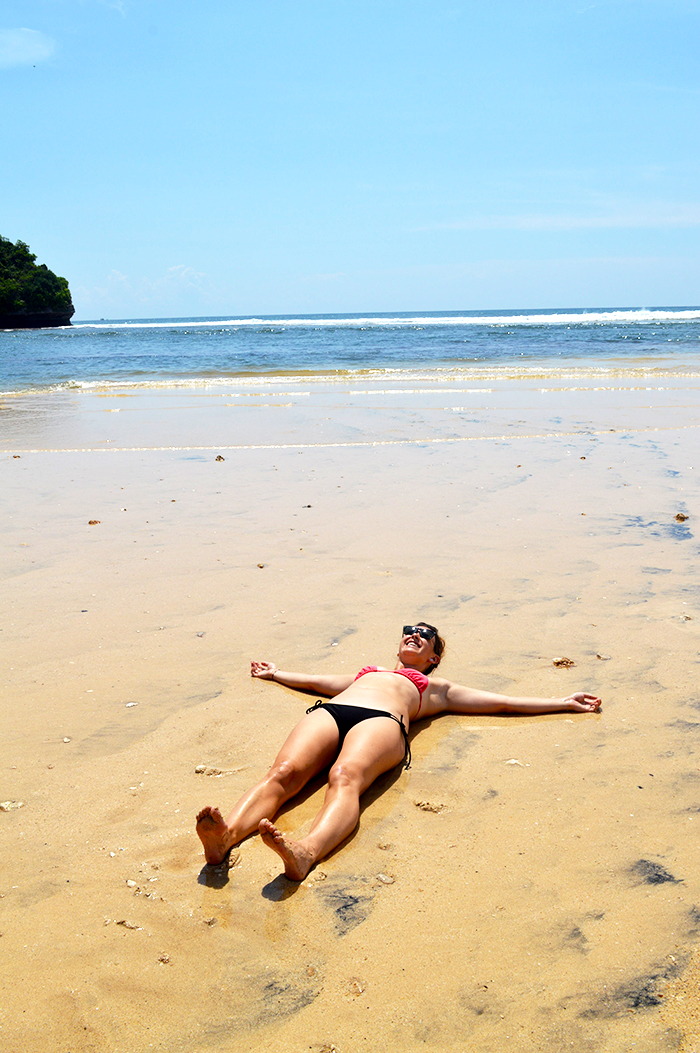 Temples
If you've never been to a Hindu temple you should definitely check it out. They are beautiful buildings with colorful offerings, flags, and decorations. The Uluwatu temple up on the cliff above the surf spot is probably the most famous. It is a large temple complex complete with winding garden paths and spectacular ocean views.
Tanah Lot temple is also pretty picturesque, situated on a rock just a little ways off shore. At high tide it becomes it's own little island but at low tide you can walk right up to the rock base. Besakih temple is a complex of around 100 temples nestled up in the slopes of Mount Agung. It is the biggest and holiest of the temples in Bali and has amazing mountain, jungle and rice paddie views all around it.
Monkey Forest
The Monkey Forest is a nature reserve and Hindu temple complex just outside of Ubud in the center of the island. If you like animals and are comfortable being around semi wild creatures, the monkey forest is awesome. You can walk around the beautiful jungle grounds, hang out with the monkeys and feed them bananas.
There are reports of tourist getting attacked by the monkeys from time to time, but from most of the accounts I've read it's been because the person was either acting a bit erratic which probably scared the monkey. Or more likely, you have food that the monkey wants. You can buy bananas to feed to them, but don't try to hang on to those bananas because the monkey want them and will go after them. Same goes for if you have food in your pockets or bag.
If you keep calm and enjoy the scenery and are respectful of these little primates you should be fine. We had a great time there interacting with the monkeys and wandering around the grounds.
Rice Terraces
What is more is more iconic than the image of the rice terraces in Bali? The Tegallalang Rice Terraces are just north of Ubud, and are a photographers heaven. The sweeping views of the terraced hillsides and palm trees are spectacular. If you are looking for that quintessential instagram shot to prove you were in Bali, this is it.
GILI TRAWANGAN – 4 days
Gili Trawangan is a little island just to the west of the island of Lombok (and to the east of Bali). There are 3 Gili islands right off the coast and Trawangan or just "Gili T" is the largest and most populated. The whole island is only about five square miles, and there are no cars or motorized scooters allowed on the island giving it a very homey and rustic feel. There are also donkey carts that act as taxi's if you aren't feeling up to walking.
Like the majority of Indonesia, the population of the island is mostly Muslim and there is a mosque at the center of town. Just like in Bali, be aware of the modest culture and forgo the super revealing clothing, bathing suits are fine as long as you are on the beach, but be sure to get dressed when you are walking around town, in shops and restaurants.
The island is small and perfect for just hanging out, four days is plenty of time to explore the island and get in some good beach time.
TO DO:
Bike Around
There is a path that goes all the way around the outer edge of the island and you can rent bikes from either your hotel or any of the rental places along the path. Take some time to bike the circumference of the island and check out the views from every side. There are also paths that cut across the island for some rural views.
Scuba Dive
If you are PADI or SSI certified definitely do some fun dives here. With 25 dive sites around the island, you'll see a variety of sea life including turtles, reef sharks, and tons of fish.  There are also a good amount of shipwrecks off the coast for wreck diving too.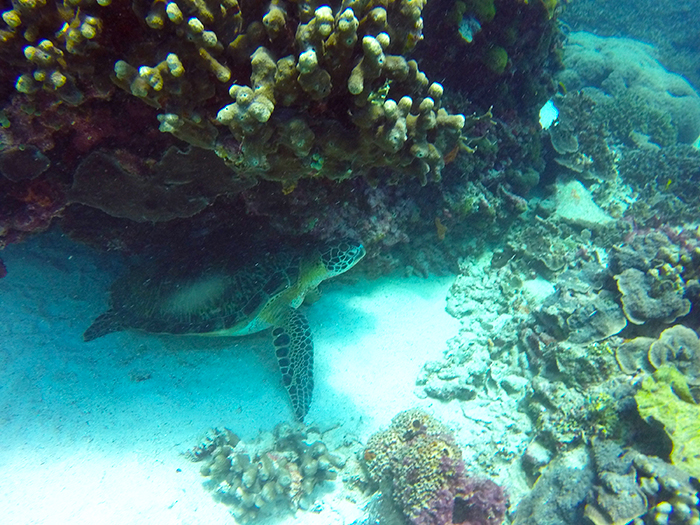 There are places where you can see that the coral reef has been destroyed by questionable fishing practices (dynamite and cyanide), but since 1998 the Gili Eco Trust has been protecting and restoring the reef and it is beginning to come back which is awesome.
If you are not certified, Gili Trawangan is a great place to learn, there are 15-20 dive shops and schools around the island. The sea is very much like Koh Tao in that it is very calm and doesn't have much currents making learning easier. We dived with Manta Dive which has a highly rated dive school and resort to stay at too.
Snorkel
If diving isn't your thing, or you don't want to spend you whole time there taking the open water course (totally understandable, its 3 days long), the snorkeling is pretty awesome. You can rent a mask, snorkel and fins pretty much anywhere along the beach for cheap. Close into shore you will see a lot of broken coral (sad :() but if you swim a little further out you'll be greeted by tons of colorful tropical fish.
Chill Out
And if you are looking to just relax, Gili T is the place to do it. Hang out on the beach and enjoy the sunshine. You can also rent a chair or chaise lounge from the restaurants or resort along the beach for beachside food and drink service. Some of the chair and umbrella combos even have outlets so you know I was plugging my laptop in and doing some work beachside.
KOMODO – 5 days
When talking about going to Komodo I'm really talking about a group of four islands, three of which make up Komodo National Park – Komodo, Rinca, and Padar; and Flores which is the only inhabited island and the only one where you can stay. The town of Labuanbajo on the west coast of Flores is the launching point for all the Komodo excursions. So it usually best to stay in town or near there. If you like outdoor adventures Komodo is the place to go, it will feed all your adventurous desires with scuba diving, volcano hiking, and trekking to find Komodo Dragons.
Five days is a solid amount of time to explore the islands. If you could go longer I'd highly recommend it, especially if you want to dive, because honestly diving just one day didn't feel like enough.
TO DO:
Scuba Diving
The diving in Komodo is unreal. There is so much sea life to see from colorful coral to sharks to giant manta rays! There are quite a few dive shops in Labuanbajo, we used Blue Marlin Dive and Divine Divers and both were awesome. Full disclosure, I was sick for the first few days in Flores and didn't dive with Blue Marlin, but Rob did. He had a great time, and they have a speed boat which makes getting out to the dive sites much faster than the older slower fishing boats used by most dive companies. You also have the option to do liveaboards, which is where you go and stay on a boat and dive, which can be pretty rad.
Back to the diving, it's amazing, and I don't think I've ever seen so many fish, sharks and other creatures, like an octopus, ever! There are manta rays at certain times of year but we unfortunately missed them, but I'd love to see one!
One thing to note, there aren't a lot of beginner dive sites. You should have a good amount of dives under your belt before heading out. The currents in some places can get kind of crazy.
Komodo National Park
Komodo National Park is made up of three islands to the west of Flores. It is  the only place in the world where Komodo Dragons live naturally. Our homestay host recommended we go to Rinca because it is the best place to see them, in that you are more likely to catch a glimpse there (I'm not totally sure if this is true but that what we were told, so that what we did).
Once on the island you take a guided trek through the forest in search of these dinosaur like creature. The best beginning to the day was when we were walking through the gates into the park and our guide proudly pronounced "Welcome, to Jurassic Park". The trek was super informative and I learned all kinds of fun facts, like that baby Komodo Dragons live in trees so that they don't get eaten by their parents. And we even got to see a couple of these giant lizards!
Kelimutu Colored Lakes
Kelimutu is a volcano in the center of Flores, and the three crater lakes in it. These lakes a pretty amazing because they change colors from the chemical reactions going on from the volcanic gasses. You can hike up to these amazing sights. The hike is fairly easy and the path is clearly marked.
The Pink Beach
The Pink Beach is on the island of Padar in Komodo National Park. You can take a day trip out to Padar with any of the adventure tour or dive shops in Labuanbajo. These kinds of tours are nice because you pay everything upfront and don't have to worry about the park fee's once you get there, and they'll take you to a couple different spots. The Pink Beach is kind of magical looking, I mean its pink sand! You can hang out on the pretty sand, and snorkel right off the coast for a chill day in a beautiful spot.
So this is a very loose kind of itinerary for what you could do in Indonesia on these three islands, I also know I'm not really accounting for travel time.
On our trip we started in Bali, then took a ferry to Gili T. From Gili T we took a ferry to Lombok and flew from there back to Bali then to Flores. There's not a direct way to get from the Gilis to Komodo which is kind of annoying, but oh well. So each travel day was at least a half day to a full day which definitely affects how much time you get to spend in a place.
Do you have any favorite places or things to do in Indonesia? Where have you been and what did you do?