With the rainy season upon us in the Gulf of Thailand (October/November) we were getting ready to move on to dry climates, but not without a stopover weekend in Koh Samui.
Koh Samui is is the largest and most developed of the three islands in the Chumphon Archipelago, and a short ferry ride away from Koh Tao where we'd been living for the last three months.
The whole trips transpired because our very good friends from San Francisco, who were on their own tour of Asia, would be in Koh Samui for the weekend. Sheilla has been one of my best travel buddies for years, from road trips to Mexico in college, to backpacking through Europe after graduation. So I was stoked to meet up with her and her fiance Kyle for a couple of days.
Friday
On Halloween morning Rob and I hopped on the ferry from Koh Tao to Koh Samui. It was a bit of a bumpy ride, the seas were pretty stormy that day (that will be a story for another time), but we made it safe and sound to the Lomprayah dock in Samui.
We met our friends at Le Meridien where we were all staying, got checked in and settled before heading out to explore for the afternoon. Since we would only be there for the weekend, we wanted to make full use of our time there.
Big Buddha
We started out with a trip to see the Big Buddha. It is a massive seated Buddha statue, plated in gold and set above the temple plaza with a grand staircase leading up to it. It's quite a sight to see. It did start to rain while we were there, making the stairs of that grand staircase mighty slippery. So we ducked into a cafe called Chez Isa My Small World, right outside the temple for an afternoon coffee and to plan our next move.
Chaweng
Once the rain let up we hopped in a cab over to the Chaweng area, a hub for shopping, restaurants, and nightlife. We walked around for a bit, just checking everything out. The streets there are a combination of new and western, and old Thailand, I love the mash up of culture and time. Rob and I were able to purchase our ferry tickets back to Bangkok, since we'd forgotten to do so at the dock, and the girl at the travel agency recommended a little spot for us to eat. Off the main road and tucked into the back of covered street market is a little restaurant called Green Bird, and it's delicious and authentic Thai food. We split all kinds of dishes from noodles to rice to seafood to papaya salad between the four of us and left feeling full and happy to continue our wanderings.
Nightlife
By this point it was evening time and we were all feeling like we could use a beverage, we'd also come to the edge of town, so it was time to find a bar. Down a little side street we found Rasta Bar a reggae themed bar with cheap beer and table games to play. We pulled out Jenga. Several beers later we had everyone in the bar, including the owner, playing Jenga with us. We'd managed to turn it into a party. They let us pick music to put on the stereo, and Rob played DJ for a while as we made friends with pretty much anyone who stopped in. It sort of felt like a party scene from a movie, an epic blur of music, lights, laughter, and friends. After who knows how many games of Jenga, we piled ourselves into cab and headed back to the hotel to pass out.
Saturday
The morning was slow going, as it is after any night out. Sheilla and I had breakfast at the hotel restaurant overlooking the ocean and decided we would try a hike to a waterfall later that day.
Hiking the Na Muang Waterfalls
The Na Muang Waterfalls are located on the interior of the island but are easily accessible by car. The thing was, I didn't do a whole lot of research into the waterfalls and "hike". I literally looked at one website, that made it sound like it was an easy hike from one waterfall to the next in "30 minutes". So our easy hike to some waterfalls ended up more of an adventure than planned.
We had a cab drop Sheilla, Kyle, and I (Rob stayed behind to get some work done) off at Na Muang Waterfall 1. It was a short walk up a paved road, with a few vendors and food stalls along the sides, to the waterfall. Since it was the beginning of the rainy season there was a lot of water coming down the falls, making the pool below muddy and murky so no swimming or wading for us. The waterfall itself was pretty epic and the surrounding jungle made me feel like it was in Indiana Jones.
After taking it all in, I began to look around for the path to the second waterfall, figuring there must be a trailhead somewhere around. I saw a man with a backpack, camping supplies, and firewood crossing the river, so I went to ask him if that was the trail to the second waterfall. He looked at me confused, and answered in what I think may have been German, but I got the gist that that was not the way to the waterfall. I'm still curious what he was doing, possibly going out to live in the jungles of Samui? I guess I'll never know.
Wandering back out to the parking lot we found our cab driver and asked him for directions, he told us we had to follow the road back out of the jungle then turn up the hill towards the safari park and it would be up there. He offered to drive us, but we wanted to hike (in retrospect this was stupid). So the "30 minute easy hike" I'd read about was really more of a walk along a semi busy road filled with tour jeeps, then up a ridiculously steep hill. And that was just to get to the safari park. The Na Muang waterfall 2 was located inside the safari park, luckily you don't have to pay to go in. From the base of the safari park it probably took us 30-45 minutes to hike up to the waterfall. There were easy to follow paths, as well as janky looking wooden bridges and walkways, but it was an adventure and everything seemed to hold together.
The second waterfall was technically the taller of the two, while the first came straight down into a pool, the second sort of meandered down the mountain so it didn't look quite as epic. We didn't end up doing the whole hike because the water levels were pretty high and we hit a point where it just didn't seem safe to continue across the river and up. So maybe we missed a spectacular view, but I still enjoyed the hike through the jungle.
Coming back down I figured we'd be able to grab a taxi back to the hotel, being a safari park and a tourist area I thought it would be easy. This was not the case however. Most tourist seemed to come there on a tour or with a private shuttle, so there were no taxi's waiting around to pick people up. It was then that I realized I should have asked our taxi driver to wait for us. After a few awkward conversations with bus and shuttle drivers that didn't want to give us a ride we decided to walk back down to the main road to see if we could find a taxi there. About half way down to the main road a shuttle van pulled up next to us, and asked if we were the people going to Le Meridian hotel, we said yes. The man said he could take us, he was taking a few other people in the van that direction. Lucky us!
Once back at the hotel Sheilla and Kyle went off to get Thai massages and I spent the rest of the afternoon lounging by the pool with Rob. All the rooms at Le Meridian are cabanas situated around a semi private pools, so all you have to do is walk out your door and jump in. Pretty cool.
The Thai Experience
For dinner that night, we'd found out about this thing called The Thai Experience, a sort of  cultural dinner party, and were able to get last minute reservations. Set up like a dinner party in someone's home, a large communal table seats 20 people making the vibes very friendly and family like.
 The evening started out by sampling cocktails and then we got to make our favorites ourselves which is always fun, especially when Rob forgets how much booze he's supposed to put in and decides to just eyeball it. Always a safe bet. From there we chatted with people around the table who were from all over. I had a particularly lovely German woman sitting next to me.
The three course meal was amazing, and I'm not just say that because I was starving having hiked all day. It was served tapas style, small and shareable portions of like 20 different dishes, so you definitely get enough to eat! From the ceviche starter to the street food style skewers to coconut mango panna cotta for dessert, it was all fantastic and a fun experience. In between courses the hosts would talk a little bit about Thailand, and its history, culture, and throw out a few fun stories. At the end of the night once you are so stuffed you feel like a rolly-polly, a shuttle takes you back to your hotel so there's no need to worry about how to get home.
Sunday
Sunday morning was spent sleeping in and getting packed up. Our ferry left around midday so we said goodbye to Sheilla and Kyle and were on our way. A Lomprayah shuttle came to get us from the hotel and took us right to the dock which was super convenient. And just like that we were off onto the next adventure.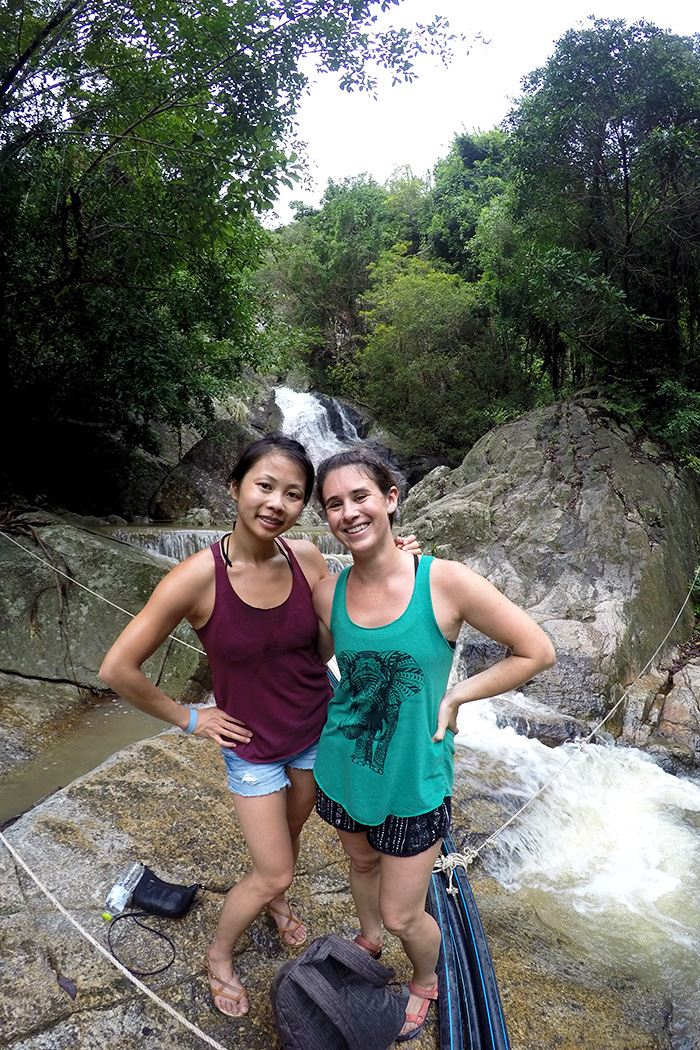 You can do a lot in a weekend
The weekend was a blast. Getting to see and hang out with our friends, whom we hadn't seen in five months was awesome, as was getting a couple days to explore Koh Samui. If you are looking for an island that isn't quite as rural as Koh Tao, and not the crazy party vibe of Koh Phangan, Koh Samui is a good choice. There is tons of stuff to do there, great beaches, and good food, and with an airport on the island it make getting there a whole lot easier.