There is a itsy bitsy little island off the coast of Koh Tao Thailand, it is call Koh Nang Yuan. It is a pretty and perfect little Y shape with sandy beaches and two jungle-y hills on two sides.
The island is an easy day trip from Koh Tao, and certainly worth the boat ride if you are craving more spectacular views and new snorkeling spots. There is a resort on the island that runs everything there, making it a bit pricy compared to Koh Tao. But if you are up for spending some Baht on picture perfect day then it's totally worth it. The beach chairs and umbrellas are just too cute to not instagram!
Here are a few things you should know for you excursion to Nang Yuan:
Getting there:
You can take a long boat from Mae Haad or Sairee Beach for about 300 Baht a person round trip. You tell the guy on the boat when you want to leave and he'll come back for you or send another boat for you.

The island doesn't open for day trippers (anyone coming in on a long boat, as opposed to people staying at the resort there) until 10AM, so plan your boat accordingly. I didn't know about the time thing and we ended up having to wait around on the dock for 45 minutes before we could actually get on the island.

There is a 100 Baht entrance fee to the island. You pay it at the dock when you come in.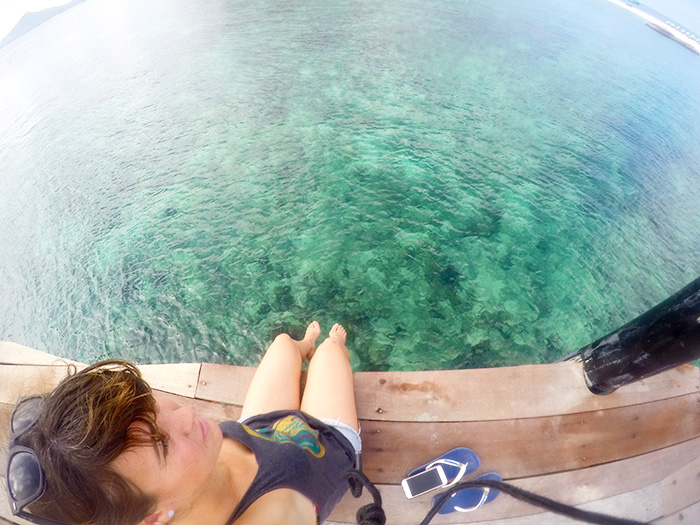 What to do there:
Take the short hike up to the view point on one of the hills to get an awesome view of both Nang Yuan and Koh Tao. You can see how to get there in this post.

The snorkeling is awesome on Nang Yuan, the area to the north end of the island is called Japanese Gardens, it is a beginner scuba diving site so there is lots to see!

Rent a beach chair and chill out. Get your tan on, read a book, or just take a nap, they all sound good to me! One thing to note, you are not allowed to lay out your towel and sit on the sand, if you are going to hang on the beach you have to rent a beach chair.

Grab a bite at the beach side restaurant, it's practically right on the sand and has both Thai and American type cuisine.
So try something a little different and indulge a little bit. Nang Yuan definitely feels a little more luxurious than Koh Tao, and it's fun to feel fancy.