Learning to scuba dive in Koh Tao is probably one of the coolest things I've done in my life so far, and if you need some convincing as to why you should do it do it too, go read this post. And if you haven't read my post about learning to scuba dive, then you should probably go read it before reading my review of the dive shop – it's right here go read!
Koh Tao is known as the place to learn to scuba dive, and that is probably because there are, like a billion dive shops on that tiny little island (ok, probably more like 50). So I put a fair amount of effort into figuring out which school to go with. There were several things that I took into consideration when choosing a dive school, like price, the type of certification, and class size, and I settled on Roctopus Dive in Sairee Beach.
And this is what I thought of Roctopus Dive
Class Spec's
Class size: I have a confession, going into the open water course I was absolutely terrified of being underwater. After spending my whole life in the ocean, surfing, swimming, and bodyboarding it made no sense, but something about going beneath the surface totally freaked me out. Which is why having a small class size was important to me. My thought was in a smaller class I'd get more attention from the teacher or if something were to go wrong or if I had questions I'd be able to get the instructor's attention more easily (selfish? Maybe, but I can live with that). Roctopus's classes are four people max to one teacher, so I felt like I got plenty of attention.
Cost: The 3 day open water course costs 8,600 Baht or $243, which is on the lower side of the price scale, and that always works for me. The dive schools on Koh Tao have fairly even prices across the board to keep things competitive, but some schools do cost slightly more or less than others. But I always appreciate a cheaper price, no matter how slight.
Certification: Roctopus provides an SSI or Scuba Schools International certification. I was a little skeptical at first because I'd only heard of PADI certification up until then. But after reading into it, I found out that SSI and PADI are the basically the same certification, just different companies, and PADI tends to be a bit more expensive.
Dive sites
There are tons of dive sites around Koh Tao and plenty to see during your training dives. One of my favorite parts of the open water course was that we did the first in water training in a shallow dive site rather than in a pool. That meant that once we had finished all the exercises we got to swim around and actually check out some fish and coral! Then during my advanced course I was able to schedule it so that one of my training dives was at Sail Rock, a spot known for lots of sea life and sometime whale sharks! And while I didn't get to see any whale sharks that day it was still pretty awesome.
Instructors
I really liked both instructors that I had for the open water course and the advanced course. Both dudes were super cool, fun to hang around, and definitely knew their shit. Like for realz. Both of them had over 1000 dives under their belts and I felt totally safe and informed and confident with them. And honestly everyone I interacted with at Roctopus was awesome, they were all helpful and accommodating, and just really nice people. I actually came down with strep throat the night before I was supposed to start my advanced course and I was able to postpone my class until I was well again without a problem.
Location
So if you are staying Sairee it's awesome, the dive shop is located on the north end of Sairee Beach and is super easy to get to. They also provide taxi trucks to the pier for you when you are heading out for a dive. My only gripe was that we were staying in Mae Haad so I'd have to scooter over to the dive shop in the morning just to get in the back of a truck to go back to the Mae Haad pier to get on the boat. Which while it was annoying, definitely not a deal breaker.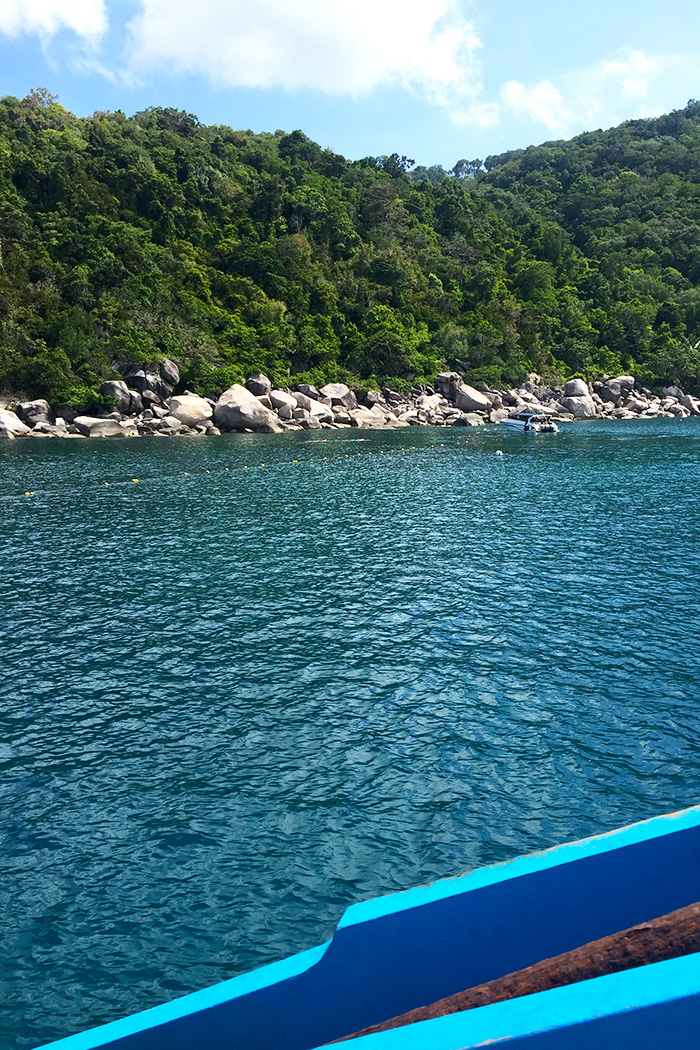 Overall Experience
I had an amazing time learning to dive with Roctopus, and would definitely recommend them to anyone coming to Koh Tao to learn to dive. The friendly atmosphere takes away any edge you might be feeling and the comprehensive classes definitely made me feel confident in the water.